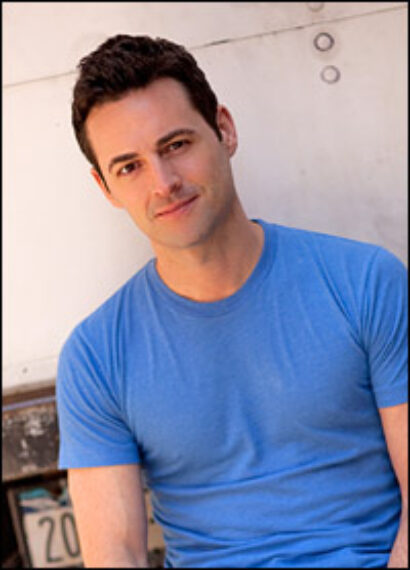 What show recently impressed you?
I can't stop thinking about a recent performance I saw of the Off-Broadway musical Once. It is one of those shows that lingers inside of you, and you just can't wait to see it again. I was very familiar with the soundtrack from the film, yet had never seen it, and as the date drew closer to see the stage version, I decided I wouldn't. I was able to see this version without any real knowledge of the story or the characters, and I was completely blown away. The storytelling is so beautiful, and every actor/musician on that stage is completely devoted to sharing it with the audience. Steve Kazee's performance, in particular, is still haunting me. I witnessed something I haven't really ever seen. Three different times, he performs different solos with such intensity and commitment that afterwards, the audience reacts with total silence. Not an ounce of applause, which as far as I'm concerned is the greatest response he could ask for. It actually gave me chills.
What production are you most excited to see?
This season, I'm most excited about the revival of Evita!!! I think it is quite possibly Andrew Lloyd Webber's best work, and I have heard such wonderful things about this production (which was a huge hit in London). From what people have been saying, Elena Roger (who'll be playing Eva Peron) is absolutely incredible, and when you pair her with both Ricky Martin and Michael Cerveris, you have the recipe for a real event next year! Cannot wait!
What are your current/upcoming projects?
Oh, did I mention I'm playing Magaldi in Evita? (This is the place where I'd put a huge smiley emoticon if this was a text or something!) The excitement of starting a new show never gets old for me, and knowing I'm going to be sharing the stage with people like Michael (who continues to blow me away, ever since I saw him in Tommy when I was a kid) and Ricky, I mean, c'mon! Ricky Martin!! How insane is that? Not only will it be thrilling to perform with Ricky, Michael and Elena, but I also hear they are terrific people and wonderful to work with! That's the really wonderful part. (Well, that, and the fact that I'll have health insurance.)
***
On Broadway von Essen played Enjolras in the 2008 revival of Les Misérables, Alfred in Dance of the Vampires, Jean Prouvaire in the closing company of the original Les Misérables, and he made his debut as a disciple in the revival of Jesus Christ Superstar. Other New York credits include Death Takes a Holiday, The Duke of Windsor in Only A Kingdom at the York Theater, Alexander the Great in The History of War at The New York Music Theater Festival, The Soldier in the Transport Group's acclaimed revival of Michael John LaChiusa's Hello Again, Tremont in Jerry Springer: The Opera at Carnegie Hall, Woody in Finian's Rainbow at the Irish Repertory Theatre and Matt in The Fantasticks at the Sullivan Street Playhouse. Regionally, von Essen starred in the Paper Mill Playhouse production of The Baker's Wife and the Kennedy Center's staging of Mame. He also spent over a year roller-skating across the country as Sonny Malone in Xanadu. Von Essen's recording of "Just in Time for Christmas," the David Friedman-David Zippel holiday anthem written for and originally recorded by the late Nancy LaMott, is now available by visiting iTunes; proceeds benefit The Trevor Project.