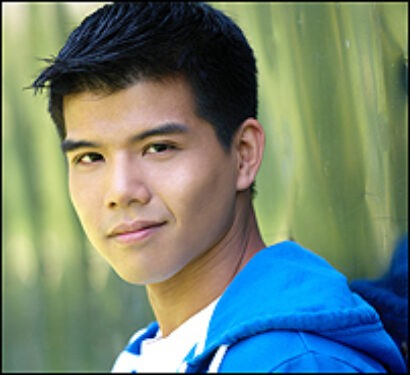 What show recently impressed you?
I have a lot of catching up to do, since I've been kept very busy with Godspell - but our schedule at Godspell allows me to see a lot of theatre (since I have Wednesday nights off! Yay!). I saw Lysistrata Jones on opening night, and I loved it! I have a special place in my heart for that show. I did an earlier incarnation of the show at the Dallas Theater Center, when it was called Give It Up! When we did the show out-of-town, we had an amazing time developing the show with Douglas Carter Beane (one of the the wittiest and funniest people I know), Lewis Flinn (the composer), Dan Knechtges and Jessica Hartman (Dan's assistant choreographer). I was so thrilled to see our little-show-that-could in Dallas make the long and difficult journey to Broadway, and I'm so proud of my Give It Up!/Lysistrata family. The show has grown so much (after our Dallas run, and a very successful Off-Broadway run in the summer) - and it was so cool to see all the amazing changes and improvements. If you haven't seen it, run! Don't walk. You will laugh, and fall in love with those characters - and the entire cast is stellar (especially Liz Mikel, a company member from Dallas Theater Center, making her Broadway debut).
What production are you most excited to see?
I can't wait to see Chinglish. I'm a big fan of David Henry Hwang. I was lucky enough to work with him on my first Broadway show, Flower Drum Song, and I am thrilled that some amazing Asian talent is represented on Broadway in his play. All I keep hearing from friends who've seen it is that it's a riot and a great night at the theatre.
What play/musical would you most like to revive on Broadway, and which role would you want to play?
The first show I ever did, in high school, was Pippin. I played Lewis (Pippin's brother) my freshman year. I love that show, and I've always wanted to play Pippin. In fact, during intermission at Godspell, I play the piano and sing, and I do a little Stephen Schwartz tribute medley - and I use a lot of stuff from Pippin. Come on: Doesn't everyone want to find their "Corner of the Sky"?
What are your current/upcoming projects?
Currently, I'm having the time of my life at the Circle in the Square, eight times a week, with my crazy Godspell family. It's one of the most talented casts I've ever been a part of, and I love spending time with this company - on and off the stage. I feel very lucky - to be doing this show with this amazing group. The show is fun fun fun. It's a party on stage. Sometimes I pinch myself on my way to the theatre and say: "Is this my job?" I've been working on the development of a new, original musical called Allegiance with George Takei (of "Star Trek" fame) and my dear friend (and Broadway favorite), Lea Salonga. It is a story of an American family during World War II, and the egregious internment of Japanese-Americans after the attack on Pearl Harbor. This show has the great potential of being an important piece of theatre that both humanizes and sheds light on a dark part of our American history that isn't addressed often. The show was just announced as the first show of the upcoming season at the Old Globe in San Diego (fall 2012), and after so many readings and workshops, I'm thrilled to see this show moving on, and making its big world premiere in 2012. For more information on the show, you can visit www.allegiancemusical.com.
*** On Broadway Telly Leung has been seen in Godspell, Pacific Overtures, Flower Drum Song and Rent. He created the role of Boq in the Chicago production of Wicked and was also seen in the starry Hollywood Bowl staging of Rent. His other theatrical credits include M. Butterfly and Titanic. His TV credits include "Glee" and "Law & Order: CI."