* It's always the columns I'm most excited to write that turn out to be the most difficult. Best Broadway Belting — to quote Baby, "What could be better?" I immediately realized I had to narrow this down or I'd wind up imploding Playbill's servers with a hundred million words on Laurie Beechman's performance in Funny Girl at Sacramento Music Circus in 1992. So this is limited to Broadway, and this is limited to leading roles. I realize that's somewhat subjective, or even arbitrary depending on semantics, but for my purposes, it means performances as female characters that had the most solo singing in the show.
My cut off is 1980; apologies to Angela, Barbra and Ethel, et al. Also, some might call some of this singing mixing, not belting — the technique is the singer's business, as long as I get the feeling of being belted at. And I've penalized for quality of material. Heather Headley sang her face off in Aida, but it doesn't make the cut. That said, some great belting elevates weaker material to a higher position on the list. And finally, I've cut the ladies off at one role. No one appears on the list more than that. Otherwise, Patti LuPone would have more performances on this list than she played as Nancy in the fast-flop 1984 revival of Oliver — which would have ranked pretty high on the best belting list. And while we're at it, let's keep it to original cast performances — no revivals, no replacements. Even so, I still couldn't get it down to ten.
Click through to read my choices for Best Broadway Belting performances.



Photo by Laura Marie Duncan
13. Sutton Foster, Thoroughly Modern Millie
It's almost annoying how talented Sutton Foster is. A lot of people are called triple threats, but Sutton really is one. How many dancers are legitimate leading ladies whose acting can carry a show and whose belting can capture a generation? Very few. It's no surprise Sutton has been such a go-to choice for so many top productions since her storybook debut (understudy replacing the lead out of town) as Millie. From the moment she opened her throat to full blast, tearing into the final section of "Gimme, Gimme," the universe has answered with an equally resounding "yes."
Honorable Mention: Sutton Foster, The Drowsy Chaperone
12. Carolee Carmello, Parade
Thrilling Carolee, one of the beltiest belters, hasn't had the opportunity to create her fair share of roles, but whenever she is cast, it's a major event for belting enthusiasts everywhere. I've extolled her many vocal triumphs in detail, but for today's purposes, her fabulous feast of flaming vibrato for the soul in Parade remains the defining moment.
11. Idina Menzel, Wicked
Another lady whose discography I've deconstructed, Idina is probably the major star of her generation, currently wowing audiences with her dual-mode diva turn in If/Then. "Defying Gravity" (from Wicked) stands pretty much alone as the showtune anthem of the last couple of decades, with Idina's performance as Elphaba reverberating far and wide.
10. Tonya Pinkins, Caroline, Or Change
Tony-winner Tonya Pinkins' performance in Caroline, Or Change was so thrillingly passionate and had such dramatic gravitas, it's easy to forget she didn't win the award for that show. Her Tony was actually for Jelly's Last Jam. (She was also nominated for Play On!—see a trend?) Still, Caroline takes the cake. Tonya's rendition of the climactic aria "Lot's Wife" is on a very, very short list of Broadway gold. You can't take your eyes off her.
9. Lea Salonga, Miss Saigon
She was young, she was pure and she gave a much sweeter, less brassy performance than probably anyone on this list, but Lea Salonga's stunning debut in Miss Saigon was extremely powerful and her crystal clear voice soared in the Alain Boublil/Claude-Michel Schönberg score. I'm genuinely surprised she hasn't worked more on Broadway, but I eagerly anticipate her return.
8. Alice Ripley and Emily Skinner, Side Show
These two girls made magic together. Their two big duets from Side Show, "Who Will Love Me As I Am?" and "I Will Never Leave You," are straight-up candy for the ear. I can't listen to them just once. They've made concert appearances together, recorded duet albums (and were even both cast in James Joyce's The Dead) as well as going on to successful separate careers, but Side Show was a defining moment.
Honorable Mention: Alice Ripley, Next To Normal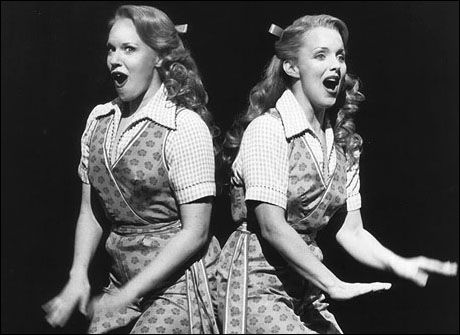 photo by Joan Marcus



Photo by Denise Winters
7. Judy Kuhn, Chess
Judy Kuhn is the great belter of the 1980s pop operas. Her versatility has enabled her to go on to a wide variety of roles, but back in the days of the British megamusical, no one could nail it like Judy. Get the Original Broadway Cast Recording of Chess and listen to her flawless "Someone Else's Story," "Heaven Help My Heart" or "Nobody's Side" or one of her gorgeous and goosebumpy duets, "You And I," "I Know Him So Well" or my favorite, "Terrace Duet." She's perfect.



Photo by Laura Marie Duncan
6. Chita Rivera, Kiss Of The Spider Woman
Broadway's greatest dancing star is also one of its greatest belters. Chita sounds like no one else and no one can touch her irreplaceable star turns. I consider myself so lucky to have caught Her Luminosity (Chita should be referred to like royalty) in Kiss Of The Spider Woman twice, and it was an ongoing master class in Broadway stardom. She was 100% devoted to the text while engaging the audience with her every breath. This primed us in our seats to fully fly with her on such exciting Kander & Ebb numbers as the title song, "Where You Are" and the stormy "Anything For Him."
Honorable Mention: Liza Minnelli and Chita Rivera, The Rink



Photo by Andrew Eccles
5. Bernadette Peters, Sunday In The Park With George
I don't think there's been a Broadway performance more moving than Bernadette Peters in Sunday In The Park With George. She charmed with her quirky kewpie antics in the opening number and then melted our hearts as Mandy Patinkin's George broke hers. By the time she tore into Act One's climactic "We Do Not Belong Together," we were leaning all the way forward in our seats and ready to be belted out of them. As if that weren't enough, Act Two's "Move On" picked up where "We Do Not Belong Together" had left off and ascended into musical theatre Nirvana. Thank you, Bernadette.
Honorable Mention: Bernadette Peters, Song and Dance
4. Laurie Beechman, Joseph And The Amazing Technicolor Dreamcoat
I can only dream of what brilliant performances might have been if the late, great Laurie Beechman had not been taken from us too soon. As it is, she left behind a legacy of stellar belting performances, including her Tony-nominated turn as the Narrator in the original Broadway production of Joseph And The Amazing Technicolor Dreamcoat. There's so much to love in Beechmas's "Joseph," including enormous notes that explode out of her mouth and full voice high notes that defy the laws of physics, but best of all is the warm, expressive tone, unmistakably Laurie, that pervades the cast album and makes you feel like a little kid lucky enough to be told a story by such a wonderful person.
3. Jennifer Holliday, Dreamgirls
You never forget the first time you saw Jennifer Holliday sing "And I Am Telling You I'm Not Going." As a lifelong aficionado of belting, I sometimes worried that I superficially favored vocal prowess over song interpretation. Then, I saw Jennifer Holliday. Yes, she is an undeniable force of nature, but it all erupts from a deep well of feeling and intention. Holliday's form and content are one and the same. This is musical theatre as art.



Photo by Myriam Santos
2. Betty Buckley, Carrie
Speaking of forces of nature and speaking of art, when it comes to Broadway musicals, I have to talk about Betty Buckley. No, I never saw her in Carrie, and I'm not even one of the millions who pretend they did. (The legendary original Broadway production of Carrie is the perfect example of the archetypal flop that would have been a hit if everyone who claims to have seen it actually did.) As in all great Betty Buckley belting performances (there have been many), Carrie gave us Betty's steely stratospheric belt cutting through the air with fearless, peerless aplomb as she acted the frightful daylights out of this dark piece. Like any good fan, I treasure my bootlegs of Betty's thrilling "And Eve Was Weak" and heartbreaking "When There's No One." I enjoyed the recent Off-Broadway production of Carrie, but if that (production's recording) means Betty will never record the complete score, I'm staging a protest.
Honorable Mention: Betty Buckley, Cats and Betty Buckley, The Mystery Of Edwin Drood



Photo by Ethan Hill
1. Patti LuPone, Evita
It's been almost 35 years since Patti opened in Evita on Broadway, but she still takes the cake for the best Broadway belting. It's not because she belted the highest, although few have equaled her impressive high Es and Fs and Gs ("He supports you, for he loves you, understands you, is one of you!"). It's not because she belted the loudest, although Patti's power is pretty unbeatable in the decibel department ("Screw the middle classes!"). It's not because she did the most dramatic keychanges or crescendos, or because of the range and versatility of her singing — one critic wrote that she "belts like Merman and purrs like Piaf." It's a combination of all those things and the great style with which she synthesized them as she ripped through that punishing score like a hurricane unleashed. The magic ingredient to Patti is that she's a trained actor, a gifted actor with a larger-than-life presence; and her god-given vocal talents have only ever been an instrument for that voracious expression. I've cherished Patti's triumphs in a number of revivals, but I hope against all hope that we'll once again get to see her set the gold standard starring in a new musical on Broadway.
(Ben Rimalower is the author and original star of the critically acclaimed Patti Issues. Read Playbill.com's coverage of the solo show here. Visit him at benrimalower.com and follow @benrimalower on Twitter.)