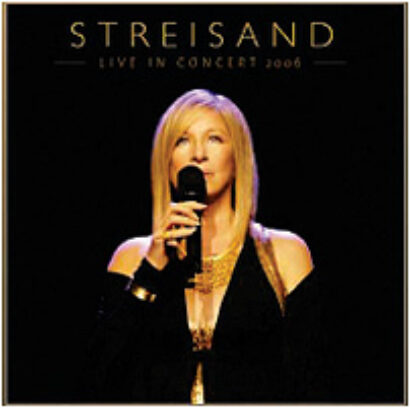 The two-CD set — which features tunes by Stephen Sondheim, Rodgers and Hammerstein, Andrew Lloyd Webber, Leonard Bernstein, Frank Loesser and George and Ira Gershwin — was recorded live in Philadelphia and New York. The recording runs over two hours and also features duets with guest stars Il Divo. The complete track listing for "Streisand—Live in Concert 2006" follows.
Act I
Overture
"Starting Here, Starting Now"
"Down With Love"
"The Way We Were"
"Ma Premiere Chanson"
"Evergreen" (with Il Divo)
"Come Rain or Come Shine"
"Funny Girl"
"The Music That Makes Me Dance"
"My Man"
"People"
Act II
Entr'acte
"The Music of the Night" (with Il Divo)
"Jason's Song"/"Carefully Taught"/"Children Will Listen"
"Unusual Way"
"What Are You Doing the Rest of Your Life?"
"Happy Days Are Here Again"
"(Have I Stayed) Too Long at the Fair?"
"The Time of Your Life"/"A Cockeyed Optimist"
"Somewhere" (with Il Divo)
"My Shining Hour"
"Don't Rain On My Parade" (reprise)
"Smile"
The recent Streisand tour was co-directed by Streisand and Richard Jay-Alexander, and the 64-piece orchestra was conducted by William Ross.
Barbra Streisand starred on Broadway in I Can Get It for You Wholesale and Funny Girl, earning Tony Award nominations for both performances. She received a 1970 Special Tony Award. The actress, composer and director has won two Academy Awards: for Best Actress in a Leading Role in "Funny Girl" and for Best Music, Original Song (with Paul Williams) for the "A Star Is Born" song "Evergreen." Her most recent CD is titled "Guilty Pleasures." Streisand last toured the U.S. in 1994; she also played concerts in Los Angeles and New York in 2001.
The suggested retail price for "Streisand—Live in Concert 2006" is $24.98.