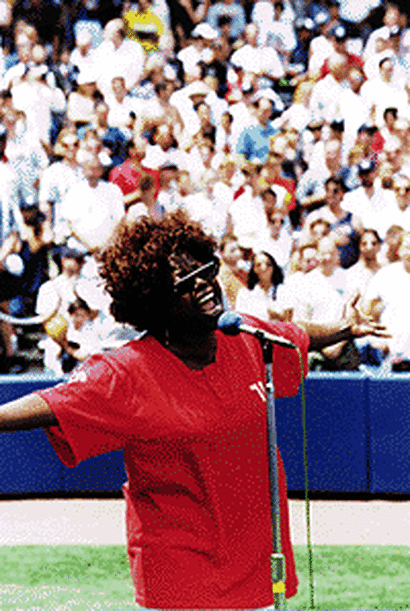 A week that began with a comedy of errors ended as an enthralling moment on Sunday, July 13, when Lillias White, the Tony-winning Sonja of the Broadway musical The Life, sang what the TV play-by-play announcer called "an incredibly stirring rendition" of the national anthem.
At 1:30 PM, minutes before the game at Yankee stadium between the New York Yankees and Detroit Tigers, White mesmerized fans there -- including 50 of her Life cast members and crew -- and on TV with her a cappella singing. She received a rousing ovation.
Cast members had organized a Life outing to the Yankees game, when someone suddenly suggested that it would be great to get White to sing the anthem. It happened, but it wasn't that easy.
Yankee managements insists that all anthem candidates -- no matter their celebrity or singing renown -- submit a taped rendition weeks in advance and that the rendition be done without embellishment.
White recorded her anthem but it was a "no go". It seems White sounded terrific but added too much of her famous gospel fervor. A copy of the Life's Sony Records cast recording was rushed to Yankee management, but they wanted to hear the anthem.
Another singer had been booked for Sunday's Yanks-Tigers game. Friday afternoon White recorded what she called "my restrained version" and the tape was delivered to Yankee executive offices.
"George Steinbrenner (Yankees owner) oversees and supervises everything," said White, "He has a hand in everything that happens up there, so I guess he listens to the tapes, too. They want the straight approach, you know the traditional mom and apple pie treatment. No hoopla. That old white boys' network don't want any gospel. They just want to hear it sung by the book."
White noted there had been times when known singers have been booked and all assumed they would give it the "straight" treatment, "but when they got out there in front of the fans, they got carried away and did it their way, embellishing it to death. When you cut into 'revenue time' -- you know, commercial time, they don't like it."
Word came on Saturday that White was acceptable. A booking was rearranged and she would sing on Sunday when her Life cast and crew would be at the game."
"I was thrilled, " said White. "I had gotten all keyed up to do it, and all the rushing back and forth with the tapes put a damper on everything. But as soon as I heard, I was ready to hit a homer."
And she did. "It went quite well," said White, "and they invited me back. I did it without the hoopla, and it came from the heart. But when you sing those words, I like to see those scenes I'm singing about. It's what gives the real feeling."
White was cheered by her fellow workers from seats behind home plate. Afterward, White got to meet Yankee team members in the dugout.