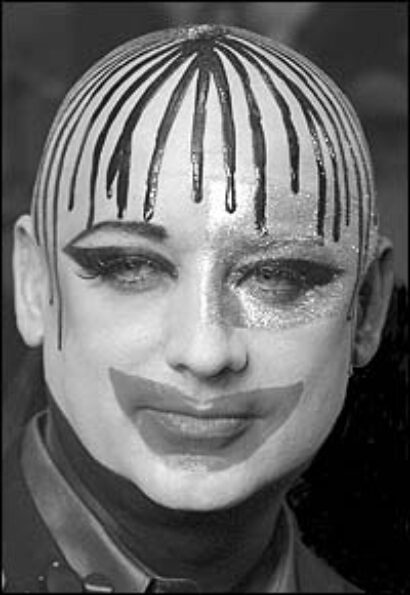 O'Donnell, Boy George, Tony nominees Euan Morton and Raúl Esparza, Sarah Uriarte Berry and Liz McCartney will all be on hand at the Virgin Megastore in Times Square (Broadway, between 45th and 46th Streets) to autograph copies of the recording, which features the Tony-nominated score by Boy George. A live performance of songs from the musical will also be presented at 5 PM.
The much-awaited cast recording of Taboo hit stores May 25 on the DRG Records label. The complete track listing follows:
"Freak"/"Ode to Attention Seekers"
"Stranger in This World"
"Safe in the City"
"Dress to Kill"
"Genocide Peroxide"
"I'll Have You All"
"Sexual Confusion"
"Pretty Lies"
"Guttersnipe"
"Love Is a Question Mark"
"Do You Really Want to Hurt Me"
"Church of the Poison Mind"/"Karma Chameleon"
"Everything Taboo"
"Talk Amongst Yourselves"
"The Fame Game"
"I See Through You"
"Ich Bin Kunst"
"Petrified"
"Out of Fashion"
"Il Adore"
"Come on in From the Outside"
With a new book by Charles Busch, Taboo concerned the lives of two larger-than-life personalities involved in the eighties London club scene: the Kent-born singer Boy George, who rose to fame and international acclaim via the pop group Culture Club; and performance artist Leigh Bowery, who became known for his outlandish costumes and make-up before an early death from AIDS. Their stories were told against the background of the London club Taboo, which featured an array of self-proclaimed "freaks."
The Broadway cast featured Boy George, Sarah Uriarte Berry, Jeffrey Carlson, Raúl Esparza, Donnie R. Keshawarz, Liz McCartney, Euan Morton and Cary Shields.
For more information visit www.drgrecords.com.