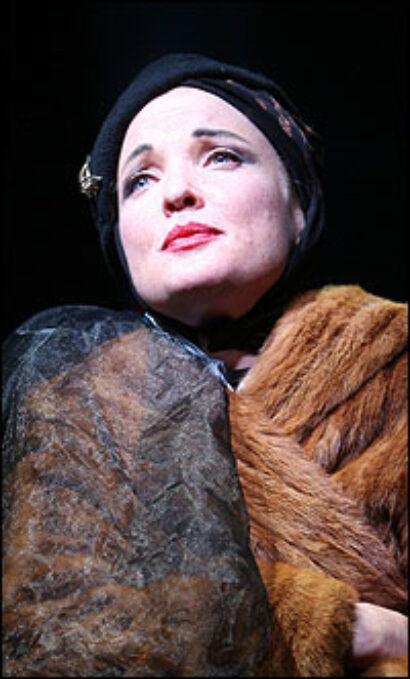 Playwrights Horizons, which staged the world premiere of the musical, and PS Classics, the record label devoted to theatre music, will hold a CD signing in the lobby of Playwrights Horizons, 416 W. 42nd Street, 7-8:30 PM Aug. 28.
In attendance to autograph CDs will be the musical's acclaimed stars, Tony Award winner Christine Ebersole and Tony award nominee Mary Louise Wilson, as well as other members of the original cast. Ebersole and Wilson have been announced to repeat their Off-Broadway work this fall at Broadway's Walter Kerr Theatre. Performances begin Oct. 3.
The recording of Grey Gardens hit stores on Aug. 22, and was available earlier than that online in an exclusive pre-sale at www.psclassics.com.
The CD features 23 tracks and lavish packaging, including a 36-page booklet with complete lyrics, full color photos and an interview with the show's three authors (including librettist Doug Wright).
The recording features the entire cast from the Off-Broadway production, headed by Ebersole and Wilson. The award-winning musical concluded its sold-out, extended production at Playwrights Horizons in April. Those attending the event may bring copies of the CD they've already purchased, or they can purchase them on site for $20 each, cash only.
*
"Based on the legendary 1975 documentary by the Maysles Brothers, Grey Gardens brings to life both the delightfully eccentric aunt and cousin of Jacqueline Kennedy Onassis," according to the commercial producers of the Broadway run. "Once among the brightest names in the pre-Camelot social register, these two women became East Hampton's most notorious recluses, living in a dilapidated 28-room mansion. Set in two eras — in 1941 when the estate was in its prime and in 1973 when it was reduced to squalor — the musical tells the alternately hilarious and heartbreaking story of two indomitable individuals, Edith Bouvier Beale and her adult daughter 'Little' Edie."
PS Classics is distributed by Image Entertainment. Visit www.psclassics.com.