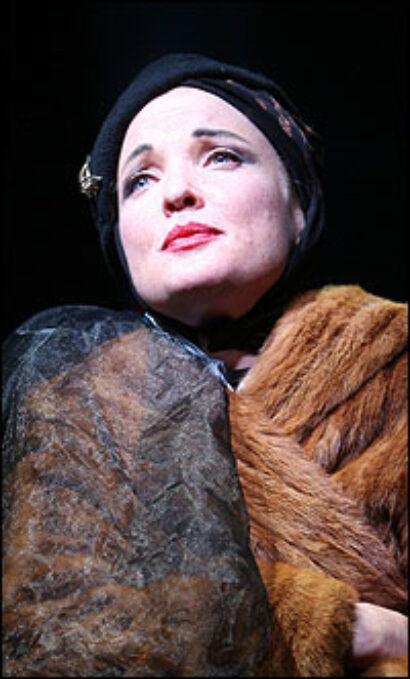 The new cast recording, representing the Off-Broadway staging that played a sold-out extended run in 2005-06 at Playwrights Horizons, was previously available only at www.psclassics.com.
The new recording features music by Scott Frankel and lyrics by Michael Korie, drawing on a libretto by Doug Wright, who drew on the cult documentary film of the same name. Heard on the disc are Christine Ebersole and Mary Louise Wilson (who have been announced for the Broadway run) and Matt Cavenaugh, Sara Gettelfinger, Sarah Hyland, John McMartin, Michael Potts, Bob Stillman and Audrey Twitchell.
Commercial producers East of Doheny will present the Michael Greif-directed Playwright Horizons production at the Walter Kerr Theatre starting Oct. 3, toward a Nov. 2 opening.
A special CD signing event featuring Wilson, Ebersole and other members of the production, will be held 7-8:30 PM Aug. 28 at Playwrights Horizons, 416 W. 42nd Street. (Those attending the event may bring copies of the CD they've already purchased, or they can purchase them on site for $20 each, cash only.)
* Orchestrations are by Tony Award winner Bruce Coughlin and music director is Lawrence Yurman.
Here's how the producers characterize the show: "Grey Gardens concerns both the deliciously eccentric aunt and cousin of Jacqueline Kennedy Onassis, who were once among the brightest names in the pre-Camelot social register, but became East Hampton's most notorious recluses, living in a dilapidated 28-room mansion. Set in two eras — in 1941 when the estate was in its prime and in 1973 when it was reduced to squalor — the musical tells the alternatively hilarious and heartbreaking story of two indomitable individuals, Edith Bouvier Beale and her adult daughter 'Little' Edie."
Critics celebrated leading lady Christine Ebersole for her turn as Edith Beale in the 1940s-set first act, and Little Edie (her middle-aged daughter) in the 1970s-set second act. If Tony Awards included Off-Broadway, the general wisdom is that Ebersole would already have the award on her mantle.
For her performance, Ebersole (a Tony-winner for 2001's 42nd Street) won a Drama Desk Award, an Outer Critics Circle Award, an Obie Award, a special citation from the New York Drama Critics Circle and the Drama League's 2006 Distinguished Performance of the Year Award.
The album, produced by PS Classics co-founder Tommy Krasker, consists of 23 tracks, as follows:
. Toyland
2. The Five-Fifteen
3. Body Beautiful Beale
4. Mother, Darling
5. Better Fall Out of Love
6. Being Bouvier
7. Hominy Grits
8. Peas in a Pod
9. Drift Away
10. The Five-Fifteen (reprise)/Miss Porter's Anthem
11. Tomorrow's Woman
12. Daddy's Girl
13. Will You?
14. The Revolutionary Costume for Today
15. The Cake I Had
16. Entering Grey Gardens
17. The House We Live In
18. Jerry Likes My Corn
19. Around the World
20. Choose to Be Happy
21. Around the World (reprise)
22. Another Winter in a Summer Town
23. Peas in a Pod (reprise)
*
PS Classics' co-founder Krasker previously told Playbill.com that his company has had more e-mails to its website since the announcement of the Grey Gardens disc than they've had for any album in the last three years. "It's quite extraordinary; we've had hundreds of people signing up for our mailing list, to learn details of the recording and release date," Krasker said.
A color booklet includes photos, lyrics, an interview with the authors and a plot synopsis. PS Classics albums are distributed by Image Entertainment, which also handles the DVD release of the source material of the show: the 1975 film documentary, "Grey Gardens."
For more information, visit www.psclassics.com.
The web address for the musical is www.greygardensthemusical.com.