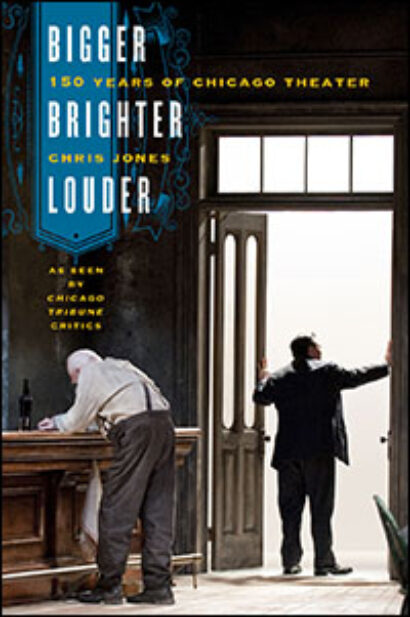 *
A compilation of reviews and theatre-related pieces culled from 160-years worth of articles in a daily newspaper seems likely to be rather scattershot, entertainment-wise. Unless, that is, said newspaper sits in either of the theatrical capitals, New York or London. Local audiences from a touring town might be interested, sure; but how can such a compendium possibly compare to historic tales of Broadway or the West End, where theatrical legends were anointed and embellished?
Chris Jones, the present-day chief critic for the Chicago Tribune, provides an answer by digging through his paper's archives and surfacing with 101 pertinent — and often fascinating — pieces. Bigger, Brighter, Louder: 150 Years of Chicago Theater comes to us, fittingly enough, from the University of Chicago Press. Chicago, of course, is seen by many as the "second city" and we needn't get into a discussion of that here, thank you very much. It is enough to say that for much of the 20th century, Chicago was the second-most important spot on the theatrical map of the United States.
Chicago has seen plenty of first-rate theatre over the decades; touring productions of reigning hits, sure, but also some that came along as pre-Broadway tryouts and other shows that were altogether Chicago-born. Jones has selected well, giving us a fine assortment which culminates with his own reviews of Chicago originals (including the Steppenwolf productions of Tracy Letts' August: Osage County and Bruce Norris' Clybourne Park) and the 2012 Goodman Theatre The Iceman Cometh with Nathan Lane and Brian Dennehy. But Jones is only the most recent in the line of Tribune aisle-sitters. Among those represented here are Percy Hammond (who decamped to New York), Charles Collins, Cecil Smith, William Leonard, Linda Winer (who decamped to New York) and Richard Christiansen.
Most fascinating, for me at least, is the notorious Claudia Cassidy, whose "sharp-edged writing was unfailingly to the point, frequently witty, perennially unforgiving" and often laceratingly cruel. Several of her amusingly vicious pans are included, but three important reviews demanded attention — and still demand attention today. Cassidy, famously, put Tennessee Williams on the figurative map. His first play had closed during its tryout, and his second was in imminent danger of doing so as well, when it arrived at the tail end of 1944. Business was so poor at the Civic Theater, with a gross of a mere $3,300 the first week, that the producers were facing the inevitable. The review from Cassidy — and a similarly supportive one from her cohort at the Herald-American, Ashton Stevens — was strong enough to attract increasing audiences while said producers, heartened by the praise, battled to find a New York landlord. They did, the show opened on Broadway in March, and The Glass Menagerie was roundly hailed.
Cassidy: "It is a dream in the dusk and a tough little play that knows people and how they tick. Etched in the shadows of a man's memory, it comes alive in theater terms of words, motion, lighting, and music. If it is your play, as it is mine, it reaches out tentacles, first tentative, then gripping, and you are caught in its spell."
Another moment where Cassidy entwined herself in theatrical history came 15 years later, in 1959, with another unconventional play that was trying out while attempting to find a New York booking: "a remarkable play... this is theater with reverberations, echoes, and a tug at the remembering heart." A local play this was, by a young, black Chicago woman at a time when plays by black playwrights were rarely seen on Broadway — and black women playwrights were unthinkable. Yet Cassidy embraced Lorraine Hansberry's A Raisin in the Sun and helped catapult it to Broadway. It was not because of the racial components, but for the same reason that she had championed The Glass Menagerie: It was a play that must be seen.
Jones also includes pieces from the Trib that attempt to combat Cassidy's harsh criticisms, including one in which Arthur Miller defends himself against the critic's views of his 1947 play All My Sons. (The venerable New York Drama Critics Circle awarded the play its annual prize as best play of the season, which Cassidy considered "an unaccountable gesture by which it became a pygmy nudging its way past the giant that is Eugene O'Neill's The Iceman Cometh.")
There is also Cassidy's report on the Chicago company of Tennessee Williams' A Streetcar Named Desire. This was the second cast of the play, starring Uta Hagen and Anthony Quinn; they had earlier been the first replacements on Broadway, while Jessica Tandy and Marlon Brando were on vacation. I have oft heard how powerful Hagen was as Blanche, and how different she was from the British actresses who created the role on Broadway (Tandy) and the screen (Vivien Leigh). Here, Cassidy explains it to us in an enlightening way:
"You don't waste time with Dynamite, theatrical or otherwise, and the smoldering detonation at the Harris Tuesday night served notice that A Streetcar Named Desire is a powerful, violent, and absorbing play of wrenching impact and that Uta Hagen's performance in a first rate cast is the most pitiful, gallant, absurd and magical theater this town has seen since Laurette Taylor cast her spell in The Glass Menagerie." Here was an "assertive and robust" Blanche, instead of the frail and neurotic heroine we are more accustomed to. According to Cassidy, at least, it enhanced the power of the play.
But enough. "Bigger, Brighter, Louder" gives us dozens of reviews — some perceptive, some notorious, and some bitingly funny. I warrant that you will find Mr. Jones' Chicago-eyed view of theatre sharp, amusing and incisive. (Steven Suskin is author of the updated and expanded Fourth Edition of "Show Tunes" as well as "The Sound of Broadway Music: A Book of Orchestrators and Orchestrations," "Second Act Trouble," "A Must See," the "Broadway Yearbook" series, and the "Opening Night on Broadway" books. He also writes the Aisle View blog at The Huffington Post. He can be reached at [email protected].)