*
Oh, Henry!
Joshua Henry has been getting rave reviews for his portrayal of real-life "Scottsboro Boy" Haywood Patterson, who sacrificed everything for the truth in a brutal 20th-century miscarriage of American justice. One of the last musicals by the songwriting team of John Kander and Fred Ebb, The Scottsboro Boys, now at Broadway's Lyceum Theatre, features newcomer Henry and a cast that includes veterans Colman Domingo, Forrest McClendon and John Cullum, among nine others in the acclaimed ensemble. Susan Stroman directs and choreographs, and David Thompson wrote the fact-inspired libretto based on a real case. For the uninitiated: In 1931 Alabama, nine black teenagers were arrested and convicted of a crime they did not commit. Years of trials and personal suffering followed. In The Scottsboro Boys, the troupers take the cue from the writers and create broad caricatures inspired by a racist entertainment of the past — the minstrel show, by name — to draw us into a larger tragedy. Henry gets a show-stopping number with "Go Back Home," a moment that speaks deeply to him and allows him to connect to his character. "You know," he told me, "after going to the University of Miami to study acting and being up here in New York, I've been on my own away from my family for a long time, so singing that song, it's amazing — it's such an emotional love song from Mr. Kander." Moving from swing, ensemble and understudy work (as Benny) in Broadway's In the Heights to a brief but memorable military-hero role (in memorable briefs) in American Idiot to the obstinate moral voice of The Scottsboro Boys has marked Joshua Henry as a man to watch.
Hello, Joshua, are you having a hectic time of it?
It is a little bit hectic, but it's everything I've wanted — because I love to do what I do — so I'm enjoying it very much. Every day I wake up and I just kind of catch myself because, to be able to tell this story that's so historically important and so significant in terms of musical theatre history, it's just fulfilling in every way.
photo by Paul Kolnik
This show is significant in the way it uses the minstrel show to tell a very painful and serious true-life tale. Were you familiar with the minstrel show form prior to your involvement in the show?
I did have to research it. I was familiar with the term "minstrel," which, immediately, when I heard about it — I was turned off. And it wasn't until reading the script of The Scottsboro Boys and realizing what an important story it is [and that it] hadn't been told very often that I decided I really, really wanted to do it. The way that [aspects of minstrel shows] are used in this piece is, I feel, so unique, and is such a perfect creative way to expose a lot of the things that were going on at the time of the Scottsboro Boys' trials. It really lets us into a lot of the injustices that were going on. As far as my enthusiasm going into it, what initially attracted me after reading the script was how the story gave life to each of the boys individually — the Scottsboro Boys. I had never heard of the story. It was never in any history book that I had read growing up! And then, at the end of the show, you see it's very hopeful and kind of the beginning of something very important — the Civil Rights movement. So that's what, right there, said to me that I had to be a part of [this show]. It was just kind of icing on the cake that the minstrel form was used in such a creative way that I think is so just artistically fulfilling.
In the show, we learn that your character, Haywood Patterson, wrote a book. Did you seek that out and read it?
Yes. The book's called "The Scottsboro Boy" and it recounts all — everything — that went on from the time Haywood was pulled off the train, convicted and imprisoned, up to the time he tried to escape from prison. He documented it. It's a very vivid description of everything that he went through — fights, getting beaten many times a week in prison, just everything that was going on in his mind, the torture, him trying to maintain the fact that he was innocent while mentally unraveling. It was just an amazing story and really formed a lot of what I tried to do on stage.
What are the ways in which you feel most connected to Haywood?
I always say that he's my hero because he was so completely dedicated to the truth. He grew up in a religious household and that's something I did as well, and my parents always instilled in me the importance of the truth despite circumstance. "Go Back Home" [is a] moment where I really connect with Haywood. It's just — you think about longing. As Haywood, you think about him being ripped away from his family. Haywood talks about how he loves nature, he loves to be outside, just being outside on the trains and seeing the trees — and now he's trapped inside this cage for something he didn't do. It's such an emotional time and you see Haywood — who is such a tough guy — having this little moment of tenderness, which I feel is such an important and interesting moment. I love singing that song.
You have Colman Domingo among the great talents in your ensemble, playing various parts, investing them all with different energies, what is he like to work with?
You know what, I'll be honest with you, the first time I saw him was in Passing Strange, when I thought, "Who the hell is this guy? And how does he not have fifty Tonys right now?" I mean, he has his share of accolades, but working with him, he is one of the most creative people that I've ever met. He is so giving and he is always in the moment. As actors we try to be in the moment, but he is deeper in the moment than you can imagine. Then there's Colman the person, who is one of the most uplifting people that I have ever met. Being around him is like being around a beacon of light, and it's so inspiring that someone so talented can be so caring. You know, he's kind of our leader. Before the show we always get together and we circle up and someone will — usually it's Colman — say what an inspiration, what an opportunity and privilege it is to be here. I could go on about Colman forever. He's an amazing performer, and he's more amazing as a person. Colman Freakin' Domingo!
You're kind of a big guy in stature yet you're quite nimble on stage. Did you have a lot of experience with dance?
Well, yes, I had four years of dance training in college. I was fortunate to involved with In the Heights which really changed my view on dance. I just became very obsessed with anything that had to do with movement and telling a story through movement. I wanted to be a good, good dancer after that experience because I was surrounded by so many amazing dancers at that time. Also, being around Andy Blankenbuehler — he is the choreographer for In the Heights — made me meticulous with every single movement. I remember one time he said, "If there's something I'm giving you movement-wise that you can't connect to the story, we should talk about it because I shouldn't be giving it to you." And I just thought, "Wow, it is important to be able to tell a story through your movement." So that's why it was so exciting, after coming from that experience, to be able to work with Susan Stroman, I was so excited because, as far as movement goes, she's one of the best.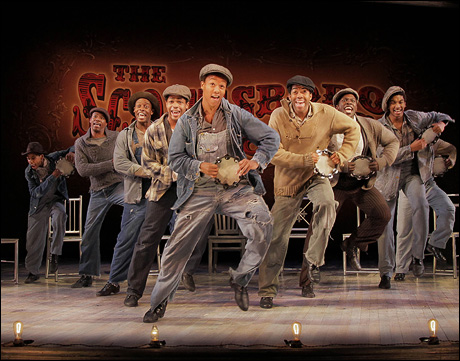 photo by Paul Kolnik
photo by Joseph Marzullo/WENN
Sounds like the In the Heights experience was a great way for you to prepare for the kind of work you do in The Scottsboro Boys. It came at the perfect time.
Yeah, absolutely, it did come at the perfect time. I can't think about that experience without just grinning from ear to ear because it's just really — I grew up in that show! I started that when I was about 20 years old and I grew up in so many ways, learning from being in that cast.
What was your American Idiot experience like?
It was electric. Being able to sing the song that I did, "Favorite Son," in my underwear and surrounded by, like, six women in amazing dresses singing about how amazing, how sexy I am, was… I don't know if I'll ever get a better entrance than that! And then being able to work with Green Day — they were so involved with the project, really cool guys. Now the really cool thing was when I got hired to do Scottsboro Boys, I was doing double duty performing American Idiot at night and rehearsing Scottsboro Boys in the day. So I'd wake up and sing these very legato lines from John Kander and people that I'd studied for so long in the University of Miami Conservatory, and then at night time, I would shake that off and bang my head and scream and wail at the top of my lungs singing music that I've listened to on the radio for so long. So it felt really amazing to show that many sides of myself in, you know, 20 hours!
You talked about the University of Miami. What led you there, specifically, to school?
I had an amazing teacher in high school, Birgit Fioravante, she was a vocal teacher there. I did a production of The Music Man in my last year of high school in which I played Harold Hill, and after the performance, she talked to me and said, "You can do this for a living," and I was like, "Do what?" I didn't even know musical theatre was a profession, or you could perform for a living. I said, "Well, I love doing it," and she had me audition for the University of Miami, which crazily enough was the only school I auditioned for — which, looking back, was not a smart idea! Fortunately I got it, and I got a decent scholarship to go there and from the first day in the Conservatory I knew, down to my soul, that this is what I wanted to do for the rest of my life. Fortunately, my parents were supportive, although my mom would ask me every week, "Are you sure this is what you want to do?" Being 18 years old and making that decision is huge, but I knew that's what I wanted to do as soon as I had that first day of class. I was just obsessed with everything musical — dance-wise and acting-wise. It invigorates me to no end. I think about it and I can't sleep at night.
With so many actors that I talk to, it often comes down to that one teacher who encouraged them at a pivotal point.
That teacher that just sees something in you, some bit of sparkle! If it wasn't for Birgit Fioravante from my little high school in the middle of nowhere Miami, who knows if I would have been starring on Broadway in The Scottsboro Boys? She didn't have to do what she did. She could have seen what I had and said, "Well, whatever. I don't have to give you free voice lessons. I don't have to put an investment in you. I can just do my job." But she decided to take that extra step and that's something that really, as a performer, I feel is so important. Being in New York, I'm involved with organizations that just want to push people to take that extra step to care for developing talent. As my friend Luis Salgado from Revolucion Latina says, "Dare to go beyond." Just go ahead and do it. Because it really does make a difference.
(Tom Nondorf can be reached at tnondorf@playbill.com.) Watch highlights from The Scottsboro Boys: