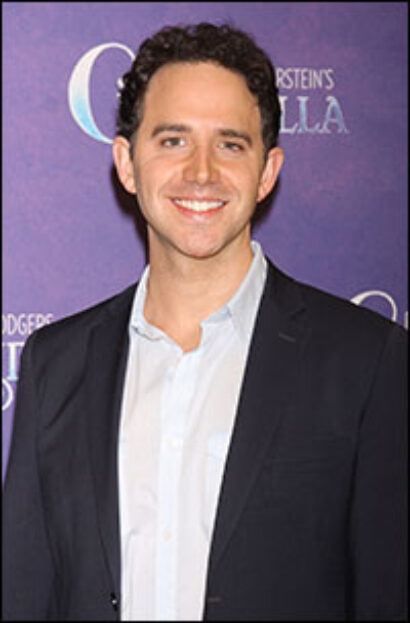 *
Once upon a time, Santino Fontana just couldn't picture himself as a prince. Long story short, in a spin on a fairy tale ending, here he is playing the Prince in Rodgers and Hammerstein's Cinderella — which began previews Jan. 25 and opens March 3 at the Broadway Theatre — and he's having a ball.
"I had huge hesitations," admits Fontana, whose Broadway credits include Sunday in the Park with George and Billy Elliot. "When I got the offer, I said, 'The Prince? Me? Are you sure?' It's not something I'd normally be drawn to, to be honest. There are other things I'd rather do than play a boring, stereotypical Prince with the depth of a contact lens. But then I read the script, and it made total sense. This is another weird, random thing that I am totally right for. Several friends have called me and said, 'What are you doing?' I'm like, 'No, it's not the Cinderella you think!'"
Based on the classic rags-to-riches fairy tale, Cinderella, the only Rodgers and Hammerstein musical written for television, was broadcast live in 1957 with Julie Andrews in the title role; Lesley Ann Warren and Brandy headlined the 1965 and 1997 TV versions, respectively. Directed by Mark Brokaw, the popular stage adaptation finally makes its Broadway premiere with star Laura Osnes and a sparkly new book by musical theatre's own fairy godfather, Douglas Carter Beane.
As part of his magical makeover, Beane, who most recently co-wrote Broadway's Lysistrata Jones and Sister Act, has added depth to Cinderella's kingdom of characters. "Sure, the Prince is charming, witty, fair, kind, and everything I wish I were all the time, but he's also a complicated guy," Fontana says. "He's about to be King, so he's having this huge existential crisis." The Prince's first song is "Me, Who Am I?," an added number originally cut from the Rodgers and Hammerstein musical Me and Juliet. "Amidst vanquishing dragons and giants, he's basically trying to figure out what kind of king he should be and how he should rule. Luckily, Cinderella helps him figure things out, and it all ends happily ever after."
Photo by Joseph Marzullo/WENN
The idea of Cinderella helping the Prince is another one of Beane's twists that makes the tale less predictable and old-fashioned. "Oh, she certainly doesn't need the Prince to save her," Fontana continues. "What's wonderful is that Doug has really shaped the story to be about these two innocent young people trying to find their way. They just want to do what's right. They both keep delaying what's best for them because they're always thinking about others, which is beautiful. These are not your typical, two-dimensional fairy tale characters. They're just trying to be people, for better or worse."
Will audiences accept these new changes to an old classic? A veteran of numerous high-profile revivals, including the original 2006 Off-Broadway revival cast of The Fantasticks, Fontana remains unconcerned. "Any time you [explore] something people know, there will always be certain expectations," he warns. "But as an actor, worrying about that is kind of above my pay grade. Of course I want everyone to like our show, but my job is to tell the story in front of me and make it work to the best of my ability. Besides, everyone has different memories of Cinderella, because all three TV versions were very different. It's almost like a living work."
Despite Beane's structural changes, Fontana assures the musical's loyal subjects that the beloved story's universally resonant themes are still very much intact. "It's all about possibility," he says. "I know it sounds so corny, but it's so powerful, and it's the basis of all creativity. People grab on to that sense of hope, because it does happen: You can get what you secretly wish for. We should all keep hoping for the impossible. Sometimes we just need a great reminder to stay on track."
Hope and happy endings are especially appealing to Fontana, whose career path has been paved with some bumps and bruises: Two months after the very premature closing of the 2009 Broadway revival of Brighton Beach Memoirs, which earned him a Drama Desk Award, an onstage injury forced the actor to drop out of A View from the Bridge with Scarlett Johansson. "I've had my share of ups and downs in this crazy business, but I wouldn't change a thing," he says. "Everything that's happened, good or bad, has reminded me of what's really important and informed who I am today. What's funny is that it's helped me play the Prince in quite a lot of ways. For starters, he has a crazy amount of patience."
Photo by Joan Marcus
Last seen on Broadway in the revival of
The Importance of Being Earnest
, Fontana also relishes the chance to explore lighter fare than he did in his most recent outing, Roundabout's acclaimed Off-Broadway production of Stephen Karam's
Sons of the Prophet
opposite
Joanna Gleason
. "Last year I was playing a guy who thought he was dying," he says, "so I'm totally happy to jump into something where I get to fall in love onstage, sing gorgeous songs, and be the nicest person in the room. It's a lot of fun to be in a fairy tale."
Of course, even fairy tales can be frazzling — particularly when they demand ballroom dancing. "It's a big ball, and I'm dancing more than I ever have before," explains Fontana, who notes that the pivotal scene has been greatly expanded by choreographer Josh Rhodes. "It's going to look fantastic, but it's also a little terrifying. Luckily, it's terrifying for the Prince too. I mean, it's not like he's some hardcore ballroom dancer either."
Fontana's terrified Prince may be refreshingly vulnerable, complicated, and deep, but does he still look as devastatingly handsome as described in the storybooks? "I don't like thinking about that stuff," he says with a sheepish laugh. "Luckily, our costume designer, William Ivey Long, is brilliant at what he does, so I don't have to do much but just stand there. By the time I'm onstage in those incredible costumes, there will be no doubting that I am a prince."
(A version of this feature appears in the February 2013 issue of Playbill.)
Watch the Playbill Video visit to Cinderella in rehearsal.