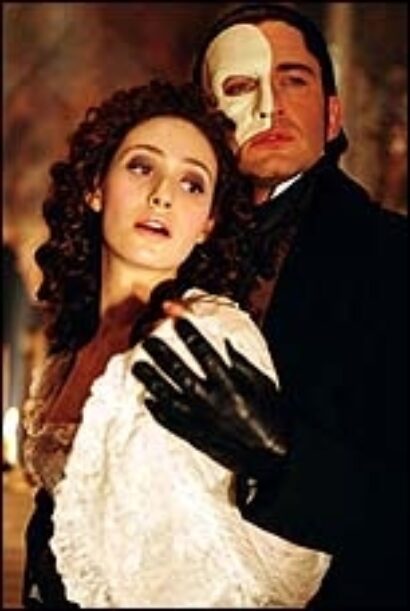 The motion picture, based on the award-winning musical of the same name, opened on Dec. 22 on 622 U.S. screens and then broadened its run to 907 screens on Jan. 14. The film, starring Gerard Butler in the title role, Emmy Rossum as Christine and Patrick Wilson as Raoul, made its world premiere in London Dec. 6.
As of Jan. 19, the movie has grossed $28 million domestically and $43 million overseas, for a worldwide total of $71 million. Its production costs are reported to be $70 million, mostly shouldered by Lloyd Webber's production company, Really Useful.
"The Phantom of the Opera" was nominated for three Golden Globe nominations, including Best Motion Picture—Musical or Comedy. Rossum was also nominated for her performance as aspiring opera diva Christine Daae, and "Learn to Be Lonely," the one new song penned for the film, was nominated in the Best Original Song category. "Phantom," however, picked up no awards at the recent Golden Globe ceremony.
The single-CD soundtrack for "The Phantom of the Opera" recently landed at number one on Billboard's Soundtrack Chart. The soundtrack was released in November on the Sony Classical/Really Useful Records label.
Based on the classic Gaston Leroux novel, The Phantom of the Opera features music by Lloyd Webber, lyrics by Charles Hart and additional lyrics by Richard Stilgoe. Harold Prince directed both the London and New York premieres. The New York production — originally starring Michael Crawford and Sarah Brightman — won seven 1988 Tony Awards including one for Best Musical. The score includes such tunes as "Think of Me," "The Music of the Night," "All I Ask of You," "Wishing You Were Somehow Here Again," "The Point of No Return" and the title tune. The Broadway staging of the smash musical continues at the Majestic Theatre, having recently played its 7,000th performance.