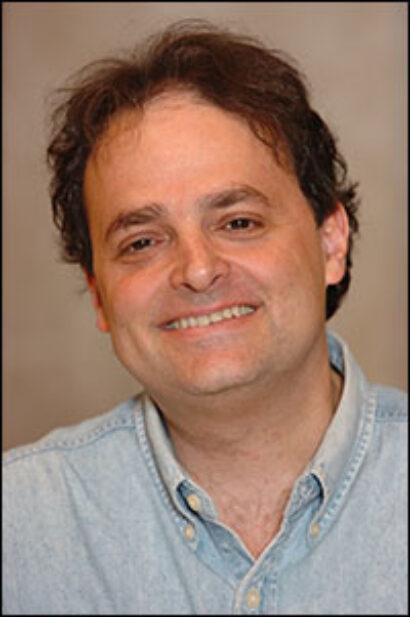 *
During his tenure at Theater J, Roth estimates that he produced 129 full productions, including 43 world premieres, and 150 staged workshops and readings. Seven of those productions were Roth's own plays, many of which dealt with contemporary American issues (Still Waiting, a re-examination of Clifford Odets' Waiting for Lefty) and the Arab/Israeli conflict.
"I've always looked to the JCC gratefully, as a place that took me in and helped me expand my artistic portfolio and helped me develop as a producer and a theatre professional," Roth told Playbill.com. But in trying to make Theater J a proper regional theatre "in its ambitions, in its feel and its look, in its perceived autonomy," Roth acknowledged that there were "tensions" from the very beginning.
As artistic director, Roth supported plays that looked at the current situation in Israel from numerous perspectives. Notably, he founded the Voices from the Changing Middle East festival, which produced the U.S. premiere of the stage adaptation of Palestinian author Ghassan Kanafani's Return to Haifa, adapted by Israeli playwright Boaz Gaon. The production was condemned by a group called COPMA (Citizens Opposed to Propaganda Masquerading as Art), a self-described "group of concerned citizens who believe there is no place in our Jewish community centers and institutions for anti-Israel propaganda." COPMA went on to condemn other Theater J productions in the following years, which Roth described as an effort to "redirect theatre away from being a forum for an exchange or even a synthesizing of many different points of view."
Roth acknowledged that some might question a Jewish Community Center's offering "equal time (or any time)" to a narrative that isn't Israeli or Jewish. "We can play respectful host to a series of points of view that aren't necessarily owned by us," he argued. "We can hear them and we can absorb them and become enlarged by taking them in." Ultimately, the JCC canceled the Voices from the Changing Middle East festival, and some news sources reported that the decision came from Theater J rather than the parent organization. Roth spoke to the press to correct this misperception, he said, an action that he said was deemed "insubordinate" by JCC management. "They support that by saying that there's no difference between the JCC and Theater J. One is the umbrella organization, the other is the program. Of course, the theatre had had huge acclaim for this Voices from a Changing Middle East Festival, [but] the executives and CEO of the JCC wanted to see that festival go away, so they made an executive decision...I needed to correct the record, and I was reprimanded for insubordination."
Any perceived act of insubordination, Roth continued, was to defend his artistic choices or the artists themselves. "JCC never, ever, ever, effectively defended me, the artists or the work, in response to these wild exaggerated and distorted characterizations of our work," he said, mentioning COPMA as a driving force of "agitation" against Theater J's work.
Speaking about his relationship Carole Zawatsky, Roth said that the DCJCC CEO has, for many years, been "extremely respectful and admiring of the work we do and of my abilities as an artistic director." Zawatsky has managed arts programming herself over the years, he added, and they related to one another as both artists and programmers. "I appreciated her respect for many years," he said. Still, he acknowledged, they had different ideas of what Theater J should be and what kind of arts it could present. "What did we fight about? We fought about whether you could have Palestinians on stage. We didn't fight just for the sake of fighting. We fought about representation and who would have a voice on our stage." In the end, Roth said, "the place wasn't big enough for the both of us."
Carole Zawatsky
Following the public letters of support for Roth, Zawatsky issued a public letter of her own, explaining her side of the story. "Ari Roth was not fired because of his politics or because of outside pressure," Zawatsky's letter, which ran in the Washington Post Dec. 26, said. "Ari Roth's dismissal related to a pattern of insubordination, unprofessionalism and actions that no employer would ever sanction. He was planning his departure from the DCJCC for many months and had indicated that the 2014-15 season would be his last. He had attempted to force the DCJCC to give up Theater J to his sole control and when that effort failed, he had begun to work on a new venture, while still employed by DCJCC."
"I am proud of the excellent, thought-provoking and creative art that have become a hallmark of Theater J," Zawatsky wrote in an email to Playbill.com. "We have not and will not shy away from controversy, but quality art must be our priority. It had become clear that Ari Roth was increasingly allowing his politics, not art, to lead his decision-making."
When Roth went to the press to say that the JCC, rather than Theater J, had canceled the Voices from the Middle East festival, Zawatsky sent him an email protesting his division of the two companies. As an employee of the DCJCC, she said, Roth was required to work with the Director of Communications and herself on all press activities. She also said that she had warned Roth "several times" about acting "outside the bounds of the DCJCC protocol."
In addition, Zawatsky said, Roth was planning to meet with members of the Theater J Council off-site to discuss breaking Theater J away from the DCJCC and sought to solicit their support. "On November 21st he sent an email to the Theater J Council and Theater J staff (who are employed by the DCJCC), inviting them to a January 6 meeting at the home of one of the council members," Zawatsky said. "In the email Ari, a full-time employee of the DCJCC, asked council members to help him create a competing theater by inviting them to 'attend an informational and brainstorming session to discuss the range, focus, viability and timetable for the establishment of a new, alternative producing company.'" Beyond that, Zawatsky continued, Roth had proposed to the DCJCC that the 2014-15 season would be his last, and that he would take Theater J with him when he left. "With the support of the DCJCC executive committee, I rejected Ari's proposals to take Theater J from the DCJCC," Zawatsky wrote. "In response, Ari made it clear to many that he would be stepping down by the end of March. In the interim, Ari's behavior continued to be consistent with someone who thought he would be taking the theater with him when he left. He demonstrated clear disregard to his employers and took for granted that the DCJCC would continue to pay his salary while he pursued projects under other venue names."
(For his part, Roth did not deny his efforts, but said that "all was done with full transparency and coordination of the Theater J council and co-chairs." One proposal, he said, would have changed Theater J's relationship from a subsidiary of the DCJCC to a partner that would rent theatre space from the former parent organization at $200,000 per year. The proposal, Roth added, "went through 14 people on the executive committee" and was formally presented to Zawatsky, who rejected it. "The DCJCC was not interested in a redefined relationship," he said.)
As to the public letters of support for Roth, Zawatsky expressed surprise "that the arts community does not recognize the important fact that Ari was planning to leave the DCJCC for many months and that he wanted to start his own venture. Now he has his own venture and is free to pursue his artistic visions as he sees fit. We are surprised that the narrative Ari has presented continues to be about censorship rather than his clear desire to move on to a new venture."
In a public Facebook post, Stephen Stern, Theater J Council vice co-chair, offered a different perspective of Zawatsky's charges against Roth, claiming that Roth had developed "a number of scenarios for a cooperative way forward and shared them with DCJCC leadership." One of these, he said, asked for a clear definition of the artistic director's "autonomy within the current DCJCC governance structure"; others laid out a plan for Theater J to organize under its own 501c3 program and being in partial residence at the DCJCC; or alternatively separating the Voices from the Changing Middle East Festival from the DCJCC, while Roth continued as artistic director. "It is common for Artistic Directors to take assignments outside of their home theater, and while there was special turbulence around this Festival, I believe it would have been doable," Stern wrote.
"On October 29, at a Theater J Council meeting, Carole informed the Council that the Festival was irrevocably removed from the DCJCC and all of the scenarios presented to her were rejected. I think it was then, that it became crystal clear to us all that the die was cast and major transition at Theater J was inevitable. Many of us on Council were torn between our deep connections and love for the DCJCC (in my case 25 years of active involvement) and for the theater that with material support from the DCJCC had been built to extraordinary prominence by collaborative efforts led by Ari Roth. At that meeting Carole graciously fielded our questions, and some outbursts of anger. The Executive Committee of the Council prepared for the Council's next meeting, December 3 to respond further to our meeting with Carole and try to frame an initiative that would help cooperative transition discussion by DCJCC management, leadership and its Board.
"The Council was deeply divided — some feeling Ari needed to make up his mind before we might act, others in the thrall of DCJCC governance priorities, and others like myself deeply disturbed that a major component of the theater's work and its Artistic Director were under such misguided internal and external pressure. From the end of Thanksgiving weekend until Ari's firing, a small group of deeply divided drafters within the Council worked to find a common ground initiative and appeal to DCJCC Management and Leadership, and to urge a cooperative transition that would move Festival, and alas without doubt Ari, away from the DCJCC. Our letter was approved (unanimously by the Council Executive Committee and overwhelmingly by Council) on December 17, the CEO given a heads up that that a letter from the Council was coming to her and to the Board. It was delivered by email the morning of December 18, perhaps simultaneously with the fired Ari being escorted from the building. One clear power that I agree rests with Carole is the hiring and firing of the Artistic Director, and finally she unequivocally exercised that, and is now in my view futilely searching with her 'communications team' for ways to justify its timing and impact. I said at the time, and have subsequently said it to Carole herself, that those actions have broken the theater, and we were brought here largely by her mistaken, ill-advised actions. The burden is on the heroic Theater J staff, to pick up the pieces and hold together this season that embodies, theirs, ours, and Ari's vision. I personally hope that Theater J patrons will support this season, but I also don't think the future after this season augurs well for professional theater at the DCJCC."