Home, sweet home! Almost. I'm writing from my Delta flight that left Fort Lauderdale early this AM. I'm home for two days, then James and I fly to Houston to see the Uptown Players production of Disaster!. Come see the show if you're in Dallas and especially on Thursday night because I'll be doing a talkback afterwards with Jack Plotnick, my co-writer and the Broadway director! Get tickets here!
Anyhoo, I was in Fort Lauderdale last night to do a show with Adam Pascal at the Parker Playhouse. We were talking about all the celebs that came to see Rent back in the day and he mentioned that supermodel Cindy Crawford was there numerous times. Of course, Adam had a huge crush on her and when she sent a case of champagne backstage for New Year's Eve, Jesse Martin told Adam he should go for it and call Cindy to thank her. Adam had no idea how to reach her (4-1-1? Anybody? #OldSkool). Jesse reminded him that Cindy worked for Revlon and probably had an office. Well, Adam found the office number and when he told her assistant who he was, she told Adam that she knew Cindy would love to hear from him personally! Instead of connecting him, she gave him Cindy's home number! Adam called…and this was the conversation.
ADAM: Hi, Cindy! This is Adam Pascal.
CINDY: Who?
First, take that in. Continuing:
ADAM: Adam. From Rent? Um…I was calling to thank you because you sent a lovely case of champagne backstage.
CINDY: I did?
ADAM: Yes….so, thank you.
CINDY: You're welcome. (Pause) How did you get this number?
Note: At this point onstage, I'm having a massive anxiety attack even though the conversation happened more than 20 years ago.
ADAM: Your number? Oh! Your assistant gave it to me! [Adam told us that he was failing so badly, he decided he might as well go for broke]. So… I was wondering…if you're available some night….maybe we could go out for a drink!?
CINDY: Oh. Right. Well, why don't you call my assistant and give her your number? Then I'll call you when I'm available.
And now the shocker ending….she never called.
All in all, it was gratifying to know that someone as amazing looking as Adam also experienced that kind of "I'm going to get my courage up and just ask him out" phone calls that ended in mortification and lasted right up until my marriage.
Back to the show: Adam sang up a storm…doing songs from Memphis, Cabaret, Hair, Chess, and his amazing song from Disaster! that ends on a high B! However, he also talked about his nervousness about lyrics. He's been singing "One Song, Glory" since Rent opened Off-Broadway in the '90s and yet more than 20 years is not enough to fully know lyrics. Not that long ago he was on a morning talk show in Houston. During the commercial break, right before he was going to sing, he couldn't remember the lyrics. At all. He couldn't even remember how it began. (Reminder: "One Song, Glory" begins with the lyrics "One Song, Glory.") He was in a full panic. He happened to have a friend with him who knew the lyrics to the song (like 99 percent of all Broadway fans) so Adam told him to stand right next to the camera and mouth the words. P.S. What was Adam's plan if he didn't have his friend there? Well, until he came up with the friend plan, he had decided to tell the hosts that he couldn't go on because he had food poisoning and was about to throw up. Soon, the commercial ended, Adam started singing and, luckily, his friend had amazing miming mouth diction. Here he is singing right after the Disaster! curtain call as a fundraiser for Broadway Cares/Equity Fights AIDS.
While James and I were on our cruise, we took all of our passengers to the Aruba Animal Shelter. The devastating part is that there is a vet next door where people drop off their unwanted pets and those poor animals are euthanized in 24 hours. Why are there so many? Because people there don't have their animals fixed.
Sadly, the same thing happens all over the U.S. PLEASE: Have your animals spayed or neutered! It can end the need for kill shelters! Back to Aruba: The shelter goes next door and picks the doggies and kitties they think they can get adopted and brings them to safety. What we loved about the shelter is that once you're inside the gates, the doggies aren't in cages! They roam all over the place so you can pet and play with them all!
Last year, we visited the San Juan Humane Society and two weeks later, our new doggie Mateo was on a plane to the USA. Since we now have four dogs (!) I knew we weren't getting another one. Well, right before we left, there was a dog named Chrissie who was calmly pressing against me and James whenever we went over to her. So, so sweet. She was only 18 months, but had already given birth.
We took photos and the next day, James was sharing them with his mom who lives in a "mother-in-law" suite attached to our house. Well, she saw Chrissie's eyes and decided she looked like Max, the senior dog she just lost. End of story: James told me that Chrissie was coming to live with us! The head of the animal shelter had to fly to Philadelphia on Saturday night and told us that James' mom could meet her at the airport and bring Chrissie home.
Here's where the Broadway part comes in: We soon found out that because the shelter just got her, she hadn't been fixed yet. I knew we had to get advice from Bill Berloni, Broadway's animal trainer ever since he trained Sandy for Annie in 1977! We told Bill that we would get her fixed once she was living with us and that we assumed we didn't have to worry because Mateo and Bagel, our two male dogs, were neutered. Apparently being neutered means they can't reproduce but they still have sex drive (#StillGotIt), which would cause Chrissie stress. With the schedule for flying her up from Aruba, we had to bring her up now, but with the time she'd need to heal away from other dogs we didn't know what to do.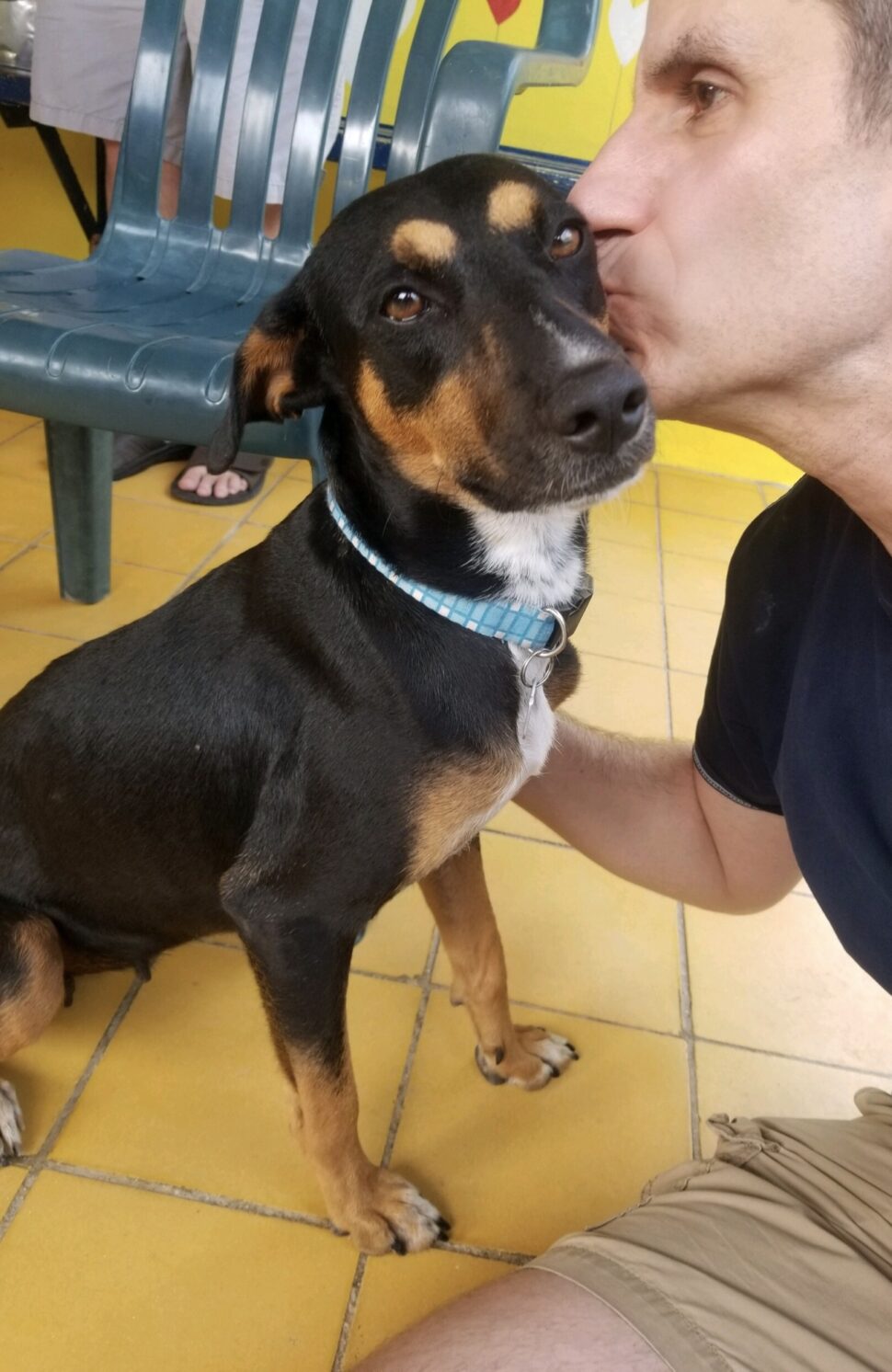 Bill then offered for James' mom to drop off Chrissie at the Humane Society of New York on Saturday night, where he volunteers, and they would fix her and house her there until she healed! James' mom got lost numerous times in Queens and poor Bill Beroni waited for her the whole night and finally met her at 12:30AM! He then drove home to Connecticut, got up at 5AM to rehearse for the Rosie's Broadway Kids Benefit and then had to drive to Florida! Good news: Chrissie is safe and sound. Bad news: We're about to leave! First a cruise and then a week in London, where I'm doing Deconstructing Broadway! What's the link for tickets you ask? Why, right here.
Then, right after London, I go to Pittsburgh to do Rhapsody in Seth April 22 and 23, and then I go to L.A. to do Rhapsody in Seth at Largo.
When we come back, Chrissie's going to be so bonded to James' mom that I will have to haul out all of my manipulation (a.k.a. non-stop treats) to steal her affection.
Speaking of treats, Andrea McArdle said that she always had little treats for Sandy in her pocket during Annie that she used during the scene with "Tomorrow." Well, one day, the treats fell out of her pocket and Sandy was obsessively trying to get them throughout the entire song. And…they had fallen right around her crotch area. Let's just say Andrea never dropped them again. Speaking of Sandy, here is Andrea and Sandy together on a TV special where she sings that late '70s classic "You Light Up My Life" and an amazing version of "Tomorrow" with a sassy modulation I've never heard before!!!!!
Peace out!