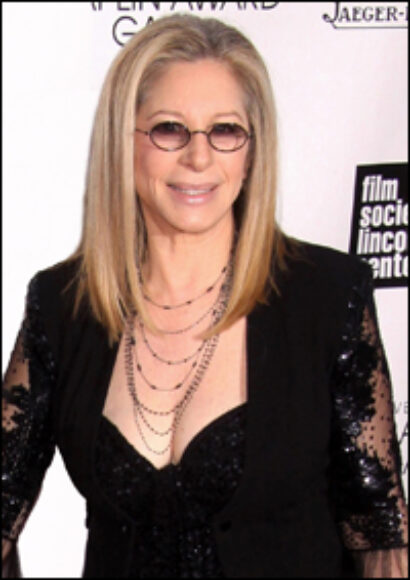 Earlier this week Streisand was honored by the Film Society of Lincoln Center at the 40th annual Chaplin Award Gala at Lincoln Center. Streisand was presented with the honor by President Bill Clinton.
Playbill.com is celebrating the legendary performer with a collection of videos that highlight her tremendous career.
View her page on the Playbill Vault here.
Barbra's most recent concert at the Barclays Center last October.
Barbra pays tribute to Marvin Hamlisch with "The Way We Were" at the Academy Awards.
Barbra sings "As If We Never Said Goodbye.
Barbra sings "Send in the Clowns" in concert.
Barbra sings "I'm Still Here."
Audio of Barbra singing "Home."
Barbra sings "Send in the Clowns."
Audio of Barbra performing "On My Own."
Barbra performs "Tomorrow."
"The Way We Were."
"Evergreen."
Barbra and Barry Gibb - "What Kind Of Fool."
Neil Diamond and Barbra - "You Don't Bring Me Flowers."
"You'll Never Walk Alone."
"Memory."
"People."
Barbra and Ray Charles - "Crying Time."
"I Never Has Seen Snow."
"A Piece of Sky" from "Yentl."
Turning "Happy Days Are Here Again" on its head with this little scene on "The Garry Moore Show" in 1962.
Like Judy Garland, Streisand knows how to handle a Harold Arlen tune. Not even 20 years old in 1961, here's Barbra's very first television appearance on "The Jack Paar Show" performing "A Sleepin' Bee."
At 21 years old, Streisand was already proving why some songs should never be touched once she's done with them. Knocking out "Down With Love" on "The Judy Garland Show" in 1963.
1967: "A Happening in Central Park," swinging through "Cry Me A River."
"When the Sun Comes Out" from the final section of "My Name Is Barbra."
Holding her own with a clearly delighted Judy Garland as the two offer their famous duet "Get Happy/Happy Days Are Here Again."
Babs shows off her comic side in "I'm Five" from "My Name Is Barbra."
A very young Barbra showing some sass and swing on "Lover Come Back to Me."
"Gotta Move" on "The Bob Hope Show."
The finale to her first television special, "My Name Is Barbra." Here she sings "The Music That Makes Me Dance" from Funny Girl and Fanny Brice's signature "My Man."