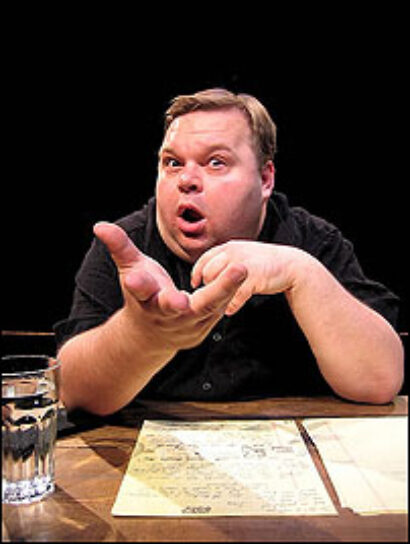 Daisey, who is best known for his acclaimed work 21 Dog Years: Doing Time @ Amazon.com, told Playbill.com April 22 that based on comments group members made to the front-of-house staff, it was the profanity used in his monologue that caused the uprising. "A number of them," Daisey said, "expressed that they were disgusted by 'this filth.' . . . I'm very good at sensing houses — it's my job. The audience was unified and warm up to that moment. My suspicion is because they were there together as a group, they were compelled to leave as a group. When a group is together, it doesn't take that many people to make [everyone] act unreasonably." Daisey does say that a few members of the group apologized for their behavior as they were leaving the theatre.
As of April 22 Daisey had yet to hear from any members of the group, although "I have been endeavoring to connect with them. I'm hoping to have a conversation with them. I gather they were a Christian group, and that they were visiting Boston from somewhere else. I also gather that they didn't know much about the show before they came to see it. . . ."
One of the audience members who left the production contacted Playbill.com April 24 via e-mail. That correspondence from Natasha Ricketts, a student of Norco High School in Norco, CA, follows:
"I was a student that walked out. I did it because I had to. We aren't a religious group. We are a high school choir. We called several times and asked about the content [of the show] and whether or not it contained profanity. They lied and said no and that it was no worse than what you hear on TV. I'm sorry to say but on regular TV f*** isn't a common word. Another thing is before the show, when we heard 'Turn your f***ing cell phones off or we'll shove them up your ass,' [our teacher] went to the stage manager and asked him to pause the show so we could leave, and he refused.
"We were on a school trip, and school rules apply. Not only that, but [our teacher] truly cares about his students, and respects the fact that some students could be deeply hurt by something and he would never put them in that situation. I'm not scared to say I'm more of a liberal than many of the people in my group, and I did find it funny and would have stayed. I do apologize for the water, most of us didn't know about it until after. I screamed and said [Oh, my God], and you can hear it on the tape [that was being filmed during the performance]. But I don't think Mike should have yelled at the kids. Many kids were in tears of embarrassment and scared of him. [He] should have taken it up only with the adults and not screaming. We weren't protesting, it was simply that they wouldn't stop the show for us, it was against school policy. . . . Another thing is the entire group was disgusted with the water pouring. Like I said I screamed. We were all in shock. That's why we didn't [stay to] talk [afterwards]." When contacted April 24 and told of the student's letter, Daisey explained, "[The group was from a] public high school, though in the lobby of the theatre, in the theatre itself, and on the phone to the box office they identified themselves again and again as a Christian group. . . . As a group, the people in charge freely identified themselves as a Christian group, until reporters call[ed] and they remember[ed] they are from a public high school. They also identified themselves to me as a Christian group as they fled the theatre — it's barely audible on the YouTube clip, as an adult tells me they are a Christian group, then flees for the door, refusing to engage with me.
"As has been covered in other media outlets, I now know that the group bought their tickets that day. I have spoken with the box office staff who spoke with a representative from the school —they asked if the show had appropriate content for high school students, and they were told it had strong language and adult situations.
"It bears noting that in fact, there were two high schools there that night — and the other high school stayed, enjoyed the show, and I had a very good talk with them after the show discussing the work. That high school confirms that they were informed about the language and content of the show when they asked — the box office informs anyone who asks what the show contains.
"I did speak with an administrator from the school, and with the individual who ruined my work. I think it's important to note that I found and called them — it is clear to me that I never would have heard from any of them again had I not hunted them down. I had a long and interesting talk with both of them, and I'm planning on writing about that process, but the long and the short is that I sought them out, they stopped hiding and we were able to start a dialogue.
"I will say this: When I spoke with the administrator and with the individual who vandalized my work, both of them repeated the same statement time and again, which undercut their apologies to some degree: they insisted it was a 'safety issue,' and that 'we had to get our students out of there.' There was no discussion of language or appropriateness — it has become a safety issue, as though the students were in danger of being physically assaulted.
"I think it is tremendously chilling that the language of the war on terror, the language of security, has been appropriated for even this — we can't even begin a dialogue about what is and is not appropriate, because it has all become a 'safety' issue. That ends a conversation before it has even begun.
"I would posit that what is not appropriate is an adult, who is responsible for students, assaulting and destroying work he disagrees with, and then none of the adults having the guts to engage with me about what their group has done. I have received heartfelt apologies from a number of students who would have stayed for the show, and regret the actions of the adults — unlike the people ostensibly in charge, they reached out to me, and I think that indicates that many of these students have a degree of class and dignity missing in their teachers and chaperones. I've already offered any of these students free tickets to any of my shows, anywhere in the country — I hope someday some of them will be able to take me up on it."
Daisey will continue offering Invincible Summer through April 29. His next monologue, entitled Monopoly!, will begin performances at ART in May.
Mike Daisey's other monologues include Great Men of Genius, The Ugly American, I Miss the Cold War, Wasting Your Breath and Stories From the Atlantic Night Cafe. His first book was titled "21 Dog Years: A Cubedweller's Tale," and he is currently at work on his second tome, "Great Men of Genius." He resides in Brooklyn with his director and collaborator Jean-Michele Gregory.
For more information visit www.mikedaisey.com or www.amrep.org.
*
The entire incident was also captured on video. Daisey told Playbill.com that "because the show changes every single night and evolves as it goes — there is no script — we tape each performance." On his website is video footage of the walkout and the destruction of his notes/outline. Looking back, Daisey said that the event was "pretty shocking. Because I'm emotionally open during the shows . . . [one can see on the video] exactly what I'm thinking [as the events occurred]. It was a very shocking thing to see them rise up at once and come down through the house like that. It was most shocking when the person destroyed the original of the show's outline — both in terms of how he came into my physical space and the look on his face as he was doing it." Daisey said the man had "a look of hatred and complete and total arrogance and contempt. . . . and [a feeling of] superiority."
"What I think is interesting about that [video] clip," Daisey adds, "is how extremely chilling and simultaneously dorky it is. . . I'm really glad that we have the clip — I think it's valuable for people to see it in action because you don't think things like that happen. Who gets that offended by language? But people do."