(Clicking on a name bolded in blue will take readers to that actor or show's entry in the Playbill Vault.)
Florence Eldridge in Long Day's Journey Into Night
"In late '57 I was riveted to my seat at the end of O'Neill's Long Day's Journey Into Night, the first dramatic play I ever saw on Broadway. Florence Eldridge's mad decline into heroin addiction just before the final curtain so poignantly expressed the depth of the tortured relationships and the pain inflicted on one another by the Tyrone family. To this day I still don't know how she put herself through such agony eight shows a week."
The Visit
"The Visit blew into Kansas City (my hometown) fresh from Broadway for a limited run while I was still a wide-eyed teenage theatre maven. I'll never forget Lynne Fontanne sitting on a veranda high above stage level, an oasis of calm above the freneticism she'd set in motion amidst the people of the town she'd grown up in and been scourged by. Her quiet control of the moment was deafening! And Alfred wasn't bad either!"
King Lear
"Paul Scofield's 1962 King Lear at London's National Theatre was my introduction to Shakespeare as savagely frightening theatre 'entertainment.' It was so intense experiencing Lear's agony-induced self-blinding; with a daughter as monstrous as Goneril (brilliantly portrayed by Irene Worth), who wouldn't want to avoid seeing anymore of this horrifying life?"
Beatrice Lillie in High Spirits
"The first Broadway show I worked on was as a rehearsal pianist for High Spirits. My assignment on January 1, 1964 was to go to Beatrice Lillie's apartment and teach her 'Give Me a Bike' and 'My Ouija Board' (Gulp!) She was sweetly personable and very understanding of my green, awe-struck state. Much later, after four weeks pre-production, six weeks rehearsal, and eight weeks out of town, when I realized Bea still didn't know, or at least, couldn't remember the material, I began to doubt my teaching technique. However, after a couple weeks' previews at the St. James Theatre, she delighted audiences with one of the all-time miraculous and eccentric star turns in musical theatre history!"
Bernadette Peters in Sunday in the Park with George
"Right up there in the same league was Bernadette Peters in Sunday In the Park With George. It was a case of the Perfect Actress cast in the Perfect Role in a show that made, to my mind, the most comprehensively Perfect Statement about the creative process. It was a performance that was of equal parts entertaining, touching and flawlessly illuminating. Truly one of my most moving experiences in the theatre."
West Side Story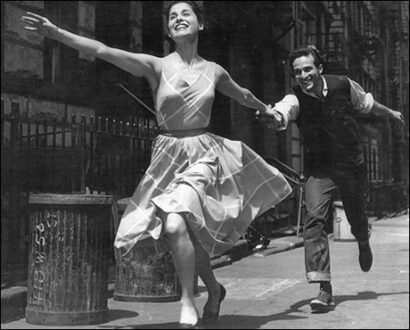 "Deep into its initial run in the late 50's, West Side Story was rumored to become a victim of a strike set to darken Broadway. I bought a standing room ticket to see that final performance before the strike. Believing the rumor might be true, the company gave the performance of their lives. It was sheer magic; the Winter Garden audience all-blubbering and blowing noses for a variety of reasons. It was a bit like attending a funeral for a brilliantly talented youngster who died too soon. Sure enough, the show went dark for a few weeks, but lo and behold, after hugely positive press, West Side was announced as returning after all, and I wangled another ticket, this time for its triumphant return – more blubbering, more blown noses and, if possible, even more breathtaking performances from Larry Kert, Carol Lawrence, my future roommate, Tony Mordente, et al. It was paradise!"
Gwen Verdon in Redhead
"Gwen Verdon in Redhead delivered a master class on how to do absolutely everything perfectly in a simple little number called 'The Right Finger of Me Left Hand.' She was at once the shyest, most humble, appealingly gritty character I'd seen since Julie Harris in Member of the Wedding. Flawless skill, undying charm, and technique gained from a lifetime of dancer's discipline, she wiped the Best Performances slate clean as a whistle in less than four minutes of gloriously being in The (Verdon) Now!"
The Three Sisters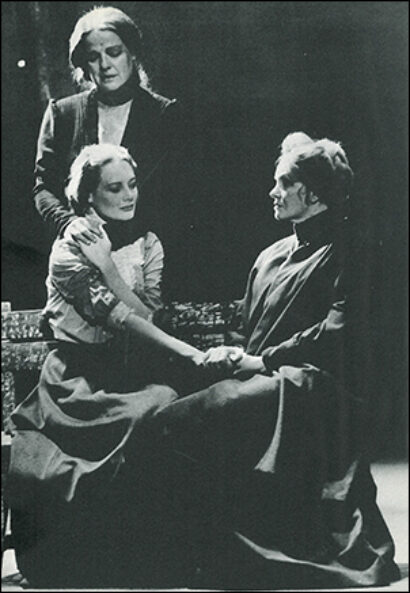 "In 1964 Geraldine Page, Kim Stanley and Shirley Knight brought their considerable talents to the Actors Studio production of Chekhov's The Three Sisters. My only prior exposure to Chekhov has been a musty production of The Seagull in St. Louis. Imagine my surprise to find humor running rampant within those sisters! And, a few weeks later, when I heard Kim and Geraldine were going to switch roles, I once again paid the astronomical sum of $14 for another ticket and watched (as must an alchemist) the magic of gold appearing from the fire of sheer brazen talent melding with the support of brilliant stage craft – Lee Strasberg directed! Bliss!"
Irene Worth and John Gielgud in Tiny Alice
"Irene Worth and John Gielgud parrying and thrusting in Albee's curious, surreal play, Tiny Alice, lit up Broadway in late 1964. Watching these two actors (clearly deeply respectful of each other's high wattage talents) give illuminating performances. In spite of – or perhaps, because of – the confusing allegorical structure of the play, I was riveted by the spectacle of two theatre giants having a whale of a time giving the audience an equally outsized bang for their buck. Giving the audience the benefit of a combined 100 years of acute theatrical experience, I was happy to let it wash over me like a warm, well-spoken, perfectly articulated bath!"
The Lion in Winter
"'And the Tony goes to...Rosemary Harris for her performance as Eleanor of Aquitaine in The Lion in Winter.' (Thunderous applause!) I relished every minute of this beastly battle of wits between Rosemary and Robert Preston, having each other for breakfast, lunch and a late-night snack! Rosemary's sonorous voice was a perfect match for Preston's ferocious barking. In the end, both lost everything. . .the beautifully written tale of how they arrived at that ignominious stalemate and the spectacle of watching two theatre titans slug it out was a feast I will never forget! It was also the moment Ronald Walken, the song-and-dance man of Best Foot Forward and High Spirits, became Christopher Walken. Smooth move, Chris!"