(Clicking on a name bolded in blue will take readers to that actor or show's entry in the Playbill Vault.)
De La Guarda
Off-Broadway
"It was unlike anything I had seen or experienced at the theatre. It was my first time experiencing performance art. It was wildly fun and entertaining."
"Oh, so juicy! I felt like a fly on the wall in the Weston home. I was so entertained by this family's dysfunction.  And it felt so real, like I was watching this story and these people unfold for the first time right in front of me. Looking back, I was being given a masterclass in acting."
Douglas Sills
in Little Shop Of Horrors on Broadway
"It's the only thing I've seen him in. I would have been totally fine just watching Douglas Sills play different characters all night. The part where he had all those quick changes when he's interviewing  Seymour had me dying with laughter. His timing was perfect. He had the audience in the palm of his  hand. I wish I could have seen him in
The Scarlet Pimpernel
. He was out when I saw it in Los Angeles. Wah, wah."
Hairspray
on Broadway
"This show brings me so much joy. So much heart, so much humor, such infectious music.  The day I saw
Hairspray
was extra special for me because I literally got a phone call from my agent just a little earlier with news that I was cast in it. I had just happened to get a standing room ticket. So my first time seeing it was colored with that exciting news. But regardless of that I just love this show."
Mark Rylance
in just about anything.
"I love watching his physicality."
Josh Grisetti
in Enter Laughing at The York
"Let me preface this by saying I'm not just mentioning  Josh just because we're working together right now. (New Off-Broadway musical
Red Eye of Love
! Come see us!!!) I saw Josh in
Enter Laughing
at the York way before I even knew who he was. I don't even really remember what this show was about, but the lasting impression was of the leading man and how hard he made me laugh. It might be the most I've laughed at the theatre."
Kelli  O'Hara as Franca and Clara in The Light in the Piazza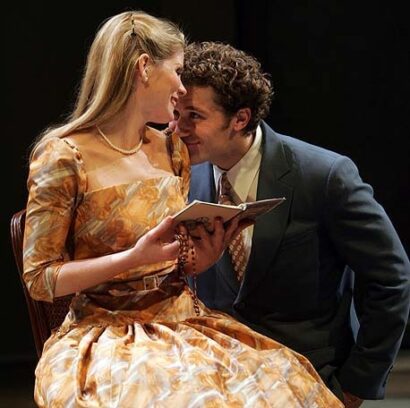 "I happened to be in Chicago on tour when
The Light in the Piazza
was playing at the Goodman before it came to Broadway. The  woman playing Franca blew me away. She was so fiery and strong!  I didn't know who Kelli O'Hara was at the time.  Cut to me seeing the show in NY, and she was playing Clara. I couldn't believe the same fiery actress I had seen had convinced me that she was now someone so young and naïve. My mind was blown a little bit. Kelli O'Hara can do anything.  And while we're on the subject, I'd like to add
Victoria Clark
and the whole show itself as one of my favorite theatre-going experiences."
Annie Get Your Gun
with Bernadette Peters
"This was a special night because I was with my mom, and we were both seeing our first Broadway show together. A wonderful memory."
Ragtime
(Original Broadway Production)
"I first saw the tour when it went through Los Angeles and saw it again on Broadway when I moved to New York. I'll never forget the staging of the opening number. It gave me goose bumps."
Judy Kuhn
on the Tony Awards
"In high school a friend of mine played me a video of Judy Kuhn the year she performed on the Tony Awards both in
Rags
and
Les Miserables
. One of my favorite Broadway voices. She can sing anything. And I was so in awe that she performed two roles that night."