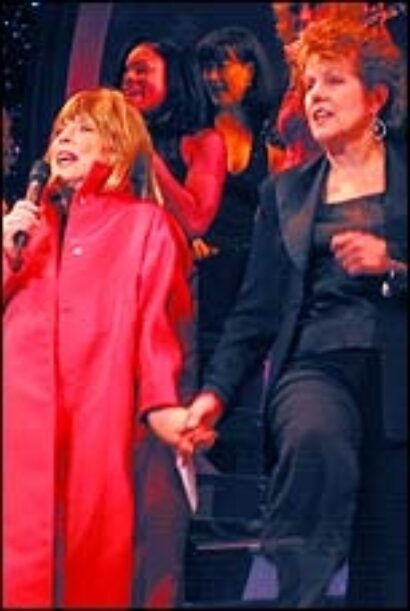 Those scheduled to take part in the 8 PM concert include Victoria Clark, Kate Clinton, Tyne Daly, Bobbie Eakes, Jennifer Ehle, Jill Eikenberry, Felicia Finley, Maria Friedman, Rosemary Harris, Ruthie Henshall, Catherine Hurlin and Jessica Ferretti, Lauren Kennedy, Darlene Love, Julianna Margulies, Jessica Molaskey, Bebe Neuwirth, Phyllis Newman, Cynthia Nixon, Rosie O'Donnell, Angie Schworer, Brynn Williams and Ruth Williamson.
The evening will also feature The Jersey Girls from Jersey Boys (Jennifer Naimo, Erica Piccininni, Sara Schmidt and Heather Ferguson), gals from the upcoming musical The Wedding Singer (Laura Benanti, Felicia Finley, Amy Spanger), stars of the Sweeney Todd revival (Diana MiMarzio, Lauren Molina, Dorothy Stanley, Elisa Winters and Jessica Wright) and women from the Off-Broadway musicalsBingo and Menopause.
Last season's Dame concert — presented March 14, 2005, at the Marquis Theatre — raised $300,000 for the worthy organization and featured performances by Kathy Brier, Zoe Caldwell, Kate Clinton, Jennifer Cody, Paige Davis, Lea DeLaria, Edie Falco, Sutton Foster, Randy Graff, Ann Harada, Dee Hoty, Nancy Lemanager, Andrea McArdle, Maureen McGovern, Bebe Neuwirth, Phyllis Newman, Rosie O'Donnell, Orfeh, Phylicia Rashad, Lynn Redgrave, Lillias White and Karen Ziemba.
Tickets for Nothing Like a Dame are priced $50-$5,000 and are available by calling (212) 840-0770 or by visiting www.broadwaycares.org.
The Actors' Fund of America is the only national non-profit organization that provides for the social welfare of all entertainment professionals. Since 1996, The Actors' Fund has focused on helping women in the industry who are coping with critical health concerns through The Fund's Phyllis Newman Women's Health Initiative. Initiated by Actors' Fund Trustee Newman, the Women's Health Initiative offers a roster of services to help women access health care and to coordinate support services. The Imperial Theatre is located in Manhattan at 249 West 45th Street.