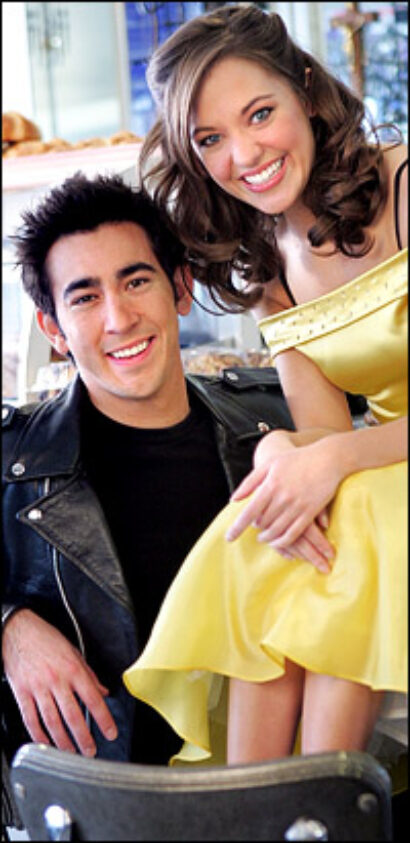 *
Countless movies have made their way to the stage. Musicals have also been turned into hit movies, and the occasional Broadway show has been adapted for television. But the current revival of Jim Jacobs and Warren Casey's family-friendly Grease, which officially opens Aug. 19 at the Brooks Atkinson Theatre, is the first Broadway musical whose leads were cast via a reality television program.
From Jan. 7 to March 25, millions of viewers tuned in weekly to "Grease: You're the One That I Want" to see which Broadway hopefuls would be cast as leader-of-the-pack Danny Zuko (the role originated on Broadway by Barry Bostwick and on screen by John Travolta) and the sweetly innocent Sandy Dumbrowski (Carole Demas on stage; Olivia Newton-John on screen) in the revival, directed and choreographed by Kathleen Marshall. The winners were 21-year-olds Max Crumm and Laura Osnes, who are currently making their Broadway bows as the Rydell High School seniors who spend a few months summer-loving only to realize, come September, they are from worlds apart.
The easygoing Crumm, who was born in Pasadena and raised in Phoenix, didn't have much faith that he would win the competition. "I thought I was going home every week," he laughs. "I never, ever thought that [I was going to win], even when I was in the final two." The charming Osnes, who was born in Burnsville, Minnesota, and raised in Eagan, had a bit more confidence, especially after the judges — who included Marshall, producer David Ian and Grease co-creator Jacobs — praised her rendition of the jazz classic "Fever." "I think that was definitely the turning point [for me]," Osnes says, "when the judges [thought], 'Okay, I think this girl kind of stands out.'"
All of the finalists on the reality program were assigned nicknames: Crumm was dubbed "Slacker Danny," while Osnes' moniker was "Small-Town Sandy." "At first I was a little skeptical about it because I thought, 'Well, I'm from Minneapolis. That's not a small town at all!'" Osnes says, laughing. "I've done a lot of professional work in the cities, so I didn't want [the nickname] to detract from either my abilities or what people thought of me, but I think as it went onward, it kind of helped me because it made me relatable. I was from a small town just like many of the people who were watching." And "Slacker Danny"?
"I thought it was funny," Crumm says. "I kind of liked it. I was like, 'Sure, I'll be Slacker Danny.' I figured, if anything, I could just prove 'em wrong."
Both Crumm and Osnes agree that the reality TV casting process was, at times, nerve-racking. "It was completely overwhelming," Crumm admits, "because we all had to live together in this house, see each other all the time, get bused everywhere. We didn't have any Internet. The show was basically about rehearsing all week for something and then cutting people. I tried to keep it as light as I could. I think that's why I stayed in the game for so long: because I was one of the people that just kept my head about me."
Osnes says she also managed to keep her cool pretty well, realizing it was "an amazing opportunity for a performer to get to sing on TV week after week and get your name out there. People work for years on Broadway and never get the kind of publicity that Max and I [received from the NBC show]."
Set in the 1950s, Grease debuted on Broadway in February of 1972 and was revived in 1994 with a cast that boasted two women who would go on to Emmy-winning TV success: Rosie O'Donnell as Rizzo and Megan Mullally as Marty. When asked what makes the current revival different from its predecessors, both young actors acknowledge the work of director–choreographer Marshall.
"The way [she] directs," Crumm says, "is just phenomenal. She is so good at getting in and out of a song; she is so good at making every single bit of everything look perfect. . . . [And she] kind of takes shows and twists them up a bit." Osnes concurs: "I really love what Kathleen is doing. We did a lot of table work at the beginning to talk about the relationships between each of the characters and the fun that Danny and Sandy must have had the summer before, bringing that into every scene. Actually, the play, the way it's written, Danny and Sandy fight in every scene. They never are happy together. . . . You could make Sandy really pouty and [have her] want to make Danny apologize in every scene, but Kathleen has this vision of both of them — each time they see each other — remembering what they had in the summer and wanting it to work so badly, until something else comes in the way. It's a deeper side of it. It is a new discovery in the role of Sandy and her relationship with Danny, which is exciting."
The two actors are equally admiring of each other. "Laura is a gem," Crumm says. "She's just so good, and she brings so much to the role that I love." Returning the compliment, Osnes says, "Max brings something totally new, totally fresh. He'll still stay true to the role but bring his personality into it. I think what America fell in love with was Max's easygoing personality, and they're definitely going to get that in the Broadway show."