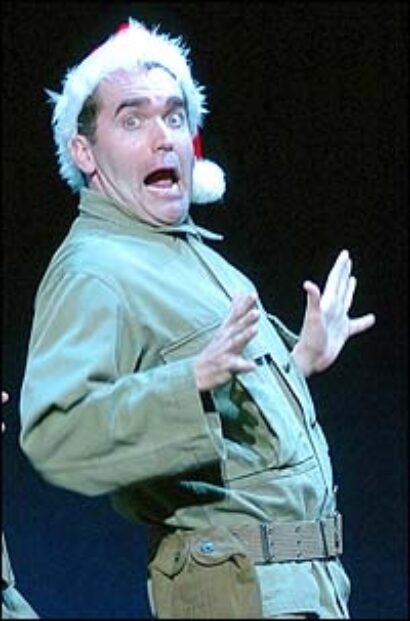 For example, rehearsing for the San Francisco troupe at the 890 Broadway studios in Manhattan are relative newcomers Kate Baldwin and Graham Rowat as Betty Haynes and Bob Wallace, who fall in love while singing "Count Your Blessings."
Over in the L.A. company room at 890, there's David Ogden Stiers, once an Army man in TV's "M*A*S*H" and now back in fatigues as Gen. Waverly, the World War II hero who, in post-war America, runs a foundering Vermont inn. In the script by David Ives and Paul Blake, drawing on the 1954 movie musical, Army buddies and performers Bob and Phil save the inn (and boost their former general's spirits) by putting on a show there. They also fall in love with the sister act of Betty and Judy Haynes in between rehearsals.
In the 890 room for the Boston group, veteran Broadway belter Karen Morrow (I Had a Ball) is making a joyful noise as Martha, the general's wisecracking fellow innkeeper. As the other pair of romantic leads in Boston, Michael Gruber and Nadine Isenegger (playing Phil Davis and Judy Haynes) sing and dance to "The Best Things Happen While You're Dancing."
The acting company for the triple franchise, directed by tireless Walter Bobbie and choreographed by Randy Skinner, is punctuated with tap dancers (Skinner was the tap wizard behind 42nd Street); child actors who are getting principal billing for the first time; potent singer-actresses (Anastasia Barzee is Betty in L.A., Shannon O'Bryan is Judy in San Francisco, Meredith Patterson is Judy in L.A.); nimble comic song and dance men (including L.A.'s Jeffry Denman, once of The Producers, and San Francisco's Mark Ledbetter, who appeared in the 2004 premiere of Irving Berlin's White Christmas); and Tony Award nominees — Brian D'Arcy James (Sweet Smell of Success) is Bob in Los Angeles, Terry Beaver (The Last Night of Ballyhoo) is Gen. Waverly in Boston, Stephen Bogardus (Love! Valour! Compassion!) is Bob in Boston.
The three companies will be rolled out in this order: San Francisco's Orpheum Theatre Nov. 9-Dec. 31; Los Angeles' Pantages Theatre Nov. 22-Jan. 1, 2006; Boston's Wang Theatre Nov. 25-Dec. 31. The complete casting follows. The San Francisco company features Kate Baldwin as Betty Haynes, Nicole Bocchi as Susan Waverly, Charles Dean as Gen. Waverly, Mark Ledbetter as Phil Davis, Susan Mansur as Martha Watson, Mike Masters as Ralph Sheldrake, Shannon O'Bryan as Judy Haynes and Graham Rowat as Bob Wallace, with Jeremy Benton, Andrew Black, Graham Bowen, Patrick Boyd, Sara Brians, Kathy Calahan, Tom Deckman, Sarah Marie Hicks, Alex Hsu, Drew Humphrey, Matthew Brandon Hutchens, Megan Hart Jimenez, Katie Kerwin, Kristie Kerwin, Matthew Kirk, Cara Kjellman, Frank Kopyc, Hannah Rose Kornfeld, Jessica Kostival, Jennifer Mathie, Brent McBeth, Emily Morgan, James Pattersson, Wendy Rosoff, Laura Schutter. Ben Whitely is music director.
The Los Angeles company features Darrin Baker as Ralph Sheldrake, Anastasia Barzee as Betty Haynes, Brian D'Arcy James as Bob Wallace, Jeffry Denman as Phil Davis, Danielle Milano as Susan Waverly, David Ogden Stiers as Gen. Waverly, Meredith Patterson as Judy Haynes, Ruth Williamson as Martha Watson, with Phillip Attmore, Cliff Bemis, Erich Bergen, Karli Blalock, Colin Bradbury, Abbie Cooper, Erin Crouch, Steven Donahue, Mary Giattino, James Gray, JT Horenstein, Wendy James, Matthew Kilgore, Craig A. Meyer, Stephanie Morse, Aleksandr Pevec, Keven Quillon, Kelly Sheehan, Melissa Giattino Shore, Vanessa Sonon, Theresa Anne Swain, Anna White, Jacob Ben Widmar, Kristen Beth Williams, Melissa Wolfklain. Music director is Steven Freeman, associate music director is James May.
The Boston company features John Anthony as Ralph Sheldrake, Terry Beaver as Gen. Waverly, Stephen Bogardus as Bob Wallace, Katherine Doherty as Susan Waverly, Michael Gruber as Phil Davis, Nadine Isenegger as Judy Haynes, Karen Morrow as Martha Watson, Kerry O'Malley as Betty Haynes, with Lyric Beth Ackelson, Ken Alan, Kelli Barclay, David Baum, Robin Campbell, Kevin Crewell, Beth Crosby, Mara Davi, Lianne Marie Dobbs, J. Austin Eyer, Leslie Frankel, Luke Hawkins, Michael Thomas Holmes, Todd Lattimore, Melissa Lone, Melissa Rae Mahon, Ritchie Mastascusa, Pilar Millhollen, Missy Morrison, Denise Nolin, Richard Pruitt, Vincent Rodriguez III, Matthew Schneider, Kristyn D. Smith and Kevin Worley.
*
The triplicate rehearsal process sounds like something out of a Marx Brothers movie. Does a wide-eyed Walter Bobbie dash in and out of doors every five minutes to address different scenes? Sort of, Bobbie told Playbill.com. "Organization" is the key, he said.
"The Producing Office is really on top of it," he explained. "They wanted to make this happen so they did a lot of things to insure we could. We have two floors of 890 Broadway, we have two full rehearsal sets, we've got I don't know how many rooms down there. I also have nine stage managers, three for each production; three conductors, three associate conductors, dance captains. There are all these little units."
How does he manage to oversee it all?
"I have an incredible team," Bobbie said. "We came back from last year and the first thing we did was get together in January and say, What did we learn? What should we do? How do we make this happen if this were suddenly done in multiple companies? [Production supervisor] Michael Passaro's an extraordinary stage manager, and the way he and my associate director Marc Bruni have helped me organize this plan is quite remarkable. I know it sounds foolish, but it's actually possible! We also have our technical supervisor, Brian Lynch, revising a few things [from last year] so things are pre-set [for the rehearsal room]. [Actors'] Equity allowed us to do costume fittings over the summer before we were in rehearsal because we have something like 900 costumes — 300 each production. All of these things were enormously helpful."
In 2004, for the world premiere of this new production, the creative team was still discovering the show. "We were writing it, rewriting it," Bobbie said. "Although we had done many, many drafts before we began rehearsal, we were refining it in the room. We go into this year knowing how it works. We created a template for rehearsing the show."
For more information about the three productions, visit www.whitechristmasthemusical.com.