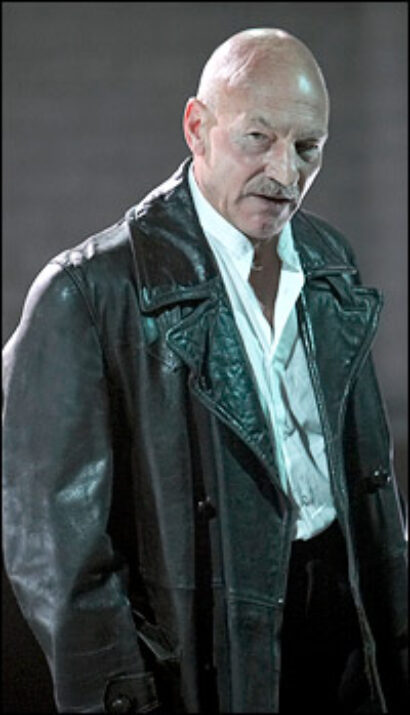 Patrick Stewart (Best Performance By a Leading Actor in a Play, Macbeth—his first nomination): "It feels so good! This is a primo nomination for a stage actor, and for a British stage actor to be nominated on Broadway is about as good as it can get. So it's a wonderful morning. This is quite something for a show that started out in a 200-seat studio theatre on the South Coast of England. I was told that, if I were nominated, I would be the first actor in the history of the Tony Awards to be nominated for this role. That's amazing. I don't think any production of Macbeth has been nominated before."
Lin-Manuel Miranda
(Best Performance By a Leading Actor in a Musical, Best Score,
In the Heights
): "I just got done hugging my mother! We had a 'Good Morning, America' appearance at the same time [as the nominations announcement] today, so we found out just before — that was a nice little boost of energy. It probably is the most hectic morning of my life. That I got nominated for Actor, I consider that an ensemble award because we have such an amazing cast. They make my job so easy. What I'm particularly proud of is all of our design elements were recognized."



photo by Joan Marcus
Martha Plimpton
(Best Performance By a Featured Actress in a Play,
Top Girls
): "I haven't had my coffee yet, so I'm a little bleary-eyed, but I'll tell you this...I'm really delighted and surprised, to be perfectly honest, and just very proud that I get to represent the ladies in our show at the big party. What an awesome year for women! Let's hope every season from now on is as lush with great women doing their thing."
Rob Ashford
(Best Choreography,
Cry-Baby
): (Asked, since this is his third nomination in as many years, if the Tonys have passed a rule that he must be nominated each year?) "You know what? You never get used to it. It's always a thrill. And if that's a rule, that's a pretty good rule. I can get behind that rule!"
Kate Fleetwood (Best Performance By a Leading Actress in a Play, Macbeth): "It's very wonderful. I'm really proud of the show, and to have a Tony nomination on top of having a fantastic production and fantastic company is the cherry on the cake. I have to say it was really unexpected. And this nomination is not just for me, it's for my little boy as well. He has to put up with his mum being out every night. It's for him, too."



photo by Joan Marcus
Bobby Cannavale
(Best Performance By a Featured Actor in a Play,
Mauritius
): (Calling from the airport) "I'm in an airport. I'm waiting to fly to Los Angeles. I just didn't expect it. I didn't know the nominations were being announced. And, I certainly didn't expect them to remember
Mauritius
— the first play of the season! It's a nice feeling. I'm on the red eye on Thursday night to go to the Drama League [Awards], which I thought was going to be the extent of the whole thing. And I was thrilled about that! It's surreal."
Conor McPherson
(Best Play, Best Direction of a Play,
The Seafarer
): (After being roused from his sleep in Dublin) "I was asleep [when the nominations were announced] because I just flew in from New York this morning. My wife woke me. I wasn't sure if I were dreaming or not. I feel great because I didn't expect we'd get four nominations. I kind of expected Jim Norton had a good chance. And for me to be nominated as director as well as playwright, it's very gratifying. It's the most technical play I've written, rather than just splurging out onto the page what I felt. I had to really build it."
Daniel Evans (Best Performance By a Leading Actor in a Musical, Sunday in the Park With George): "I watched on television. I couldn't not watch. How many times in your life are you eligible for a Tony nomination? I was up very early. I couldn't sleep. But, you know, the nominations were already on the Tony website, so even before David Hyde Pierce said my name, I knew. That got rid of the suspense. Alan Cumming came to see the show last week. He won his Tony for Cabaret. He was telling me what a circus it is, and how it's really not something that we do back home, the notion of having all the awards within a month of each other. The time is pretty intense. It's pretty charged. We're not so brutal back home. But I really want to enjoy it. That's my motto this month."
Kevin Adams (Best Lighting Design of a Play, The 39 Steps): "I had no idea which show I did was going to be nominated, if anything. And I'm still reeling from last year [when he won for Spring Awakening]. It seems like yesterday. It's a very nice surprise. I did a lot more detailing on the show at the Cort Theatre. The show is more finely detailed now. We found some more cues to add. It just looks better."
Sinead Cusack (Best Performance By a Featured Actress in a Play, Rock 'n' Roll): "To be perfectly honest, I thought that with so many plays on Broadway this season, I thought it was possible I wouldn't be remembered. So I am completely delighted. I think I will come back for the ceremony. It's a great honor. I think it would be discourteous not to come."



photo by Joan Marcus
Mary McCormack
(Best Performance By a Featured Actress in a Play,
Boeing-Boeing
): "I had my blackberry next to my bed, and it started buzzing, and the very first text message was from Joe Mantello, saying congrats. Then after that it just started coming. It's crazy. People I haven't heard from in a while. I'm totally surprised. To get six nominations for the show is great. Sometimes I'm on stage with Mark Rylance and I have to snap out of it, because I think, 'What am I doing here?' He's one of the greatest living actors. I'm having the time of my life. This is like icing. I watch the show from the wings still. Every single night, there are 50 things that are new."
Michael Yeargan
(Best Scenic Design of a Musical,
South Pacific
): "I do so much regional theatre and opera, it's rare that I'm in these circles. It's always such a thrill to be nominated. I saw the announcement on television, so I pulled up the website and there it all was! It's always so nervous-making. It's a relief if you don't win because you don't have to make a speech."
David Pittu (Best Performance By a Featured Actor in a Play, Is He Dead?): "I was texted at the gym by my friend Johanna Day. I had to get out of the house. I knew it was going on, and I didn't want to be there. And then, while I was on the treadmill, there was David Hyde Pierce and Sara Ramirez on the TV and I thought, 'Oh, shoot.' But I couldn't hear it. Then when I went back upstairs, there was a text from Johanna. That was a good way to find out. I'm glad to represent the show. The whole thing was a pleasure and a joy."
S. Epatha Merkerson (Best Performance By a Leading Actress in a Play, Come Back, Little Sheba): "I'm in Los Angeles. I'm on my way to the airport to come back to New York. I was awakened this morning. My publicist called. I guess it must have been 6 AM or something. I was knocked out cold, actually. I was surprised and quite excited by it. I started in the theatre, so the Tony nomination is a huge thing."
Jenna Russell (Best Performance By a Leading Actress in a Musical, Sunday in the Park With George): "I had switched on the broadcast, I was making a cup a tea and then Todd Haimes rang me. I was really happy, of course. I kept thinking of my mum in her office in Scotland. She had me on Google alert. She's happy. I am going to go out this afternoon and try to find something to wear that looks halfway decent. I'm a jeans and t-shirt girl. Thank goodness it's not raining, so it will be a pleasurable experience."
Christopher Fitzgerald (Best Performance By a Featured Actor in a Musical, Young Frankenstein): "My agent called me at 8:30. I'm actually in Boston. My wife, Jessica Stone, is doing She Loves Me here. On my day off I came up here—actually, with Andrea Martin, who was giving an award to Nicky Martin at a ceremony. Jessica was asleep, and I was feeding our new son, Charlie, and my agent called. I'm at the airport right now to do a performance tonight. There have been a lot of eventful days. Charlie was born two weeks into rehearsal of Young Frankenstein. It has been very intense. It's actually sweet to get a little nod for how sleep-deprived I've been while doing this show!"
Ben Daniels (Best Performance By a Leading Actor in a Play, Les Liaisons Dangereuses): "I was in bed. I got a text from a friend of mine. She said the results were on-line, and I'd been nominated. So I whipped out my laptop, and there they were. One doesn't do this job to think about awards, but of course it's fantastic to be nominated. I'm thrilled and over the moon. The phone hasn't stopped going. People from England and people from here. How brilliant to be in this great city and be doing a great part, and then someone says to you, 'Have a nomination as well.'"
Amy Morton (Best Performance By a Leading Actress in a Play, August: Osage County): "I attempted to not watch the broadcast, and for the first time since I've been here my body woke me up at 8:15. So I just thought, screw it, I'll watch it. The whole thing is just unbelievably thrilling. So what the hell—I'll be tired for a month. That's okay."
Donald Holder (Best Lighting Design for a Musical, South Pacific, Best Lighting Design of a Play, Les Liaisons Dangereuses): "I got a bunch of phone messages. I'd just gotten off a plane from California. That's how I heard about it. I'm experienced enough in this not to expect anything."
Danny Burstein (Best Performance By a Featured Actor in a Musical, South Pacific): "We have a little place in Pennsylvania. It's only about an hour-and-a-half away. I knew I wouldn't be able to see my category on television, but I did turn on CBS to see the beginning of the nominations and heard the major ones. Then we turned off the TV, had a cup of coffee and waited around to see if the phone rang. My buddy Patrick Wetzel, who was in The Drowsy Chaperone, called me and literally it sounded something like this: 'Aaaeeaaaeeyyahhh!' I couldn't even understand what he was saying. But I got the picture."
Paulo Szot (Best Performance By a Leading Actor in a Musical, South Pacific) "A friend called to give me the news, and I was very surprised and very, very happy for that. I lost my time a little bit. I was so exhausted. I didn't really wake up to listen to the nominations, though I had it all the time in my mind. I tried to relax, because if I don't I wouldn't sleep at all. I'm very glad. We worked so hard all this time, and it's good to know that people are recognizing that. I'm sure tonight's show is going to be a special one."



photo by Michal Daniel
Stew
(Best Original Score, Best Book for Musical, Best Performance By a Leading Actor in a Musical, Best Orchestrations, with Heidi Rodewald,
Passing Strange
): "I just woke up a short time ago. I sleep when I can, so I just turned off all the ringers and just slept. My girlfriend told me the news, and the 87,000 messages that were on my cell phone. I got calls from Europe and the West Coast. What I'm most excited about is I heard that Anthony Newley, who I'm a big fan of, got more nominations than I did [for
Stop the World—I Want to Get Off
]. But it's great. It's not exactly what a rock-and-roll club rat would expect to happen to him at age 46. I've been taking this thing week by week, and it just keeps getting more incredible."
Scott Pask
(Best Scenic Design of a Play,
Les Liaisons Dangereuses
: "It never gets old. It's as thrilling today as it was the first time. I'm thrilled. You never know. I'm so happy my fellow designers were nominated as well. And the production, too.
Daniel Breaker (Best Performance By a Featured Actor in a Musical, Passing Strange): "The phone is ringing off the hook. Lots of repeat phone calls. My mom has called me over and over again. She's called five times so far. My brother and sisters sent my mom and my dad out to Vegas for Mother's Day. They're at the Mirage right now. At 5:30 in the morning their time they called me. My family's from all over the place. They're coming up. They're very excited. The whole gang is coming. They've been thinking about this for some time. They just confirmed the hotel room they reserved."