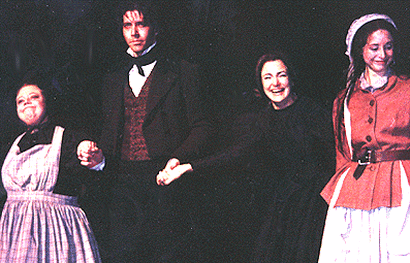 Despite a handful of major Tony Award nominations, the Broadway musical, Jane Eyre, will close Sunday May 20 after more than six months at the Brooks Atkinson Theatre, a production spokesperson said.
The tuner by book writer-director John Caird and composer lyricist Paul Gordon struggled for an audience but did find a loyal following among returnees who were dubbed "Eyre Heads." For the week ending May 13, the show played to 56 percent of capacity.
Lead producer Annette Niemtzow told Playbill On-Line May 16 the decision to close was painful, but the losses were too high. She expects to partner with other producers and announce a tour in the future, using some elements of the scenic design but not the complicated, multi-ton scenic carousel that creates the mysterious atmosphere of the staging (using screens and projections). Niemtzow also said she hopes Jane Eyre will find a home in London. The original novel is a United Kingdom treasure.
The pop musical starring Marla Schaffel, James Barbour and Mary Stout, retold the gothic romantic story first read in the novel by Charlotte Bronte. The story concerns a plain governess drawn into the tormented world of Edward Rochester, a man with secrets.
The show was nommed for Best Musical, Best Actress in a Musical (Schaffel), Best Score (Gordon and co-lyricist Caird), Best Lighting Design (Jules Fisher and Peggy Eisenhauer), Best Book (Caird). Despite the award nominations, ticket sales failed to pick up in recent weeks, prompting the close."We are honored that the Tony Awards committee has recognized our efforts with five Tony nominations," Niemtzow said.
Previews began Nov. 8, 2000, with an opening of Dec. 10. A cast album was released Nov. 21, before performances began.
*
During the run, the denizens of the alternately dark and lushly romantic world of Jane Eyre included Stephen R. Buntrock (as St. John Rivers, the man who helps the title heroine find her way back to true love), Stout (as quirky house matron Mrs. Fairfax), Nell Balaban (as Grace Poole), Sandy Binion (ensemble), Andrea Bowen (Adele), Bradley Dean (ensemble), Elizabeth DeGrazia (Blanche Ingram), Bruce Dow (Robert), Gina Ferrall (Mrs. Reed), Rita Glynn (ensemble), Gina Lamparella (ensemble), Marguerite MacIntyre (Bertha), Bill Nolte (Richard Mason), Jayne Paterson (Helen Burns), Don Richard (Brocklehurst), Erica Schroeder (ensemble) and Lee Zarrett (John Reed).
Designers are John Napier (set), Andreane Neofitou (costumes), Jules Fisher and Peggy Eisenhauer (lighting) and Mark Menard and Tom Clark. Larry Hochman orchestrates, Steven Tyler is musical director and handles vocal and incidental arrangements.
The Broadway producers of Jane Eyre are lead producer Annette Niemtzow (The Kentucky Cycle), producers Janet Robinson, Pam Koslow (Jelly's Last Jam) and Margaret McFeeley Golden, and associate producers Jennifer Manocherian and Carolyn Kim McCarthy. Variety reported the Broadway capitalization as $6.5 million.