Make sure to follow us on social media for all of our awards season coverage, and visit TonyAwards.com for further details, photos and more.
Helen Mirren is no stranger to the character of Elizabeth II, Queen of England, having won an Academy Award for her performance as the title role in "The Queen" in 2006. Her nomination for The Audience is no surprise, especially given that she won the 2014 Olivier Award for the same role Across the Pond. Read Playbill.com's interview with Mirren, and why Queen Elizabeth won't comment on her performance.
In Skylight, David Hare's romantic drama about a May-December romance set against Margaret Thatcher-era London, Bill Nighy returns to a role he previously played in London in 1997. "[Nighy] said, 'Tom Sergeant is the only role I've ever longed to go back to,' and my wheels started turning," said Hare. "For 15 years, people have asked to do a revival, and I always refused. I said, 'You have to find somebody who can fight the memory of Michael Gambon and Bill Nighy.' That answer turned out to be Bill Nighy." Read more about Nighy returning to the role here.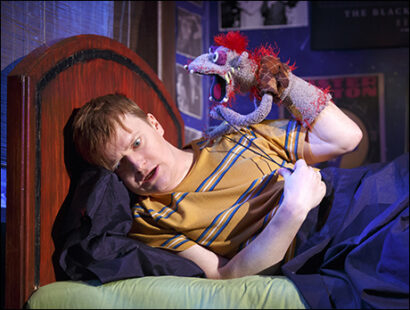 Steven Boyer must be tired. The Tony nominee has been playing two roles in Hand to God, Robert Askins' dark comedy about religion and faith — and puppets — since its 2011-12 run at Ensemble Studio Theatre. A critically-acclaimed stint Off-Broadway at the Lucille Lortel Theatre followed in 2014, and the production opened at the Booth Theatre on Broadway in 2015. "When the puppet gets going, it's sort of like this unconscious part of me that just taps into this personality and lets it go," Boyer told Playbill.com. "It's such a complicated dance.… That's why I'm back for more." Chita Rivera is no stranger to Broadway, or to the work of John Kander, Fred Ebb and Terrence McNally, the creators of the new musical The Visit. But Rivera, a two-time Tony winner with countless additional nominations under her belt, brings an even deeper level of experience to the role of Claire Zachanassian: Rivera has dedicated nearly 15 years of her life to The Visit, which has been seen in various incarnations since its 2001 premiere at the Goodman Theatre in Chicago. Read more about the history of The Visit here and take an exclusive look at Rivera in her dressing room here.
The musical Fun Home took home 12 Tony nominations, and no doubt the cast celebrated like a family. After all, they've spent enough time together lately! Fun Home received its Off-Broadway premiere at the Public Theater in the fall of 2013, many members of the original Off-Broadway cast returned for the uptown transfer, including stars Beth Malone, Judy Kuhn, Sydney Lucas and Michael Cerveris. Before moving to Broadway, the cast travelled to Charleston, SC, to present a concert version of the show in response to he book being banned from a classroom. See photos and read more about the controversy here.
Bradley Cooper first played David Merrick, the titular character in The Elephant Man, for his Actors Studio master's thesis. His determination to play the role dates back to age 12 when he first saw the movie and his Broadway run was preceeded by a critically acclaimed performance at Williamstown Theatre Festival. Read more about Cooper's devotion to John Merrick here. Cooper will continue with the show in London. The production will play the Theatre Royal, Haymarket, beginning performances May 19 for a run through Aug. 8.