*
Micah Stock and Sarah Stiles, Tony-nominated for their performances in It's Only a Play and Hand to God, respectively, were chatting in the corner of the Hudson Terrace. They were at a Tony Awards event celebrating the Creative Arts nominees between shows on a Wednesday.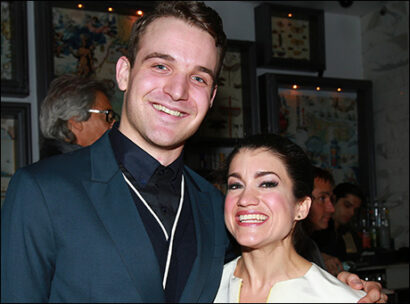 Both were dressed to kill and ready to take on awards season in style. Playbill.com caught up with Stock and Stiles, who talked about their first times at the Tony rodeo.
What has been the most exciting part of the Tony experience for you guys? This is your first time being nominated…
Micah Stock: Meeting Sarah Stiles.
Sarah Stiles: Meeting Micah Stock!
MS: It actually has been really cool to meet everybody else [who is nominated] because you feel like you have a trail buddy.
SS: That is true! When did you guys first meet?
SS: At a party, right?
MS: Yeah, I think at the [meet-the-nominees] press junket! But, I saw her in her play.
SS: I didn't get to see his yet. I don't know if I'll be able to — the schedules! I hear he's so amazing!
Do you feel that Tony season brings the community together? Is this the most time that you're spending with the people in your industry?
SS: At one time? Yeah, and we keep going to events over and over again. There's like two a week, so you really do get to know people better because we're in each other's faces all the time.
MS: Nathaniel Parker [from Wolf Hall] just said, "Now that we've gotten to the second or third one, it feels like the membrane is broken, and we can just hang out now." You don't feel like you have to go on a first date again.
Tell me about shopping for all of these events because you guys look pretty fly… What is it like?
SS: I have gotten lucky. I'm working with a stylist, Samantha Burkhart, in L.A., but I'm wearing a lot of this one designer, Inma Medina. I got hooked up with her right away, and [at] the last three events, I've worn her clothes because I love it, so I got lucky. I love shopping, but, man! There's so many things to do, and it's expensive, so I got lucky.
It goes with your eyes so well!
SS: Really?! My golden eyes?! [Laughs.] Thank you!
What about you, Micah?
MS: I've also been very lucky to have a stylist help me choose this.
SS: We're just vain, f*ckers! That's what's going on. We're like, "No, we want to look good. Somebody do this!"
MS: I look at it as an opportunity to wear all the clothes that I look at on the Internet that I could never afford in real life, and right now I'm wearing Tiger of Sweden and Reiss.
Have you started shopping for the night-of yet?
SS: I have to be a little tight-lipped about it, so… It's a work-in-progress. [Laughs.]
MS: I don't have to be tight-lipped, but I don't know what I'm wearing. There are a few options, but I haven't decided yet. It will be a tuxedo… I don't know if I should have said that!
You're giving it all away, Micah! So, what are you most looking forward to on Tony night?
SS: Gosh… I guess the big party when all of this craziness is over, and we can all just celebrate each other, and the release of all of that. It's been like a tidal wave leading up to it, so I think it'll be fun to crash all together.
MS: When I watch them on TV, I always look forward to the performances from all the shows, so I hope that will be fun, but then… I like partying, too!
SS: [Laughs.]
(Playbill.com features manager Michael Gioia's work appears in the news, feature and video sections of Playbill.com as well as in the pages of Playbill magazine. Follow him on Twitter at @PlaybillMichael.)