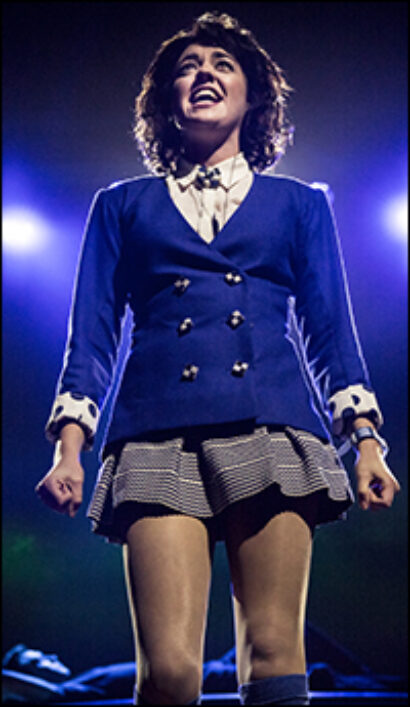 *
Laurence O'Keefe, a Tony Award nominee (alongside his wife and collaborator Nell Benjamin) for the pop-kissed score of Legally Blonde, is also a Drama Desk nominee for the 2001 cult musical Bat Boy. He's back with Heathers, another dark and twisted, yet pop-driven musical filled with catchy tunes, belt-heavy melodies and raunchy lyrics.
For Heathers, O'Keefe teams up with Emmy-winning Reefer Madness author Kevin Murphy on book, music and lyrics for the musical that is based on the 1988 film cult comedy. Andy Fickman ("Reefer Madness," "She's the Man") directs the production that opened March 31 and will close Aug. 4.
The musical was nominated for two Drama Desks, including Outstanding Music and Outstanding Actress in a Musical. Barrett Wilbert Weed, who received the Drama Desk nod, led the cast as Veronica Sawyer, and her performance (which included numerous show-stopping numbers) is preserved on the cast album, which we break down here track by track.
* "Beautiful"
We begin on Sept. 1, 1989, when Barrett Wilbert Weed's character, Veronica Sawyer, begins her first day of senior year at Westerberg High School. "Beautiful" is a typical intro to an angst-ridden musical about teens who are bullied and bully others (but we totally love it!). The first track transports us to the worst parts of high school hallways (the ensemble is backing Weed with shouts of, "Freak! Slut! Cripple! Homo! Homo! Homo!" — ah, high school!), and Veronica gives us the scoop on all the kids at Westerberg. She's brainy, Ram Sweeney (Jon Eidson) is the typical jock, Martha Dunnstock (Katie Ladner) is the heavyset outcast, and the Heathers (Jessica Keenan Wynn as Heather Chandler, Alice Lee as Heather Duke and Elle McLemore as Heather McNamara) rule the school. Overall, the track is filled with snappy, sassy lyrics ("She's a mythic bitch," says Veronica about Heather Chandler), and melodies are reminiscent of opening numbers such as "Million Miles From Heaven" from Bare (Weed and Lee also starred in that Off-Broadway show) and "In" from Carrie. Also, listen to Keenan Wynn at 6:24 (the melody to "Heather I need your brush" reminds us of "This is Harvard, not a stripper bar" and other tidbits from O'Keefe's Legally Blonde).
"Candy Store"
It's the Heathers big number and the show's anthem! Very much like "The World According to Chris" from Carrie, "Candy Store" teaches the high school losers how to rise above and gain ultimate social status — without, of course, overruling the high school's Queen "Biotch," Heather Chandler (listen to 2:20 when Alice Lee, who plays Heather Duke, begins to take the spotlight, and Jessica Keenan Wynn stops her dead in her tracks. Also check out our recent interview with Lee, who is now on ABC's "Rising Star," and vote her through to the next round). Our favorite sassy lyric from this tune is "You just gotta prove you're not a pussy anymore… then step into my Candy Store!" The raunchy lyric and use of alliteration totally nails it!
"Fight for Me"
The love-story subplot comes to fruition in "Fight for Me," where Weed's character Veronica croons over "Mr. No-Name Kid," the super cute nickname she uses to refer to Jason Dean, aka J.D., who is the mysterious new kid on the block at Westerberg. We see Veronica's immediate attraction to J.D. The melody here is sweet, and the lyrics are endearing, and it's also Weed's first big solo. The song is totally relatable — haven't we all been there, asking our secret crush to fight for us with a chorus of teenagers singing "Holy shit" in the background?
Photo by Chad Batka
"Freeze Your Brain"
In "Freeze Your Brain," we're introduced to J.D., played by Disney Channel star Ryan McCartan, who proves to be a great singer and a charmer (not to mention handsome). This song provides tons of background on his character — we learn why J.D. has moved to a new school, why he is a bit socially "off," that he lost his mother and how he takes comfort in 7-Eleven stores and slurpees. We see a relationship between J.D. and Veronica brewing, and although we know he'd rather choose a frozen treat over "cocaine" (see 1:05), we realize that he's a bit sadistic. PS: Did you know that McCartan won the National High School Musical Theater Awards in 2011? He hosted the ceremony this year!
"Big Fun"
"Big Fun" is, of course, the big party song. The parents are away, the teens are raging, and "big fun" is in store. The cast sings about drinking, smoking, skinny-dipping, watching porn and having sex. This is an obvious choice for a house-party playlist!
"Dead Girl Walking" Speaking of sex, after Veronica causes a scene with Heather Chandler, she realizes that she is a "Dead Girl Walking." Instead of sulking, she decides to go to J.D.'s house to have wild sex. The album is worth the purchase for this song alone. The catchy number is performed with ease by Barrett Wilbert Weed, who was deservedly nominated for Lucille Lortel and Drama Desk awards for her performance. Weed's voice is limitless and out of control (in the best way possible) — just wait until you get to the end of the number, when she belts out "Love this dead girl walking!" at 2:58. Plus, the lyrics here are amazing: "See, I decided I must ride you till I break you" (who would say no to that?), "Shut your mouth, and lose them tighty-whities!" (well, okay!) and "Let's go, you know the drill; I'm hot and pissed and on the pill. Bow down to the will of a dead girl walking!" (alright, already!!). You'll replay this number so many times, it will be embarrassing. Kudos, Barrett!
"The Me Inside of Me"
[SPOILER!] Veronica and J.D. have murdered Heather Chandler — the first of many, of course — and in this number, Veronica is penning Chandler's suicide letter. This one is funny because, although the duo get away with murder, Chandler is becoming a martyr in the eyes of Westerberg High students and teachers. With lyrics in her suicide note such as "My looks were just like prison bars; they've left me a myriad of scars," how could you not feel for Heather Chandler?
"Blue"
This song is about having blue balls. We applaud the writers for penning a song about blue balls, and the fact that the lyrics at the key change at 2:10 are "My balls are in your court" is genius. This song is filled with puns (played off successfully by Evan Todd as Kurt Kelly and Jon Eidson as Ram Sweeney). "My pants are rubbin' like a hot cheese grater" is one of our favorite one-liners from this song.
"Our Love Is God"
We're at the Act I finale, where J.D. is convincing Veronica (through this creepy melody and lyrics) that revenge is necessary. Suspense builds in this song, gunshots are fired and the act ends with dissonant harmonies! Ooh!
Photo by Chad Batka
"My Dead Gay Son"
Anthony Crivello and Daniel Cooney as Ram's dad and Kurt's dad, respectively, open the second act with this fun up-tempo about their "gay sons." Part gospel, part camp, this song reminds us of "A Joyful Noise" from Bat Boy, another cult classic musical also written by O'Keefe. Crivello and Cooney are funny in this number, and we also get a big surprise at the end… We won't ruin it for you, but if you're impatient, you can skip to 2:13!
"Seventeen"
We love "Seventeen" for the fact that it's a twisted version of the musical-theatre love duet. Barrett Wilbert Weed and Ryan McCarten (both in excellent voice) are singing a powerful love duet to one another, but Veronica is asking if he can make a change and stop the slew of murders at Westerberg High. We get to hear a bit of Weed's mix 25 seconds in, and it becomes apparent that there's nothing she can't do vocally.
"Shine a Light"
A fun and belty number for Michelle Duffy, who plays Ms. Fleming and is asking the students of Westerberg to shine a light on their deepest fears. This number leaves us wanting more of Ms. Fleming! That scoop-y high note from 2:10-2:18 — wow!
"Lifeboat"
Elle McLemore is great in this number, which successfully deviates from the rest of the up-tempo, pop-driven score. "Lifeboat" starts out with a dark acoustic feel until it really begins to take off 38 seconds in. This moment in the show is really special, as we see a humanistic and vulnerable side to the Heathers.
"Shine a Light (Reprise)"
We have another Heathers breakout in "Shine a Light (Reprise)" — this time for Alice Lee, who plays Heather Duke. Lee really gets to rock out in this number. PS: Have you watched her sing Lady Gaga's "You and I" on "Rising Star"?
"Kindergarten Boyfriend"
Katie Ladner, who plays Martha, really stands out in this song, where she sings about her "Kindergarten Boyfriend" and the lack of trouble she faced at such a young age. Ladner demonstrates wonderful control over her instrument, and we can feel throughout the song that she is truly acting via a cast album. Plus, we're living for her notes at 3:30. Bravo!
"Yo Girl"
When we learn that Martha attempted suicide, Veronica realizes that things have gone too far and that she is becoming a Heather at heart. The chorus of teens in the back is perfect: "Yo, girl. Keep it together. I knew you would come far. Now you're truly a Heather. Smell how gangsta you are." They build as Veronica's world comes crashing down before her eyes.
"Meant to Be Yours" A big moment for J.D. is had in "Meant to Be Yours." He's perfectly creepy, and throughout the wordy song, he finds different colors in his character. His switch between his chest and head voice is a great choice for his schizophrenic personality.
"Dead Girl Walking (Reprise)"
After Veronica has faked her own suicide, she heads to Westerberg High to stop J.D. from blowing up the school and save her classmates. She knows that she is risking her own life to face J.D. (referring to herself, yet again, as a "Dead Girl Walking"), but belts her way through it. We love this tune in Weed's voice (we can't stop playing her belty "Yeah!" at 20 seconds as well as "And there's your final bell, it's one more dance and then farewell, cheek to cheek in hell with a dead girl walking!" We are living for her option up on the word hell).
"I Am Damaged"
Things begin to wrap up in "I Am Damaged" — hence the bits of dialogue — and there are tons of special sound effects as the bomb goes off in Westerberg.
"Seventeen (Reprise)"
Barrett Wilbert Weed brings us home in "Seventeen," a typical ending to a story ridden with high-school angst: "We're all damaged. We're all frightened. We're all freaks. But that's all right. We'll endure it. We'll survive it." The cast, in Heathers fashion, end on a high note.
(Playbill.com staff writer Michael Gioia's work appears in the news, feature and video sections of Playbill.com as well as in the pages of Playbill magazine. Follow him on Twitter at @PlaybillMichael.)