*
Carolee Carmello (Finding Neverland), 2015 Drama Desk Reception
I am wearing something sentimental. This was a gift from Kathie Lee Gifford. This bracelet has lyrics from a song from Scandalous that she engraved for me when the show opened on Broadway.
Lisa Howard (It Shoulda Been You), 2015 Drama Desk Reception
I got this dress from a friend of mine who's another plus-size model. It actually means a lot that I have other friends I can trade clothes with. Usually in the dressing rooms, I'm with dancers, and I'm like, "Well, we can't change clothes." I have some friends I can do that with.
Tonya Pinkins (Rasheeda Speaking), 2015 Drama Desk Reception
This dress was given to me by Carrie Compere, who I did Holler If Ya Hear Me with last season. It's special to me because I saw her wearing a similar dress, and she said, "Let me buy you one." The jewels I actually bought in Indonesia. The shoes – I like artists. I like to buy things original artists make. A company called Cydwoq. Everything is handmade. I think the world is moving towards a place where we don't have artists doing things, so I try to buy things from artists.
Julie White (Airline Highway), 2015 Drama Desk Reception
'Cause it matched. And it was clean.
Lisa Kron (Fun Home), Hosting 2015 Lilly Awards
I'm tapped out is why I'm wearing it. I wore this exact same thing to the Obies. I can't keep up with it, and I feel the whole outfit thing this season has really bested me. I'm just wearing the same thing to the Obies. This dress I bought on Bond Street, and it's made out of material that looks great but is essentially like wearing a hefty bag.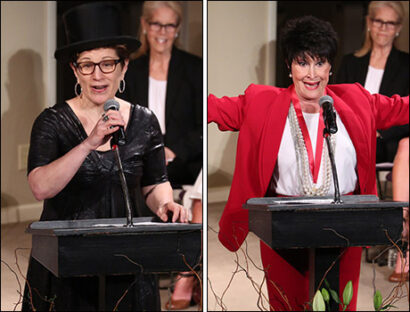 Chita Rivera (The Visit), Honored at 2015 Lilly Awards
This necklace was given to me by Marty Richards, who was a great friend of mine and a great producer. It was his wife's. I just put it on this morning. I guess Marty wanted me to talk about him. So we're doing just that – talking about Marty Richards. That's a great question. I'm so tired of, "What are you wearing?" "A suit! Thank you very much."
Quincy Tyler Bernstein (Mr. Burns, Grand Concourse) Honored at 2015 Lilly Awards
I'm wearing this today because it's so gloomy outside and I thought I'd try to bring a little bit of light into the room.
Boo Killebrew (Honored at 2015 Lilly Awards)
I am wearing this ring — a cameo — and it's my Aunt Isabel's. And the play I'm being awarded for, I wrote about her. She has died, but I have this tonight.
(Carey Purcell is the Features Editor of Playbill.com. Her work appears in the news, feature and video sections of Playbill.com as well as in the pages of Playbill magazine. Follow her on Twitter @PlaybillCarey.)