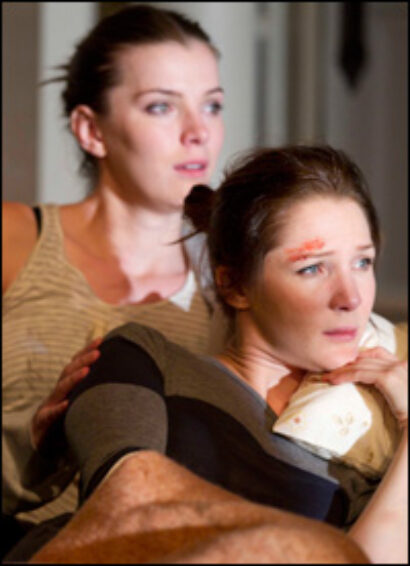 The drama's extended run plays to Nov. 6. Previews began Sept. 22. We Live Here features Mark Blum (After the Revolution, Twelve Angry Men), Jessica Collins (AMC's "Rubicon," Pygmalion), Betty Gilpin (MTC's That Face, The Language Archive), Amy Irving (The Coast of Utopia, Adam), Oscar Isaac (Ridley Scott's Robin Hood, MTC's Beauty of the Father) and Jeremy Shamos (Clybourne Park, MTC's Reckless).
Here's how MTC characterizes We Live Here: "Allie Bateman's (Jessica Collins) wedding to Sandy (Jeremy Shamos) is Sunday. When Dinah (Betty Gilpin), her precocious younger sister, returns to their parents' (Mark Blum and Amy Irving) home for the festivities, she brings more than anyone expected: a new boyfriend (Oscar Isaac), whose hidden history resurrects passions and painful memories for the whole family. Over one emotionally charged weekend, the Batemans must acknowledge and accept loss to gain hope for regeneration."
Kazan, known as a Broadway and Off-Broadway actress, makes her New York City playwriting debut with this MTC-commissioned play, "an incisive and beautifully rendered portrait of a contemporary family coming together through grief and celebration."
The creative team for We Live Here includes John Lee Beatty (scenic design), David Zinn (costume design), Ben Stanton (lighting design), Ryan Rumery (original music & sound design) and Thomas Schall (fight direction).
The play was commissioned by MTC through the Bank of America New American Play Program and is the recipient of a 2011 Edgerton New American Play Award. Read the Playbill magazine feature about Kazan's play (and actor-writer Jesse Eisenberg's Asuncion).
For more information on MTC, visit www.ManhattanTheatreClub.com.