There's a global celebration going on. It's so pervasive, you may not have picked up on the sudden resurgence of presentations of work by Leonard Bernstein, or references to his contributions to the arts, but we are in the midst of a two-year international celebration of Leonard Bernstein at 100.
The centennial celebration, with 2,000 scheduled events on six continents over a two-year period, official kicked off this past fall. Now, the National Museum of American Jewish History in Philadelphia, Pennsylvania, has created an exhibit, "Leonard Bernstein: The Power of Music," dedicated to life and work of the mastermind behind West Side Story and Candide, the founder of the New York Philharmonic, a Grammy– and Tony-winning composer, a voice for the arts, a figurehead of faith, and a humanitarian.
"Bernstein's centennial offers the perfect, timely opportunity to expand our exploration of Bernstein's legacy in terms of what he often said was the central theme or purpose to his body of original works, a 'search for a solution to the 20th-century crisis of faith,' says exhibition curator Ivy Weingram. "What did faith look like to Leonard Bernstein, beyond the religious meanings that immediately come to mind?"
From original compositions to Jewish identity to annotated scripts, the exhibit of over 100 artifacts—never before seen by the public—creates a full portrait of a man whose impact on arts and culture resonates today. Here are 10 pieces not to miss on your visit.
1. Letter from Helen Morgan to Leonard Bernstein, asking him to identify a central theme in his works.

Bernstein writes it is the "crisis of faith." Lent by Library of Congress.
2. "Samples of Faith" interactive installation. Custom creation by DOME Collective.

Each of nine building blocks explore a different musical work by Bernstein—from Candide to West Side Story to "Kaddish." Visitors places one of the sides in a docking station and a photo or video projection will appear and teach visitors something new about that work: a look inside the score, an inspiration from the temple or Talmud, and insightful quote about the work, etc.
3. Leonard Bernstein's Steinway piano that was a gift from his piano teacher, Helen Coates. On loan from Alexander Bernstein.

4. Leonard Bernstein's "tools of the trade."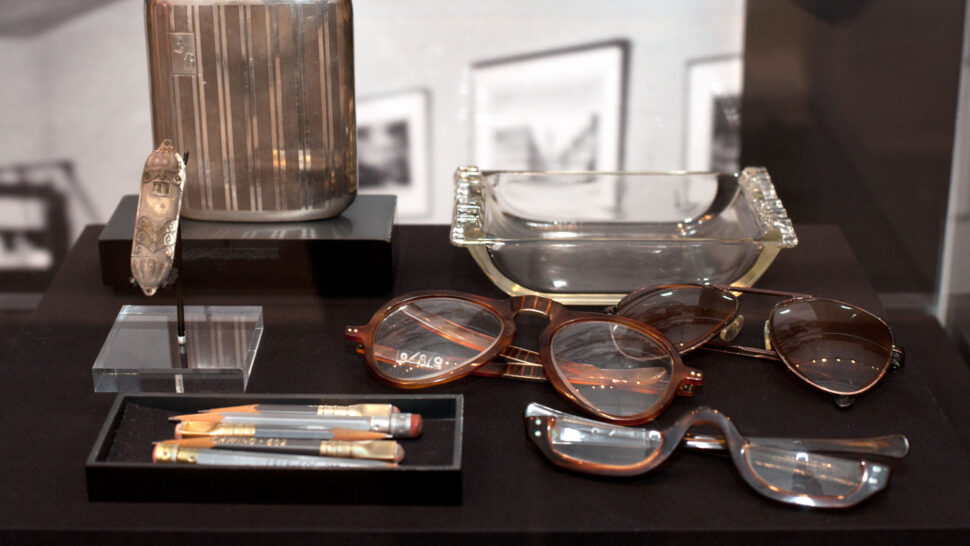 Viewers will find a flask, a mezuzah from Bernstein's Connecticut home (on loan from Alexander Bernstein), eyeglasses and an ashtray (on loan from Indiana University), and pencil stubbs from marking scores (on loand from New York Philharmonic Archives).
5. Conducting suit worn by Leonard Bernstein, made by Otto Perl. On loan from Arthur Siemientkowski.

6. Items related to On The Town.

Take a peek at a handwritten note from the male dancers in On The Town requesting an electric fan for their dressing room, Peggy Clark's script, fabric swatches from the design, and more on loan from the Library of Congress.
7. Leonard Bernstein's FBI file

Bernstein was investigated by the FBI for his outspokenness, including his support for African Americans and purported support of the communist party, in what would become an 800-page file. The National Museum of American Jewish History has the heavily redacted file printed in full for museum visitors to browse.
8. Leonard Bernstein and Felicia Montelaegre-Cohn marriage artifacts.

A bible given to Felicia Montealegre-Cohn as a wedding present from Jennie and Sam Bernstein, a silver Kiddush cup presented by Felicia Montealegre-Cohn to Leonard Bernstein on the occasion of their marriage (both on loan from Alexander Bernstein) and a marriage portrait on loan from the Library of Congress.
9. Leonard Bernstein's annotated Copy of Romeo and Juliet.

"One of my favorites is a one-of-a-kind copy of Romeo and Juliet," says Weingram, "that was hand annotated by Bernstein and choreographer Jerome Robbins as they first conceived the musical that we now know as West Side Story. We find two artistic geniuses working out how to restage Shakespeare's play as a tale of violence between Catholics and Jews on the eve of Passover and Easter on New York City's Lower East Side [as it was originally conceived]. We see Bernstein and Robbins, both Jewish, thinking about Jewishness in terms of race and the mid-1950s. [It's] a national treasure."
10. Films – West Side Story and MASS.

The exhibition includes a myriad of film clips, archival recordings, and documentary footage, but West Side Story and MASS earned their own dedicated screening rooms. The former intersperses footage from the 1961 film with clips of pop-culture reinterpretations, from popular shows like Family Guy and Scrubs to music, comedy, and advertising. The latter conveys the enduring impact of Bernstein's MASS, re-contextualizing the monumental composition by combining it with contemporary examples of the power of music.