Winter might still be here, but as the weather starts to change, take on some of these reads - great with a snuggly blanket or outside at the park.
1. Kathleen Turner on Acting: Conversations about Film, Television, and Theater, by Kathleen Turner and Dustin Morrow
One of America's most iconic actors, two-time Tony nominee Kathleen Turner looks back on her four-plus decades of work and shares the lessons she learned along the way. The book dives into some of her famous roles, as she discusses, with film professor Dustin Morrow, the techniques and skills she developed to become successful in the craft of acting. Filled with her signature wit (and that gravelly voice narrating in your head), this tome is bound to teach aspiring and established actors a thing or two.
Available now from Skyhorse.

2. Plays by Women from the Contemporary American Theater Festival, edited by Peggy McKowen and Ed Herendeen
Five plays written by female playwrights have been compiled into this anthology thematically tied to freedom of speech. Each of the works were presented at the Contemporary American Theater Festival. The group of writers represent a diverse range of women, who encourage exploring the sometimes challenging and tough pieces of theatre. Pulitzer Prize-winner Lynn Nottage writes an introduction, and each play is followed by a playwright interview conducted by Sharon J. Anderson to help readers contextualize the piece and understand its connection to larger themes.
Available now from Methuen Drama

3. Introduction to the Art of Stage Management: A Practical Guide to Working in the Theatre and Beyond, by Michael Vitale and Jim Volz
Ever wondered what it meant to be a stage manager? Michael Vitale, who has assisted in productions ranging from the Hollywood Bowl to the Barbican Theatre in London, shares his insights on one of the stage's most influential behind-the-scenes job. Vitale gives readers a guide to develop the skills of a successful stage manager, whether it's pre-production or running closing night. Not contained to a singular genre, this book looks at stage management for various types of productions: theatre, opera, cruise ship performance, and dance, to name just a few.
Out March 7 from Methuen Drama

4. Ray Bolger: More Than a Scarecrow, by Holly Van Leuven
The consummate performer brought the Scarecrow to life in MGM's classic film The Wizard of Oz. But his prolific career over five decades provides fodder for the first biographer about Bolger. The dancer first found comfort in his tap lessons before running away to repertory theatre and vaudeville on his way to becoming a contracted performer in Hollywood and a Tony Award winner.
Out March 8 from Oxford University Press
5. Backing into the Spotlight, by Michael Whitehall
Back in the day, Michael Whitehall was a behind-the-scenes kind of guy. As a theatre agent for U.K. stars like Colin Firth, Judi Dench, Daniel Day-Lewis, and more, he cast a spotlight on some of the world's greatest players. Then, his son Jack (who provides the foreward) became a celebrity comic, and Whitehall found himself dragged along as his grumbling but hilarious partner-in-crime. In this memoir, Whitehall tells the hilarious story of his life and how his own career up-ended.
Out March 12 from Constable

6. Too Much is Not Enough: A Memoir of Fumbling Toward Adulthood, by Andrew Rannells
A Tony nominee for originating the role of Elder Price in Broadway's smash hit The Book of Mormon, Rannells has gone on to be one of the wildly popular actor of across stage and screen. Originally from Nebraska, this memoir chronicles his coming-of-age, "bad auditions, bad relationships, and some really bad highlights as he chases his dreams in New York City." Described as honest and hilarious—much like Rannells himself—the book pulls back the curtain on the struggling 20-something experience through Rannells' specific story, before he became the well-known star he is today.
Out March 12 from Random House

7. Broadway Investing 101: How to Make Theater and Yes, Even Make Money, by Ken Davenport
This Tony Award-winning producer for Once on this Island and Kinky Boots has a lot to share thanks to his tremendous success bringing shows to the Great White Way. From choosing the right show to investing the proper amount and managing the risk, Davenport (also a producer on such shows as Spring Awakening, Groundhog Day) navigates readers through the necessary steps to become a profitable Broadway producer. Whether you're curious about the business or eager to take the leap, this book will intrigue anyone who's thought they want to be a producer.
Out March 15 through Amazon Digital Services LLC

8. Getting Off: Lee Breuer on Performance, by Lee Breuer and Stephen Nunns
One of the most influential avant-garde theatre artists, Lee Breuer arrived to the New York scene in the 1970s and has remained a staple ever since. Breuer created works independently and through his co-founded Mabou Mines company described as unique, challenging, and exciting. In this book, theatre historian Stephen Nunns takes a look at the director/writer/performers' productions and Breuer's past interviews to create something that is equal parts autobiography, anthology, and critical insight. Together, it creates an intimate look at one of theatre's most daring minds.
Out March 19 from Theatre Communications Group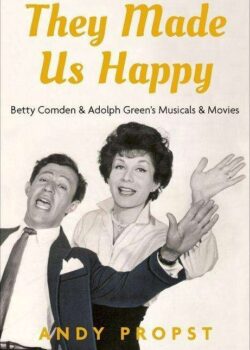 9. They Made Us Happy: Betty Comden & Adolph Green's Musicals & Movies, by Andy Propst
The writers behind On The Town, Bells Are Ringing, Wonderful Town, and more get the biography treatment in this lookback at their work, careers, personal lives, and the artists they collaborated with—Leonard Bernstein, Gene Kelly, Fred Astaire, Charlie Chaplin, and Greta Garbo among them. Plus, Propst illuminates Comden and Green projects that never made it to the stage or screen, including a musical version of The Skin of Our Teeth and a Busby Berkeley biopic.
Out March 19 from Oxford University Press
10. Rebus: Long Shadows The New Play, by Ian Rankin and Rona Munro
Detective John Rebus makes his stage debut in author's Ian Rankin's first play featuring the Scottish gumshoe. When a murder victim's daughter shows up on Rebus' doorsep, she challenges his detective instincts more than ever before. With his friend, DI Siobhan Clark, the duo set off to solve the case while personal issues threaten to derail the investigation. The book includes the entire script and an introduction from Rankin, along with an interview between him and Rona Munro, who assisted in developing the story for the stage.
Out March 19 from Orion

11. The Complete Book of 1920s Musicals, by Dan Dietz
Think you know everything there is to know about musicals from the Roaring '20s? Even the most knowledgeable theatre fans will learn something new in this comprehensive encyclopedia. It features 300 musicals from the decade that gave us Show Boat, A Connecticut Yankee, and Hit the Deck! and the minds of Cole Porter, Irving Berlin, and George Gershwin. A plot summary, cast list, musical numbers, creative teams, and opening dates, source material, and critical commentary are included for each production. Appendices dive into other shows from the decade, plus discography, filmography and a list of published scripts.
Released April 10 from Rowman & Littlefield Publishers

12. Opera in the Tropics: Music and Theater in Early Modern Brazil, by Rogerio Budasz
While theatre might not be the first thing people think of when it comes to Brazil, music certainly is, and those familiar sounds have influenced the country's theatre scene since the 1500s. In this historical reflection, Budasz explores influential creators and performers throughout the country's history. The writer explores works and their relation to themes of slavery, gender, and local departures from national norms. This book will entertain and educate anyone interested in early theatre, Brazilian culture, or Latin American history.
Out April 23 from Oxford University Press

13. Waiting in the Wings: How to Launch Your Performing Arts Career on Broadway and Beyond, by Tiffany Haas with Jenna Glatzer
After dozens of auditions and consecutive rejections, Tiffany Haas finally got her break in Wicked as Glinda. Along her journey, she learned a lot about the road to becoming a Broadway star. Now, she shares that knowledge with anyone who has dreams of breaking through on stage. This guide will offer advice for auditions, finding an agent who will then find the best role for you, and everything in between. With insider tips, this book is for anyone who wants to have a career as an actor in theatre.
Out April 23 from St. Martin's Griffin

14. Theater of the Word: Selfhood in the English Morality Play, by Julie Paulson
Author and English professor Paulson shares ideas on how medieval theatrical works can help us explore the idea of self. Looking at morality plays, the author examines what it means to be a human being through stories anchored in sin and the traditional Christian rites of confession and penance. Looking at this oft-forgotten genre of theatre, readers will learn more about medieval drama and how religious rule affected human actions and performances.
Out April 30 by University of Notre Dame Press

15. Something Wonderful, by Todd S. Purdum
This book hit our list last spring, but now, the story of Rodgers and Hammerstein is available in paperback! Learn about one of the greatest theatre partnerships of all time, as Prudum takes readers on a journey through Oscar Hammerstein's and Richard Rodgers' partnership and how the pair ended created some of Broadway's most memorable classics like Carousel, The Sound of Music, and South Pacific.
Reprinted May 14 from Picador
Looking for even more books to read? Check out our list from last fall!