Sara Bareilles and Josh Groban hosted quite a show at Radio City Music Hall June 10, but sometimes the press enjoys a different view. Winners are shephereded out of the building to the nearby Winners Circle to greet the press for extended remarks and questions. Here are seven memorable moments you couldn't see from your small screen. Get the full rundown from the press room in our live blog.
1. Andrew Garfield looks out for the press
The main broadcast didn't hold back, announcing the winner for Best Leading Actor in a Play immediately out of the gate. Angels in America's Andrew Garfield earned the trophy and was the first to greet the press. After discussing how playing Prior has affected him ("The great thing about great pieces of art … if it's doing it's job it's changing you on a cellular level,") he floated out of the press room wishing all those typing away, "Have a good night! Hydrate!"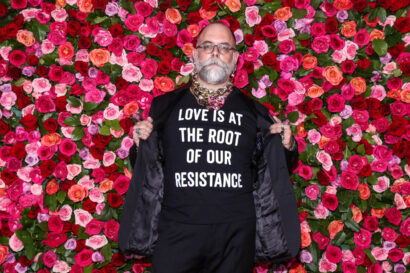 2. David Zinn wears his heart on his sleeve
Designer David Zinn was nominated for both his costume and scenic design of SpongeBob SquarePants and won for the latter. When asked what his shirt said, he opened his blazer: "'Love is at the root of our resistance.' It's a Colin Kaepernick quote. I always like to bring in a little bit of the outside world in."
3. Find someone who looks at you the way David Yazbek looks at Katrina Lenk.
Tony-winning composer-lyricist for The Band's Visit Yazbek took the small stage in the press room as Katrina Lenk and Tony Shalhoub took the big stage to perform "Omar Sharif." In the most touching moment of the evening, Yazbek first started out his usual quippy self. "Look at those two. I mean that's photogenic," he said. But then something shifted. "Look at that real musicians," he said, beaming. "Wow. I fall in love with her every time she sings. And then…I love my wife I love my wife." When the song ended, Yazbek went to exit the stage, so entranced he forgot he was there to answer questions from the media.
4. Tony Kushner reacts to Robert De Niro.
In his acceptance speech for his Angels in America winning Best Revival of a Play, playwright Kushner emphasized the importance of the November midterm elections to challenge the current administration. When he and the producers of Angels and director Marianne Elliott entered the media room, the press asked about his reaction to Robert De Niro's remarks. "What did he say?" The team had been en route to the press room when De Niro exclaimed "F*ck Trump!" on the broadcast. Kushner was (surprisingly) succinct in his response: "I agree. F*ck Trump."
5. Once on This Island gives credit where credit is due.
Producers Ken Davenport immediately recognized their "David and Goliath" situation, competing for Best Revival of a Musical against two classic musicals, Carousel and My Fair Lady. "All credit to Michael Arden, this is entirely his vision from top to bottom," said Davenport.
Read: 5 OF THE BIGGEST SURPRISES AT THE 2018 TONY AWARDS
6. Tony Shalhoub was still in shock.
Previously nominated three times for his work in plays, The Band's Visit star Shalhoub earned his first nomination for a musical this year. No one was more surprised than he to hear his name called as the winner. "Well, if you're anything like me, I imagine you have a lot of questions: What happened? How did it happen? And why have I not done a musical before?" Shalhoub said immediately upon entering the press room. But, in his mind, he had reason to be shocked. "Musicals were never my forte—never in my wheelhouse. I was that kid in grammar school [that] whenever there was choral singing, [the teachers said,] "Just mouth the words." I come from a large family, and many of them have beautiful singing voices, and I was not one of them. So I had to be coerced into being courageous enough to attempt this and risk failing."
7. The Band's Visit lead producer Orin Wolf goes old-school.
The Tony Awards press room used to be a venue for winners to announce breaking news to a rapt audience of the press—be it an upcoming tour, a London production, new casting. Alas, this tradition has largely fallen by the wayside, but lead produce Wole brought it back. He announced on site that Sasson Gabai, who originated the role of Tewfig in the 2007 Israeli film that inspired the musical, would take over upon Tony Shalhoub's exit.