*
It's a tale as old as time: Broadway actor breaks out, abandons the theatre for Hollywood, then slinks back 30 years later for a limited-run Sondheim revue. But Sutton Foster and Jonathan Groff are bucking that trend. The onetime Millie and Melchior have both managed to carve out fascinatingly eclectic screen careers while regularly returning to the stage. In the past year alone, Foster nabbed a Tony nomination for Violet and starred in the TV Land sitcom "Younger," while Groff did a Clint Eastwood movie, shot the final season of HBO's "Looking" and joined the cast of Lin-Manuel Miranda's genre-busting juggernaut Hamilton.
This summer, they're coming to City Center in musicals that find them playing radically against type. Groff played a cynical Jewish songwriter in William Finn's A New Brain (June 24–27) and Foster will play a Jazz Age hoofer trapped in a cycle of abuse in Andrew Lippa's The Wild Party (July 15–18). We chatted with the two stars about car crashes, stage-door fans and taking risks at Encores! Off-Center.
CITY CENTER: When you guys do TV, do your musical theatre genes ever surface? Jonathan, I read that you and Russell Tovey sang songs from A Chorus Line between takes on "Looking."
JONATHAN GROFF: Yes. A lot of Chorus Line.
SUTTON FOSTER: People were always trying to get me to sing on [the set of "Younger"], and the only thing I would do was, they would go "Last Looks!" and I would go (singing) "Last looks, last looks tonight." I would sing "Last Looks" to [the tune of Donna Summer's] "Last Dance." (laughs) Usually it'd happen late on a day of filming, when I was starting to go batty.
Does acting on camera still feel like foreign territory?
SF: I feel like I just finished my sophomore year. "Bunheads" was my freshman year, and the first season of "Younger" was my sophomore year. I'm still learning. When I'm onstage, I feel like, "I got this. I know what this is." But the TV world and the film world are still very new to me. My biggest thing was the pace of the day. When you work in the theatre, you have to be on the entire time, but if you do that when you're shooting something, you die very early in the day. (laughs) My biggest thing was learning how to turn it on, turn it off, so I could last 15 hours.
JG: Totally. I wonder about those people who "stay in character" — how do they do that?
SF: Oh, god, I'd go crazy. That was my biggest learning curve. And also realizing that if the camera isn't on you, nobody will see it. (laughs) It's like, The back of my head is giving the best performance of my life.
How did you meet?
JG: We met a couple of times that Sutton won't remember, cause I was asking for her autograph.
SF: I don't remember the first time.
JG: Of course you don't. I remember every time. (laughs) Now it's the point where I'm standing next to Sutton and it starts to get awkward — it always happens — because the conversation goes to my sort-of-obsession with her. We met the first time at the [Thoroughly Modern Millie] stage door with my mom. It was the middle of January.
SF: I didn't care what I looked like, because I was freezing, so he has this horrible photo of me with like an Elmer Fudd flap hat, tied with a scarf, and a jacket. Because I was like, I'm not gonna get sick, I'm not gonna get sick, but I looked like an idiot.
JG: You were so nice, and so present. It meant so much to me. So then a year later you came through Philadelphia and you did a concert, and I had a list of questions that I had written down.
SF: You stopped me in the lobby. I remember this.
JG: (incredulous) You do?!
SF: I do.
JG: I'm shocked you remember that. I asked you so many questions, and I wrote down your answers.
SF: (laughs) Who knows what I said.
JG: You said such good things. I've thought about you every time I've ever walked out a stage door — literally — because it was so life-changing to talk to you. You know the kids at the end of [the line at the stage door], the ones who have waited the whole time, who are so adorable? When I was doing Spring Awakening, I would take them on the stage and engage with them in such a serious way, because of the way you had engaged with me. SF: That's very sweet.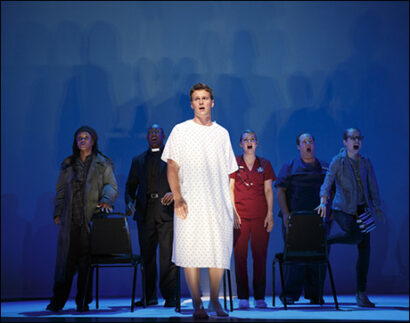 How did you discover the scores of A New Brain and The Wild Party?
SF: I saw The Wild Party Off-Broadway back in whenever it was — 2000. My sister-in-law [Jennifer Cody] was in the show, and I had a bunch of friends who were in it. It remains one of my favorite things I've ever seen onstage in New York. I just loved it so much, and became obsessed with the album. I'm just excited to be able to honor the show. And try not to destroy it. (laughs)
JG: My friend put together a musical theatre mix tape for me when I was in high school. "And They're Off" was on it, so I bought the CD of A New Brain from Amazon when I was like 15. I listened to it and read the liner notes from front to back. I was obsessed with A New Brain in high school. Obsessed! You know how when you grow up listening to things, they become part of the fabric of your mind? This is one of those scores for me. I sang "I'd Rather Be Sailing" for all of my college auditions. I got into a car accident in high school. I was listening to that song, "Here I stand while in the middle of the road / and I'm waiting for a car/to come along and kill me." I had just gotten my driver's permit turned into a license, so I still had the piece of paper with a stamp that said I could drive on my own. And as that song was playing, I got hit by a policewoman. I wasn't injured or anything.
A New Brain was inspired by William Finn's real-life brain disease, of course — and he later said that he got through endless MRIs by listening to a cassette tape of "Make Our Garden Grow" on loop. After you had your accident, did you listen to A New Brain? Was it therapeutic?
JG: No, I stopped listening to it for like two months, because I was afraid that every time I listened to it, I'd get into a car accident. (laughs) I got superstitious. Then I was like, No, whatever, and started listening to it again.
When you're a gay teenager, you're sort of hungering for representation onstage and in movies. Was that part of A New Brain's appeal?
JG: Never thought about it. Isn't that hilarious? Maybe subconsciously, hearing Malcolm Gets and Norm Lewis sing to each other on the recording was satisfying to me in a way that I wasn't even aware of yet. But I just loved the music.
Why do you think there are so few gay protagonists in musicals?
JG: It's the same thing in TV and film. That was the bummer about "Looking" being cancelled; there aren't a lot of gay stories being told, period. I don't know if this is a gay thing or not, but growing up I always related to the women in musicals. In the Rodgers & Hammerstein shows, I always related to Maria in The Sound of Music and Nellie in South Pacific. Maybe with the exception of Oklahoma! — cause I really love Curly — I always connected with the women. I think it's the vulnerability they're able to show. It's rare in TV, film, theatre that we see male intimacy and male vulnerabil- ity, and there's a lot of it in A New Brain, particularly in the relationship between my character and his boyfriend, Roger. Actually, Roger reminds me so much of Richie, the character from "Looking." They're both these steadfast, mature, grounding presences. I guess that's another exciting element of taking another look at New Brain — seeing one of the rare pieces of musical theatre where you have gay protagonists.
James Lapine is directing the show at Off-Center, and what's so interesting is that he sort of willed the show into existence. He would visit Finn in the hospital and say, "Take it down, take it down."
JG: "Keep writing," yeah. I love that. It reminds me of [Hamilton director] Tommy Kail saying to Lin, "You have to write more than one song a year," which is how Hamilton started. I love that Lapine was there for Bill Finn to be like, "Yes, it's a horrifying life-and-death experience, but you should also be writing about it."
Your character undergoes such a profound shift over the course of A New Brain, from cynicism to optimism. Do you ever get jaded about your life, or about theatre?
JG: The big revelation I had doing Spring Awakening — that I think is a revelation that happens to everyone on Broadway — is that performing on Broadway is the same as doing a high school show, is the same as doing community theatre, is the same as doing a national tour in theatres across the country. Obviously, New York is the best of the best, and there's a fairy-tale [quality to] opening night, and walking through the stage door and signing autographs — but all the trenchwork that you do is the same: going to the theatre, signing in, having the audience, doing a show, your voice feeling tired, doing it anyway. theatre is the same no matter where you're doing it. For some people who move here and get on Broadway, that revelation is a real disappointment. I had the opposite reaction: I felt at home, and I felt excited, cause I loved doing theatre anywhere. Lin and I talk a lot about this at Hamilton. We always joke that we're in the high school play. Like, "We got parts in the plaaay!" (laughs) But Hamilton is such a phenomenon. Doesn't it feel different?
JG: The actual work of performing is the same. The thing that's different is that this was an Off-Broadway show at the Public with no celebrities in it, and you had Busta Rhymes, Bill and Hillary Clinton, Bernadette Peters, Daniel Craig and Rachel Weisz in the audience. Just the scope of people that were coming to see the show in a 300-seat theatre was unlike anything I'd ever experienced. I mean, the First Lady came to see the show Off-Broadway a month into its run! The show is like a crazy train.
Matt Weinstock has written for the Los Angeles Review of Books, The Paris Review, and the New Yorker website.