*
Families have long served as a source of drama, from Oedipus to the current, Tony-winning musical A Gentleman's Guide to Love and Murder. Exploring resentment, love, happiness and tragedy, parents and children have continuously provided material for playwrights and composers.
In the past few decades, the families that have been portrayed onstage have expanded, moving from heterosexual husbands and wives to a more diverse representation of relationships, including same-sex partners and parents. In honor of Pride, Playbill.com has assembled a collection of characters that represent same-sex parents in the dramatic canon.
And Baby Makes Seven
Referred to by Pulitzer Prize winner Paula Vogel as her "Scottish Play," And Baby Makes Seven follows lesbian partners Anna and Ruth and their gay friend Peter as they prepare to have a child together. Written before in vitro fertilization was an option, the play describes Anna and Peter as having slept together to conceive the baby; the three of them share an apartment as they prepare for parenthood. Anna and Ruth also have child-like alter egos: an orphan they call Orphan, a French boy named Henri and a genius they call Cecil. The apartment gets a little crowded sometimes.
First produced in the 1984, And Baby Makes Seven was met with hostility and homophobia. Audience members walked out of a 1993 production starring Cherry Jones and Mary Mara, and Vogel swore it would never be mounted in New York again. The play received its first New York revival in March, when Purpleman Theater presented it at the New Ohio Theatre.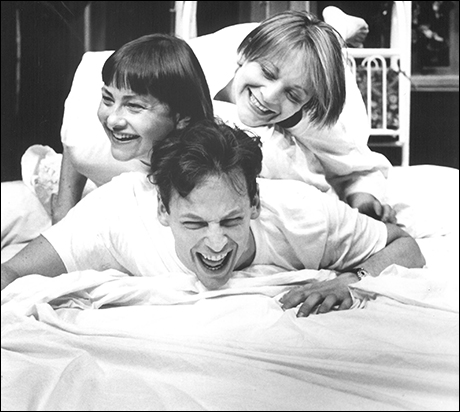 Terrence McNally's recent Tony-nominated drama follows Katharine, a widow who pays an unexpected visit to the home of her late son's former lover, Cal. An uncomfortable afternoon follows, during which Katharine is forced to confront her own homophobia as she meets Cal's partner, Will, and their young son, Bud. McNally has written numerous works about the gay experience in America, including the Tony Award-winning Love! Valour! Compassion! and the film "Andre's Mother," which he penned in 1988 and which served as a prequel to Mothers and Sons. While Katharine's opinions are less than politically correct — she tells Cal that homosexuality "still sickens" her — the happy family of Cal, Will and Bud show just how much has changed in the 25 years since "Andre's Mother" was first written.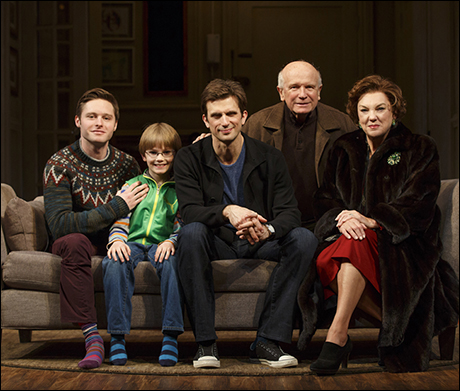 photo by Joan Marcus
Harvey Fierstein and Jerry Herman's musical adaptation of Jean Poiret's French play focuses on Georges and Albin, a gay couple who raised George's son Jean-Michel together. Conflict ensues when Jean-Michel brings home his his fiancée and her ultra-conservative parents and Albin decides to pose as Jean-Michel's biological mother. The musical premiered on Broadway in 1983, and Frank Rich's New York Times review opened with the sentence, "La Cage aux Folles is the first Broadway musical ever to give center stage to a homosexual love affair." The production received nine Tony Award nominations and won a total of six including Best Musical, Best Original Score and Best Book of a Musical. It was revived in 2004 and 2010 and also provided inspiration for the film "The Birdcage," starring Robin Williams and Nathan Lane.
The Kid
The musical adaptation of Dan Savage's 1999 memoir "The Kid: What Happened After My Boyfriend and I Decided to Go Get Pregnant" played Off-Broadway in 2010, with Christopher Sieber and Lucas Steele starring as partners Dan and Terry, respectively. The musical was presented by The New Group, as well as the panel conversation "The Modern Family: A Discussion of Gay Adoption" hosted by Rosie O'Donnell. The Kid received five Drama Desk nominations in 2011, including Outstanding Musical, Outstanding Lyrics and Outstanding Book of a Musical.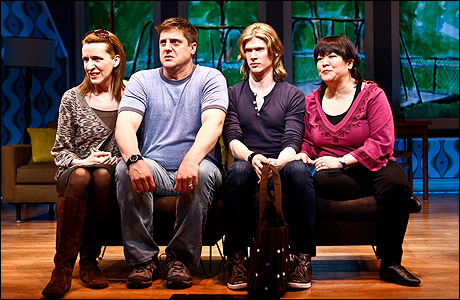 photo by Monique Carboni
Body Awareness
Pulitzer Prize winner Annie Baker made her Off-Broadway playwriting debut with Body Awareness, a one-act play about a lesbian couple and their child. Phyllis is a college campus organizer, and her partner Joyce is a high school social studies teacher with a 21-year-old son, Jared, from a previous marriage. The play takes place during Body Awareness Week at Shirley State College in Vermont when a photographer's pictures of nude women inspire conversation and conflict.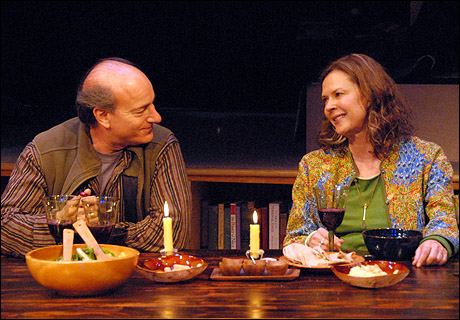 photo by Carol Rosegg
James Lapine and William Finn's Tony-winning musical, which opened on Broadway in 1992, followed Marvin, his ex-wife Trina, his psychiatrist Mendel, his son Jason and Marvin's lover Whizzer. Marvin had left his wife, Trina, for Whizzer and is struggling to hold together a tight-knit family. His son, Jason, fears that because "my father's a homo," he may be one as well. Falsettos, which was described by the New York Times as "exhilarating and heartbreaking" and as "a show in which the most stylish avatars of the new American musical embrace the same thorny urban landscape of embattled men and women to be found in so many new American plays," received seven Tony nominations and won for Best Original Score and Best Book of a Musical.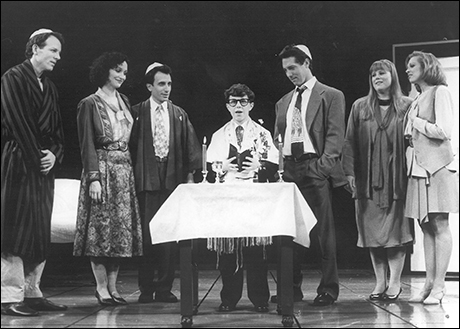 photo by Carol Rosegg
Torch Song Trilogy
Harvey Fierstein's Tony Award-winning play follows Arnold Beckoff, a torch-song singing Jewish drag queen living in New York City in the late 1970 and 80s. The story of self-discovery follows Arnold's romantic and familial troubles, including his intolerant mother, as he attempts to live a stable family ilfe and raise a teenage son.
Chimichangas and Zoloft
Fernanda Coppel's domestic comedy centers around two teenagers coping with their parents' massive mid-life crises. Sonia, a mother, leaves her husband and daughter because she "just needed some air," while her husband Ricardo engages in an affair with his next-door neighbor Alejandro. Sonia's daughter Jackie is in need of maternal advice while she grapples with questions about her own sexual identity, while Alejandro's daughter, Penelope, needs some advice of her own.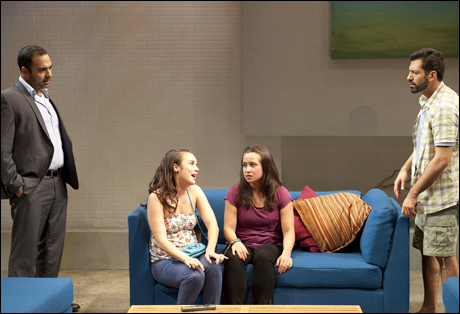 photo by Ahron Foster
(Carey Purcell is the Features Editor of Playbill.com. Her work appears in the news, feature and video sections of Playbill.com. Follow her on Twitter @PlaybillCarey.)