They're not credited as composers in the Playbill, but the leading ladies of Hamilton have contributed greatly to the score of the show.
Starring in the hit musical by Lin-Manuel Miranda that sets the life of Founding Father Alexander Hamilton to rap and hip-hop music has brought Phillipa Soo, Renee Elise Goldsberry and Jasmine Cephas Jones so close that their friendship has influenced the composition of the songs.
While sharing a dressing room during the musical's Off-Broadway run at the Public Theater, the women would laugh, cry and dance together when offstage. One day they began singing together to explore their vocal harmonies while dressing for the show, and Miranda overheard them.
"[Our harmony] is so natural for us that Lin came in one day and said, 'Wait? What is this sound? What are you doing?' and began making Vines of us harmonizing together," Jasmine Cephas Jones said. The women are introduced to the audience in a fast-paced song — rich in harmonies — that depicts them walking through New York, watching the American Revolution begin to take place. Each of the women is introduced personally, but their harmony as family members is depicted through the music.
"They looked at our song again and realized what had taken form between the three of us didn't really exist musically," Renee Elise Goldsberry said. "They gave us a couple of beats to harmonize with each other to reflect this thing that had taken place — the Schuyler sisters are harmonizing spiritually and vocally with each other."
Starring in the history-making musical, Soo plays Hamilton's wife, Eliza; Goldsberry is his sister-in-law Angelica; and Jones does double duty as his sister-in-law Peggy and Maria Reynolds, the woman who provokes the first public sex scandal. Inspired by Ron Chernow's biography, the musical chronicles Alexander Hamilton's life throughout the Revolutionary War and his role in forming the American government. It delves deeply into his relationships with his fellow Founding Fathers Thomas Jefferson and George Washington, as well as his adversary and eventual killer Aaron Burr. But it also explores his relationships with women, and how they affected his life, both personal and political.
A Legacy of Sisterhood
Sitting in the theatre between afternoon and evening performances, the close bond among the three is apparent.
"These two women — without them, I feel like I would be much crazier of a person," said Soo. "It would wear on me if I didn't have the community of people here who are constantly lifting me up."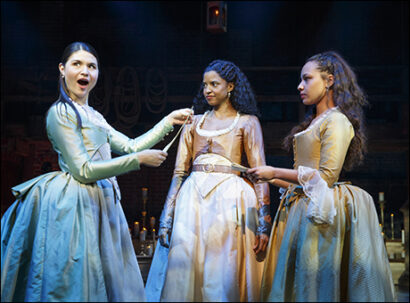 It's easy to understand why she might go crazy. Just a few years out of Juilliard, Soo, who is making her Broadway debut in the musical, brings Eliza's journey through decades of political and personal change to life, going from a love-struck young woman who sings the giddy romantic number "Helpless" to a wronged wife enraged with her unfaithful husband to a grieving mother mourning the loss of her son.
The role evokes memories of Soo's first New York stage performance in the Off-Broadway immersive musical Natasha, Pierre & the Great Comet of 1812, which also chronicled an innocent young woman's journey through grief and heartbreak and into maturity.
Despite the musical being inspired by Chernow's book, which runs more than 500 pages and utilized almost 22,000 pages of letters, manuscripts and articles in research, Soo did not read the book until before rehearsals for the Off-Broadway run began. She took what she described as a "very personal approach" to the role of Eliza, drawing upon Miranda's writing throughout the workshop and rehearsal process.
Eventually Soo did sit down to talk with the author about Eliza. The conversation, she said, gave her a great deal to work with, especially Chernow's own feelings about the woman: "The accounts other people had of her, how Lin seems to feel about her, everybody revolving around the show felt about her was a clue to me what this woman must have been."
A Broadway veteran with numerous stage and TV credits under her belt, including The Color Purple, Rent and "The Good Wife," Goldsberry's role as the oldest sister continues offstage, throughout the conversation as she finishes her co-stars' sentences and places her hand on their legs, interjecting comments as they speak.
"It makes me emotional to talk about," she said of their friendship, emphasizing that she feels no ego amongst the actors. "I pray that we can leave that legacy on this show — that every group of sisters who play this can truly love each other."
The love between the sisters does inspire some heartbreak in the musical. Despite Angelica's initial attraction to Hamilton after meeting him at a ball, she introduces him to Eliza, and the two soon marry. But Angelica and Hamilton remain close, writing lengthy letters to each other that Miranda adapted into music — some with the exact wording Chernow quotes in his book.
Goldsberry credited the show's director, Thomas Kail, for casting Hamilton with actors who share chemistry offstage as well as on, saying the emotional connection she shares with her colleagues makes her job easier than it might appear.
"I think one of the most beautiful things of the show is the casting. There's a set of requirements of what you have to be able to pull off to do a certain role, but I think what [Kail] is most in tune with is matching the souls...an attraction to like minds and spirits. I feel like what feeds me in the show is the moment I met these girls, I really loved them. [I have] a respect for their talent [and] for who they are. And women — even when they respect each other — don't get along as easily as we do."
Growing Up In the Spotlight
"I think the writing is structured in a way that requires you to have to be open and vulnerable and take care of each other," Soo added. "I just feel like in that moment, when we're about to go on for 'Schuyler Sisters,' we check in with each other. Otherwise, I might mess up my part of the harmony. And, I do not want to make you guys look bad! It's so tight that there's a huge responsibility and such a huge freedom. I don't have to prepare myself backstage. The task of singing the song and going onstage and being with these women is interesting enough. It's what you're seeing onstage. It's us connecting, and why I think the writing is so great."
The women, none of whom have sisters themselves, credit Miranda's writing with depicting the characters' strength and determination in a show set in a time when women were often relegated to the sidelines.
"Having not walked in a woman's shoes, and still writing a woman who I would want to play in a time when I would not personally have wanted to live because of what I know and the liberties I have now… It's a miracle that you can play an empowered woman in a time that we were relegated to such a small role," Goldsberry said.
To prepare for the Broadway run, the women visited the Schuyler-Hamilton house in Morristown, NJ, to learn more about their history from Patricia Sanftner.
"She said we would have been like the Kardashians of that time, because of everything we wore, where we showed up and what we did was important and noted," Goldsberry said. She drew upon that history when President Obama saw the show with his daughters Sasha and Malia, adding, "They're also examples of sisters in the spotlight that have a certain kind of power."
A moment of empowerment that Goldsberry especially savors takes place as she and Miranda sing the written correspondence between their characters when she advises him to compromise with his political rivals, all the while holding a parasol.
"She spins a parasol, but she basically solves his problem and changes the world. It's so subtle, but he was able to give her that power," she said. "[Miranda] makes Angelica the reason why he gets his debt plan through."
"It's just incredible to me that this show makes me understand that the mind and the imagination is just as important to be free to roam as it is geographically," Soo added. "Maybe we were constrained to residing in a certain parameter of the house or the city or the town. We had to be somewhere. But to be able to roam with our imagination was such a huge thing. And because they came to America to do that — it was just exploding back then."
Following Hamilton's death in a duel with Aaron Burr, his widow went on to preserve his legacy and co-found New York's first private orphanage.
While there's no doubt the women hold great power over the men in the musical, one can't help wonder what they would have done if they had been men themselves? "I'm saying George Washington," Goldsberry said decisively. "As much as Angelica accomplished with as little as she could… I believe it's comparable to Washington the levels she could go in terms of leadership."
Jones adds, "Maria was all about survival. She would probably start her own business and have everybody do it for her."
After pausing to think, Soo said, "I think she probably would have gotten less done if she were a man!"
Introduced in the first act, the sisters sing, "History is happening in Manhattan." The women starring in the musical credited with changing the future of musical theatre could sing the same words. As Goldsberry said, "We'll spend the rest of our lives talking to people about this experience."
(Carey Purcell is the Features Editor of Playbill.com. Her work appears in the news, feature and video sections of Playbill.com as well as in the pages of Playbill magazine. Follow her on Twitter @PlaybillCarey.)