Sarah Goldberg made her Broadway debut in 2012 as a replacement in the Pulitzer Prize- and Tony-winning Best Play Clybourne Park. But before her turn on the New York stage, Goldberg was a bonafide theatre great across the pond. She earned an Olivier Award nomination for playing the roles of Besty and Lindsey in the Royal Court production of the Bruce Norris play. The Canadian actor appeared in U.K. productions of Six Degrees of Separation, Member of the Wedding, and Apologia. Now, creator, writer, director, and actor Bill Hader (Saturday Night Live) has scooped her up to play opposite him in his new HBO series, Barry.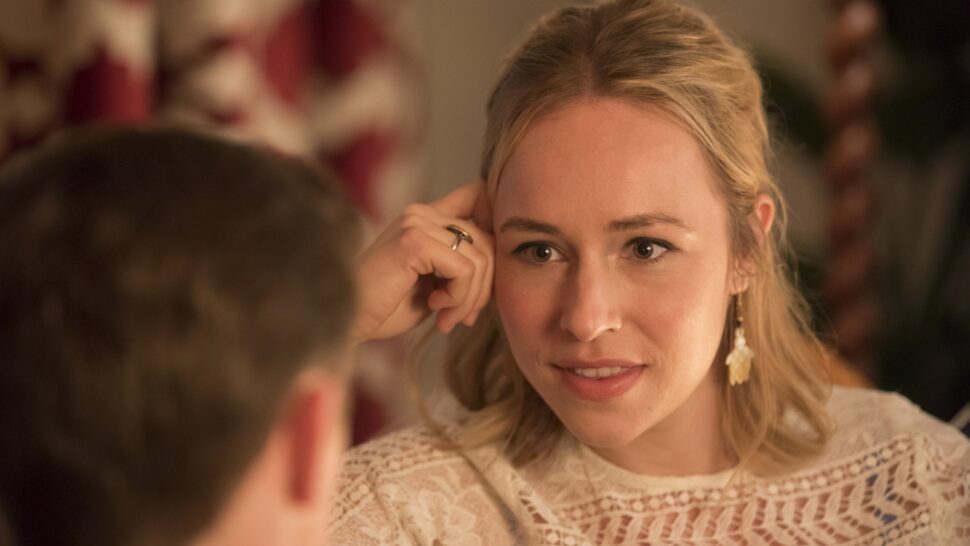 The comedy follows a Midwest hitman who moves to Los Angeles to kill the aspiring actor sleeping with the wife of a Chechen mob boss. But when Barry wanders into the acting class taught by Gene—played by Henry Winkler—he finds himself roped into the theatre scene.
Goldberg plays his acting classmate and crush Sally. "Sally is that girl you've met in a bar in L.A. She left her small town with big dreams," she says. "Somewhere on the corner of Rejection Street and Exploitation Avenue she became a delusional, narcissistic, self-absorbed nightmare! But buried in there is a talented woman with huge vulnerability. She's simply got the wrong suit of armor on."
Hader knew he'd found his Sally in Goldberg because she "took what was effectively kind of a two-dimensional character—she made us realize we'd written a dimensional character—and made Sally amazing," he tells Playbill. "Sally as written was more of a typical struggling actress, and Sarah made her more three-dimensional, more complicated, and you have more sympathy for her. She brings so much humanity to the character. And Sarah makes it all look effortless. She has this amazing theatre experience that was really helpful to draw on. When you're performing with her, you have to raise your game because she's made clear choices for what she's going to do for that take, but on the next take she does something completely different that also works. I haven't really come against that before, so she kept me on my toes."
Here, Goldberg shares the theatre experiences that led her to her small screen moment.
What was your first professional job?
Sarah Golberg: Playing Janice Evans in Member of the Wedding by Carson McCullers at the Young Vic in London. Had a handful of lines and a really nice frock!
What was the stage show that has most influenced you?
Lipsynch by Robert LePage at the Barbican Theater. It was nine hours long and I went three nights in a row for three hours. Never complained about doing a 90 minute one-act again!
Is there a stage moment you witnessed—from the audience, from the wings, in rehearsal—that stays with you?
Watching Sophie Thompson tip toe down the stairs from the wings at then end of Clybourne Park. Actually, watching Sophie Thompson play a hunchback in The Physicists. Wait no, watching Sophie Thompson with a monocle in She Stoops to Conquer. Actually, watching Sophie Thompson sing "(Not) Getting Married" on YouTube. Okay, just watching Sophie Thompson anytime anywhere.
What is your favorite part of doing TV that's different from theatre?
You get to say, "Wow, we need to do that again!"
What's been the most rewarding experience onstage for you?
Clybourne Park. I was lucky enough to play Betsy and Lindsey in Bruce Norris' brilliant play at the Royal Court and Wyndham's Theatre in London and eventually I joined the Broadway company. I really got to live in those roles. It's a special play because it works like an orchestral piece. The dialogue is so tight and so smart, you just had to listen hard and come in with your note and the rest was all for free. I've never been in a more raucous house than those early nights at the Court. The audience response was overwhelming. I've never laughed so much in the wings and felt so fulfilled onstage.
Who is a collaborator from theatre who has made you better?
The beautiful and late Tom Beard. He taught me how to relish the job while keeping your sense of humor. And some really good Sudoku tips for the dressing room!
What is a skill from your theatre experience you bring to the set of Barry?
Learning that you're stronger as a company than as an individual. Dominic Cooke really taught me that. Theatre is such a joy because it's a group effort. Everyone has to move in tandem. It was lovely to be able to carry that over into Barry. Bill Hader created such a buoyant collaborative atmosphere that a lot of the time it felt like we were rehearsing a play—just getting paid a little bit better!
What's the most surprising thing about working with Bill Hader?
He hasn't done a play since high school! He played Gentleman Caller in The Glass Menagerie. Maybe it's time for a revival!