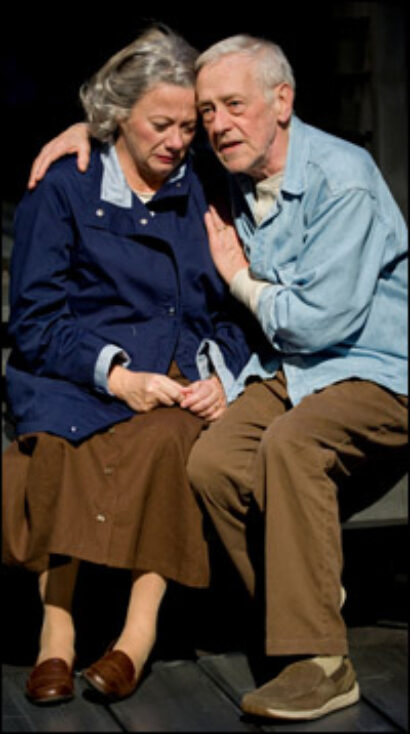 The humor-spiked drama about an aging patriarch's life-changing decision as he faces illness had its world premiere May 12-June 26 as a commission by Northlight Theatre in Skokie, IL.
Directed by artistic director BJ Jones, the play about a father's illness and its toll on his wife and son also featured Chicago actor Thomas J. Cox.
The Outgoing Tide received positive reviews. On Nov. 7, Graham won a prestigious Chicago Joseph Jefferson Award in the category of New Work. Northlight artistic director Jones told Playbill.com that the play became the most-attended, highest-grossing attraction in the history of Northlight, in suburban Chicago. He wouldn't name the commercial producer attached to the potential New York life of the play, but plans are being drawn up for a future run. The "when" and "where" are not yet public.
"We'd all be very excited about getting a larger audience to see this unique play with this extraordinary cast," Jones told Playbill.com on Nov. 8. "It's all about scheduling and availability. John plays Betty White's boy-toy on [TV's] 'Hot in Cleveland,' and Rondi is in [TV's] 'Mike and Molly.' [A New York timeline] is based in people's availability."
Mahoney is a Tony winner for playing Artie in Lincoln Center Theater's The House of Blue Leaves and is well known for playing Martin on TV's "Frasier." Reed won her Tony for playing blowsy Aunt Mattie Fae in August: Osage County. She also played Madame Morrible in Broadway's Wicked. Here's how Northlight billed the play: "In a summer cottage on Chesapeake Bay, Gunner has hatched an unorthodox plan to secure his family's future but meets with resistance from his wife and son, who have plans of their own. As winter approaches, the three must quickly find common ground and come to an understanding — before the tide goes out. This new drama, featuring Northlight favorite John Mahoney, hums with dark humor and powerful emotion."
View video highlights from The Outgoing Tide:
Chicago staple and Tony Award winner Mahoney returned to Northlight after appearing in A Life and Better Late. The role of Gunner was written for Mahoney by playwright Graham, whose plays include According to Goldman, Belmont Avenue Social Club and Something Intangible.
Chicago favorite Reed made her first Chicago appearance since her Tony Award-winning turn in August: Osage County.
Cox is a founding member of the 2011 Tony Award-winning Lookingglass Theatre Company. He previously appeared at Northlight in Pride & Prejudice and Dr. Jekyll & Mr. Hyde.
The Outgoing Tide was the recipient of a 2010 Edgerton Foundation New American Play Award. The production was supported in part by The Lehman Family American Experience Series and Nuveen Investments. This play was the recipient of the Selma Melvoin Playwriting Award, given by Northlight Theatre.
For more information, visit Northlight.org.