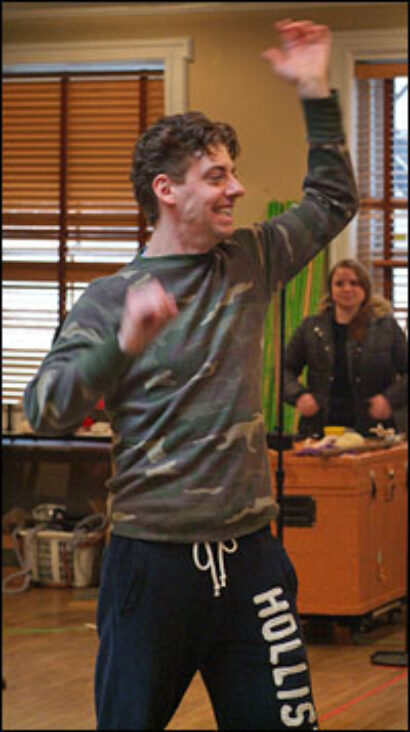 The creative triumvirate behind the new playful play includes co-directors Roger Rees and Alex Timbers and Tony Award-nominated writer Rick Elice (Jersey Boys), who draw on the bestselling kids' book, "Peter and the Starcatchers" by Dave Barry and Ridley Pearson.
The core character — Peter Pan, the boy who wouldn't grow up — first sprang from the imagination of Scottish writer J.M. Barrie more than 100 years ago. He's been seen in plays, animated films, live action flicks and musicals ever since.
This non-musical project was commissioned by Disney Theatrical Productions. The run continues to April 3 at NYTW's home in the East Village, the same venue where Rent was born. Opening night is March 9.
In Peter and the Starcatcher, according to NYTW, "A company of 12 actors plays some 50 characters — all on a journey to answer the century-old question: How did Peter become The Boy Who Would Not Grow Up?"
The cast features Adam Chanler-Berat (Next to Normal) as Peter, 2007 Tony nominee Christian Borle (Angels in America, Legally Blonde, Spamalot, Mary Poppins) as Black Stache and 2005 Tony nominee Celia Keenan-Bolger (25th Annual Putnam County Spelling Bee, Les Miserables, Bachelorette) as Molly; with Teddy Bergman (Hell House) as Fighting Prawn; Arnie Burton (The 39 Steps, Amadeus) as Mrs. Bumbrake; Matt D'Amico (Fizz) as Slank and Hawking Clam; Brandon Dirden (Enron, Edgewise) as Captain Scott; Carson Elrod (Reckless, Wedding Crashers) as Prentiss; Kevin Del Aguila (book writer of Altar Boyz) as Smee; Greg Hildreth (Bloody, Bloody Andrew Jackson) as Alf; Karl Kenzler (Mary Poppins, Twelve Angry Men) as Lord Aster; and David Rossmer (Fiddler on the Roof, Don't Quit Your Night Job) as Ted. Peter and the Starcatcher features music by Wayne Barker; movement by Steven Hoggett (American Idiot); and music direction by Marco Paguia. The creative team also includes set designer Donyale Werle; costume designer Paloma Young; lighting designer Jeff Croiter; and sound designer Darron L West.
Elice is co-writer of the Tony Award-winning Jersey Boys and The Addams Family. Actor-director-writer Rees won a Tony for his performance in The Life and Adventures of Nicholas Nickleby and starred on TV's "Cheers." Obie Award-winning director Alex Timbers is the founder and artistic director of Les Freres Corbusier, and is the Drama Desk Award-winning writer-director the Broadway musical Bloody Bloody Andrew Jackson, and director of Broadway's The Pee-Wee Herman Show.
Read what Rees, Elice and Timbers have to say in a special Playbill feature about Peter and the Starcatcher (yes, the play has a single Starcatcher as opposed to the novel's plural title).
Peter and the Starcatcher will play NYTW at 79 East 4th Street, between Second Avenue and Bowery, Tuesday at 7 PM; Wednesday through Friday at 8 PM; Saturday at 3 PM and 8 PM; Sunday at 2 PM and 7 PM. There will be a special matinee on Wednesday, March 23 at 2 PM.
Tickets are $70 and may be purchased online at www.ticketcentral.com, 24 hours a day, seven days a week or by phoning Ticket Central at (212) 279-4200. For more information, visit www.nytw.org.
*
NYTW makes theatre accessible to everyone with its $20 CheapTix Sundays program. A dedicated number of tickets for Sunday evening performances at 7 PM can be purchased in person at the NYTW box office for only $20. Tickets may be purchased in advance, payable in cash only and are available to all audience members.
NYTW also has $20 student tickets available for all performances. Student tickets may be purchased in advance from the NYTW box office with valid student identification.
The NYTW box office is open 1 PM to 6 PM, Tuesday through Saturday.