LAURA BENANTI
Tony Award winner Laura Benanti is thankfully back on Broadway in the new Jeffrey Lane-David Yazbek musical Women on the Verge of a Nervous Breakdown, based on the Pedro Almodóvar film of the same name. The production at the Belasco Theatre, which marks the singing actress' tenth Broadway outing, reunites the golden-voiced artist with her Gypsy co-star, Tony and Olivier Award winner Patti LuPone. If that weren't enough, the cast also boasts such Broadway favorites as Tony winner Brian Stokes Mitchell, multiple Tony nominee Sherie Rene Scott and upcoming Follies star Danny Burstein as well as "American Idol" alum Justin Guarini, who is making his Broadway debut in the Bartlett Sher-directed musical. Benanti is cast as the ditzy model Candela and gets to bring the house down with her frenetic, first act showstopper, "Model Behavior." She is one of the comic delights in the production, often seducing the audience into fits of laughter. In fact, at the performance I attended the actress admits she also managed to make herself laugh. "All of a sudden in my not-sexy sexy dance," Benanti recently told me, "I kind of realized how ridiculous it is, what I'm doing, and it made me laugh so hard, and then Patti came in, and she's supposed to say, 'I don't care,' when they say, 'Arrest her,' and she went, 'I don't know!' And then I lost it again, and then she lost it and Justin and Sherie – we all [cracked up]. It's been a long, hard week for us, so I think we all just kind of had a moment." The rest of my interview with the charming, gifted performer follows:
Question: How did you get involved with Women on the Verge? Were you part of the workshops?
Benanti: No, I wasn't part of the workshops at all. Jessica Biel had played [Candela] in the workshops. And then my agent, Gary Gersh, who also represents Patti, called them and expressed my interest. Apparently, they had been interested in me to do the workshops, but I was doing Chris Durang's play [Why Torture Is Wrong…] and [Sarah Ruhl's In the Next Room, or] The Vibrator Play both during those times, so I was unavailable, but I didn't even really know about that. But then Gary called them once they found out that Jessica wasn't going to do it, and then I met with [director Bartlett Sher], and then I decided to do it. So it was pretty lucky and easy the way it turned out. Easier than normally! [Laughs.]



photo by Paul Kolnik
Question: What's it like performing "Model Behavior?" It sort of reminds me of "The Miller's Son" in that, if you get mixed up in the lyrics, it might be hard to find your way back.
Benanti: I've never, knock on wood, gotten mixed up in that lyric. I think because there's so much physical action that corresponds with what I'm saying that it would be kind of impossible, in a way, to say the wrong thing because I'm basically … describing what I'm doing, so I would think it would take a lot of liquor to make me not know where I am. [Laughs.]
But it's exhilarating. I have to say, this is the most fun I've ever had in a show. It really is. It's such an incredible group of people. I get to work with my favorite person in the world, Patti LuPone, again, and it's just an incredible group of people. I love this character. It's so fun for me to be able to do something so different and to not have the obligation of carrying the show on my shoulders, which is an exhausting thing.... There's something about having to drive the train that takes its toll on you. In this, I just get to come in and make an ass of myself and leave, and so that's really, really enjoyable.
Question: Were you familiar with the film before you got cast? Did you go back to it?
Benanti: Yeah. I saw it when I was in high school, and then I only watched it once, because having done so many revivals, I've learned that it's not a good idea to try to emulate somebody else's performance, so I always try to come from my own personal place. So I only watched it one time just to kind of re-familiarize myself with it. And I'm a huge fan of the movie and I'll probably watch it again once we close, but I just didn't want to be doing [the film actress'] performance. Question: How would you describe Candela?
Benanti: I would describe Candela as a woman who has a deep problem [laughs], a deep issue, that the world is just so full of shiny objects, that she can't quite ever get to the point of solving her issue, because she's constantly distracted by everything around her. I love her. I think she's so fun, and I love the way that she sees the world. I love her freedom, her sexual freedom, her emotional freedom, and I love what a loyal and true friend she clearly is to Pepa. I think she has some really nice qualities beyond her superficial self.
Question: Did you have anyone in mind or any parts of yourself that you drew on for her, or was she a figment of your imagination?
Benanti: No. She was really a character that I created, obviously with the help of Bart, but no, I didn't have anybody in mind for her. I kind of approached her as just the person that I described. Certainly, her freedom allowed me a lot of freedom in my interpretation of her, so that would be the thing that I think I've drawn on the most.
Question: You seem so comfortable in the role.
Benanti: Oh, thank you! Thank you! Yeah, I really enjoy her.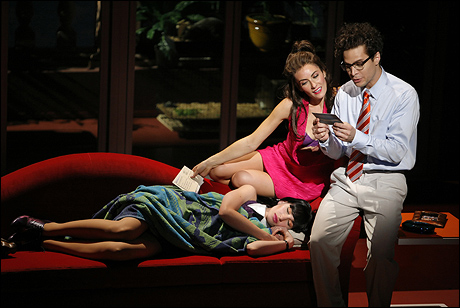 photo by Paul Kolnik



photo by Joseph Marzullo/WENN
Question: You mentioned working with Patti again earlier. What is it like working with her now, doing such a totally different production?
Benanti: It's like working with your family, at least for me. I love her so much. I love her like she's my own flesh and blood, and I know she would do anything for me, and she has. [Laughs.] It's just a joy. I look forward to seeing her every single day. We have so much fun together. I just think she is one of the funniest people in the world. If people knew how wacky and funny and outgoing she is, they would just be shocked, because she's such a consummate professional and she's so brilliant onstage. You wouldn't necessarily expect that of her, but she's just a delight. She really is.
Question: It's such a great theatre cast, which I love. What's the atmosphere like backstage?
Benanti: It's really fun. I don't think I've ever worked with a nicer group of people. Truly, every single person is fun and kind and committed and loving. We have such an incredible ensemble. They work so hard, and they're so supportive. We just all really enjoy each other, which doesn't always happen.
Question: A lot of your scenes are with Justin Guarini, who's making his Broadway debut. Have you all been giving him advice about theatre and doing eight shows a week?
Benanti: Isn't he great? Who would think? I didn't really know him. Not to be a jerk, but I don't watch "American Idol," so I only knew of him. So I didn't really know what to expect, but he's so down-to-earth, and he's so smart and so fast, and he's ego-less. He did not come in with this sort of [attitude] like, "I'm a famous person. I'm gonna show you what it's like." He literally was like, "What should I do? Tell me how to say this line." [Laughs.] He's not attached to any sort of bravado. He has such respect for the theatre community, which I think is lovely to see. You know, sometimes people come in with this sense of … slumming it or whatever, and he doesn't behave that way. I could not think more highly of him. He's such a great guy.
Question: Tell me a bit about the preview period. How much was changed in the show?
Benanti: Oh, my God! [Laughs.] Our preview period was like Beirut. It was insane! I don't know why – I came to this experience with a really true, deep sense of, "Let's put on a play! Let's just have fun." Things changed a lot. They changed swiftly. ... You know, it was interesting. It was just interesting. I think it brought us all closer together, because we knew we were doing something unusual. Do I wish that the New York theatre community didn't have to pay $125 to see us [go through] trial and error? Yes. I wish that there was some way that the prices could be less, but, you know, it's not up to me. [Laughs.] But I've had a great experience throughout all of it, even the hard parts. And I know we got shellacked [in the reviews]. I didn't read them personally, but I got the basic idea, and I have to say I was really surprised that there wasn't more a sense of, "Good for them for trying something new." I just find it so interesting that [a review of] a jukebox musical can be, like, "This is the most fun I've ever had!" But you've heard all of it [before]. … And I'm not saying we're reinventing the wheel, but we are trying to do something different. I think it's visually different than anything we've seen. It's a very difficult movie. If you've ever seen the movie, you don't know what the hell's going on for the first 20 minutes, so how can you expect the musical to be any different?
Question: I actually didn't get to see the movie before I saw the show, and I had no problem understanding what was going on in the show. I could follow everyone's story.
Benanti: Well, thank you. Look, is it a perfect musical? No. We could have definitely used more time. I'm not saying, by any means, that it's perfect, but it's enjoyable. The audiences are enjoying themselves, for the most part.... I don't quite know what we did to make everyone so angry, but the audiences are enjoying it. I'm enjoying it, and even through the hard preview period and all the angry blogging and the reviews, I still think it's a wonderful show. I hope we extend. I hope more people get a chance to see it, because I really do think it's innovative, and I'm really proud of it.



photo by Joseph Marzullo/WENN
Question: Was Pedro Almodovar involved at all?
Benanti: He was involved in the workshops, but he saw it opening night and he loved it. He could not be happier. He was thrilled with it, and he said to Bart, "Look, I get it." He's been crucified in reviews, so he gets it that it's not everybody's cup of tea all of the time. And what's really funny is people seem to either really love it or they're so mad. It really makes them mad, and you know what? I'd rather that. I would rather it be something that elicits a strong reaction than [something] like, "That was fine." I just think that's boring. But I know enough people who really, truly love it, that I'm very proud of it.
Question: I think it can be difficult doing the movie-to-stage thing because, if you are a fan of the movie, you have such an idea in your mind of what you want it to be, and it's not going to be that because it's a different medium and it's different people creating it and it's different people acting it, so to expect the same thing, I think, is unfair.
Benanti: Exactly. Absolutely. If you want the exact same thing, rent the movie again. I mean, the whole point of turning it into a musical is to make it something else. So I kind of don't understand the purist mentality of people who feel that way, but to each his own. [Laughs.]
Question: The last couple of shows you've done have been plays, and I wonder how you enjoy the non-musical work versus the musical work.
Benanti: I love it. For me, I just like to be as creative as possible. I learned a lot about acting in those plays. I think they made me a much better actor, a more focused and specific actor, and it gave me a freedom that I think I've drawn on in this performance, and I think it's actually clearer. I also don't think it's a surprise that, since I began working with Patti LuPone, I've become a better actress. She's like my university. I didn't go to college, but I went to the college of Patti LuPone. [Laughs.]
Question: And you've managed to graduate, too.
Benanti: Well, I'm in the process of graduating. I hope I never graduate, because I don't ever want to not do a show with her. I'm just going to keep following her around. That's my goal.
Question: What's your husband [actor Steven Pasquale] up to these days?
Benanti: He just finished doing a movie in Atlanta with Lucy Liu and Bobby Cannavale, and he's going to be doing a workshop of Tony Kushner's new play at the Public. And then I think [he's doing] a workshop of Giant at the Public, and then, I'm not really sure. Pilot season is coming up, so that's always a big time for him, because he does television. That's why we get to live in an apartment. If it was up to me, we'd be living in a box. [Laughs.] I keep doing not-for-profit theatre; he's like, "Can you do something else?" [Laughs.]



photo by Joseph Marzullo/WENN
Question: Have you gotten to work together much or would you like to?
Benanti: I think we'd really like to. We really want to do Brigadoon together, but I think Rob Ashford has the rights to it right now. He wants [both leads] to be dancers, which, if they want it to be a comedy, then we'd be perfect. [Laughs.]
Question: Maybe you need to submit a new script.
Benanti: Yeah, or just get a barre in our apartment. I mean, a ballet barre. We have an actual bar. But, yeah, we really want to do that together. But you know, I also wonder, is that dangerous? To work with the person you're with all the time — will we be like, "I hate you!" We've got such a great relationship now, I'm kind of scared to rock the boat, but he's such a phenomenal actor and he's such an amazing singer, which so few people know because he is primarily known for TV work.
Question: Do you have any other projects in the works?
Benanti: No, I've kind of decided that I don't want to be that person who's doing eight shows a week and a million readings. It's just too much. It's exhausting, and then you end up not doing anything well. At least I don't. I like my down time. I need to rest. So I don't know what stuff I'm going to do next. I really hope [this show] extends and we get to stay here for a while, but if we don't, I'll probably have to go to Los Angeles and hawk my wares and try to get a pilot again.
Question: Have you thought of doing a solo recording?
Benanti: Yeah, I have. My friend Todd Almond and I have been talking about putting an album together, but I don't want to talk too much about it because we're not entirely sure what it is yet. We have some ideas, but I've literally been saying for ten years that I'm going to do a solo album. So either I'm the laziest person in the world, or I just haven't figured out the right idea yet, or both. [Laughs.]
Question: You really should, because you have such a beautiful voice. I was watching a screener of the Sondheim birthday concert DVD the other night, and I thought your "So Many People" was beautiful.
Benanti: Oh, thank you! I really love that song, and I was honored to sing one of his earlier works. I think it's one of the first ones he ever wrote.
Question: What was that night like?
Benanti: Oh, my God! It was incredible. I'm the geekiest Sondheim fan. He's always like, "Please call me Steve," because I'm just such a fan girl around him. But it was incredible just to be with all of those luminaries, and then, what was so cool is, because they were filming it, there were screens backstage, so we could watch the performance, and there was also a camera on him that he didn't know about, so you were really seeing his unfiltered response to things. And Patti was so sweet. She was like, "When you were singing, you should have seen his face." So I'm actually really looking forward to watching it, to see how it all came through. But my goodness, when all of those people at the very end came out, I was bawling! I was crying so much like someone punched me in my face. I was just so honored to be a part of it. I really was.
[Women on the Verge of a Nervous Breakdown plays the Belasco Theatre, 111 West 44th Street. For tickets, call (212) 239-6200 or visit Telecharge.com.]
Well, that's all for now. Happy diva-watching! E-mail questions or comments to agans@playbill.com.
Highlights from Women on the Verge of a Nervous Breakdown: