MANDY GONZALEZ
Hurry to Oz, diva lovers! There is less than a month to enjoy one of the more thrilling performances currently on The Great White Way: Mandy Gonzalez as the green-faced, misunderstood, not-so-wicked witch Elphaba in the Broadway production of the hit musical Wicked. On Wednesday I had the pleasure of catching Gonzalez's take on the role created by Tony winner Idina Menzel, and the former In the Heights star is simply sensational. Her vocal work is extraordinary, her powerful alto a perfect fit for the Stephen Schwartz score. In fact, her rendition of "No Good Deed" may be the fiercest I have encountered on my many trips to the Gershwin Theatre, and she brings similar magic to "The Wizard and I" and "Defying Gravity." The Obie winner's acting is also top-notch, offering audiences an honest, moving performance as she makes the journey from the hopeful, but questioning young student to the self-possessed woman who discovers the meaning of her powers and the power of love. She is well matched by the Glinda of Katie Rose Clarke, and their second-act duet of "For Good" is truly touching. Earlier this week I had the chance to chat with the down-to-earth singing actress, who seems as lovely offstage as she is on. Gonzalez spoke about her latest role, the final performance of In the Heights as well as her upcoming projects; that interview follows:
Question: Before we get to Wicked, were you able to attend the final In the Heights performance?
Gonzalez: Of course! [Laughs.]
Question: What was that night like?
Gonzalez: It was incredible. Oh my gosh, I was so excited I couldn't sleep the night before because I was excited to see the show for the first time, to see all my friends. It's such a huge part of my life, so it was a really big night, and it was so incredible. I sat with my best friends, and I watched my best friends on the stage and I cried, I laughed, I screamed. It was amazing. It was an incredible closing night.
Question: Was there anything that you picked up as an audience member that struck you in a different way?
Gonzalez: Oh, definitely. My character, Nina, wasn't in certain numbers, so I was able to watch those numbers but I was never able to really put all the pieces together. Just to see some of those performances ... was incredible, and I can see why it was so loved. I mean, I felt so proud, and I was kind of speechless, I have to say. [Laughs.]
photo by Joan Marcus
Question: Was it at all strange seeing someone perform the role that you created?
Gonzalez: Not at all, no. I felt just very proud, and it brought back so many memories and thoughts of when those songs were actually created, and sitting in a living room with Alex Lacamoire and singing through changes of lyrics, and to see it up on the stage, it wasn't strange at all. I just felt very proud. The whole evening, I couldn't stop smiling. Question: Was it a difficult decision to leave the show to go into Wicked?
Gonzalez: You know, I don't think it was a difficult decision. After I did the first workshop of In the Heights, I was offered to go and do Wicked, as Elphaba, and at the time, I was waiting to see if the show — In the Heights, which I loved — was going to go Off-Broadway, or what was going to happen. At the time, I was offered the two things, and In the Heights was so a part of my heart, and I just had to take it. It's one of those amazing things that happen when you actually get offered two amazing projects at the same time. I was so happy with my decision but at the same time, I was like, "Oh, I so want to play that part, and now it's never going to happen."
I was with In the Heights for a long time, through all the workshops and everything, and after two years on Broadway, when they came and they offered me the part for Wicked again, I felt it was the right time. And, everybody at In the Heights was just so excited for me and proud; I just felt that I had all of their support. And, they all came to my opening night at Wicked. My closing night of In the Heights, it was very hush-hush that I was going to play Elphaba and everything was kind of kept on the low-down. And then, for my final bow … Alex had arranged this amazing orchestration for Wicked, and then Lin [-Manuel Miranda] came out in a witch's hat and a green shirt [laughs] and handed me flowers. I don't know, it just kind of seemed like a smooth transition.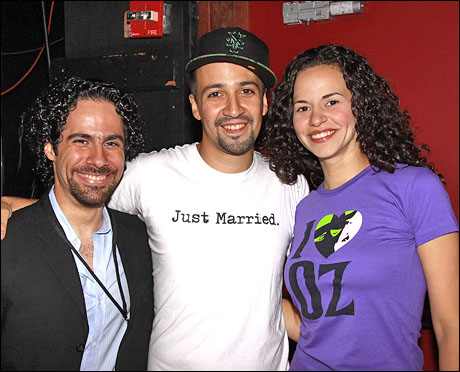 photo by Joseph Marzullo/WENN
photo by Joan Marcus
Question: When had you first seen Wicked?
Gonzalez: I was a part of one of the first workshops of Wicked. I was actually in the ensemble. I was doing Aida at the time, and they called and asked if I would come and do it, and I said, "Sure!" I think during that workshop, we did the first act, and I was doing ensemble with Celia Keenan-Bolger and Christian Borle and Marcy Harriell and all these people, so I knew at that time that it was something really special. When it went into previews, I think I was doing Lennon … but when I saw it in previews — I got tickets — I was blown away. I was blown away by Idina's performance, and the music, just the vastness of the show. I was just like, "Whoa! I wanna do this. One day, I'm gonna do this." And, I was lucky enough for it to happen.
Question: How has performing the role lived up to what you thought it would be?
Gonzalez: Oh, it's been amazing. It really has, and yeah, you can't really know what it's like to do a role like this until you actually do it. … In the Heights is very challenging as well, and my life has kind of gone from Heights to Wicked, so I felt really prepared, vocally and physically and everything, to get into this kind of role. But you're onstage nonstop. You're never really by yourself, because you're always with a team — because you can't do anything because you're in this green makeup. You have somebody that hands you water, you have somebody that sticks in your hair, you have somebody that sticks in your makeup. Even when I'm offstage, I'm running somewhere, I'm going through a trap door. I'm wearing this dress that, I think, weighs ten pounds or something. So it just takes a while to get used to, and then when you do it, you just feel like you're on top of the world, that you've accomplished this amazing thing every night, and there's nothing like it. I mean, my grandma came to see the show, and she came out from California. She's 88 years old, and … while [she was] in the audience, I was just like, "Wow, this is a woman who's been with me through everything, put me through lessons, and now she's watching me actually fly onstage and sing this incredible music." I just feel like it's a dream come true, this role, and I've had a blast.
Question: What was her reaction to it afterwards?
Gonzalez: You know, my grandma's a very loving person. She's a lot like me — she's very talkative — but she's not very emotional, and when she came to the show, she told me that after she watched me sing "The Wizard and I," that she started to cry, and that's not like her at all. She's a very strong woman, and I said, "Really?" And she said, "Yeah." And I said, "Well, why?" And she says, "Because just look at what you've done. Look at all that you've accomplished." … I'm very proud that I've been a part of [this show].
Question: Did you grow up with your grandmother?
Gonzalez: Yeah. Well, I grew up with both my parents, my family, and both of my parents worked a lot, so my grandma babysat us a lot, and my grandma is a lover of musicals [and performers] like Judy Garland, Liza Minnelli, Eydie Gorme, all of this kind of stuff. She had a player piano at her house, and she would sing songs like "Honeysuckle Rose" and "If I Knew You Were Coming, I'd A Baked a Cake." She would sing all of this stuff to us, and I was really the only grandchild that ever really sang back. I would learn all of the songs with her, and she loved that, and then I would sing really loud [laughs], so she kind of got nervous that I was going to hurt myself or that something was going to happen, and at seven years old she put me into singing lessons, and she drove me every week to my singing lessons and to dance lessons. Then she put me into this performing group when I was a kid, so I spent a lot of time with my grandma, so she was a huge, huge part of my life growing up.
photo by Paul Kolnik
Question: Had she seen you in other Broadway shows?
Gonzalez: Oh, yeah, she's seen me in everything. [Laughs.] She's flown out for everything, and people are always like, "Oh, your grandma's 88? How can she fly out to everything?" I'm like, "She would not miss this for the world." She wanted to come back in March but she got sick, so she couldn't come. Every week, I talk to her, and she's like, "I can't wait to see the show!" And then she comes out, and... everybody knows her. The people at In the Heights know her. She'll see the show, like, five times. When she came to see Wicked, she flew in on Thursday, she [saw] the show on Friday, she [saw] both shows on Saturday and then one show on Sunday and then, she's good to go back to the senior center and takes her pictures with her, so it's really great. [Laughs.] Question: What has the "greenifying" experience been like for you?
Gonzalez: How long does it take me to get green? Well, it takes me about 45 minutes every day, and then it's about 16 minutes of scrubbing to get it off, and I've gotten pretty used to it. I mean, I have this incredible makeup artist, Craig Jessup, who does my makeup every night, so I don't really have to do anything. I just have to sit there and be patient while somebody paints my skin. It's been a little different with the winter just because it's cold, and so when he puts on the cold makeup, it gets really cold. [Laughs.] But it's been interesting just because it takes a while for your skin to get used to doing this, to putting this makeup on your face every night. For the two-show days, I have to wash my face and my body in between, just because Elphaba starts out a lot lighter in the beginning, and then she gets darker, so you have to go back to the lighter makeup. So that takes a while to get used to on your skin, but it's been fun. [Laughs.]
Question: Now that you've played her for ten months, how would you describe Elphaba?
Gonzalez: Elphaba is somebody that's had a very hard life, that hasn't had life make her jaded. She still has a lot of hope, and she's somebody that comes into the show with hope for new beginnings, and she kind of always feels that, but she's always been an outsider, so she's always had to build that hope on her own, because she's never had anybody there to say, "You can do it," so she's had to be that person to do that for herself. Through the show, she learns so much about trust, about trusting people and about friendship, and she's just a dreamer. She loves people, she loves animals, but it's really a great journey because I get to go through such an arc. I fall in love. She's the ultimate green girl. What can I say about Elphaba? [Laughs.] She's that person full of hope, that she puts all of her hope into things, even though things sometimes don't work out... She still has hope that there's something better for the future, and I think that that's a great quality to have.
Question: Do you have a favorite moment in the show for her?
Gonzalez: I love working with Katie Rose Clarke and having developed that relationship, because I find that she's a very honest actress and our characters grow together. So, the first moment that we dance together, during the Ozdust Ballroom [scene], when I first realize that somebody's kind of taking my side, that's one of my favorite moments in the show. "The Wizard and I" is one of my favorite moments because you just get to feel, "Oh, my gosh, somebody just said that I might be able to do something," and you get to feel all of her inhibitions [start to fade]. She just gets to let loose with everything and just tell you what she's thinking, and I just love going through that every night. And then I love flying. [Laughs.] I love taking the flight every night.
photo by Joan Marcus
Question: What is it like flying?
Gonzalez: You know, the flying is really awesome. It's just interesting. I mean, I know they don't want me to give away too many secrets, but it was really interesting because when you're singing and you're rehearsing, you sing these big notes, and as a singer, I just take it from the ground, and I plant myself in and I get all my singing down. I remember when I first got onto the flying contraption, I realized that I can't really move anywhere. I can't move my legs, I can't do anything like that, so one time I actually did, and I felt it. [Laughs.] … So I just have to stay put, and that's really interesting, because I just get to use my upper body and pretend like I'm flying with the broom, and it's really cool. Once you master it, it's a really amazing, amazing ride.
Question: Is there a "green girl" network among the women who have done the role before you?
Gonzalez: Definitely, definitely. I remember seeing Stephanie J. Block at a commercial audition, and she's like, "How are you? What are you doing? What are you doing? I can't believe you're out," and I'm just like, "Yeah! You know." [Laughs.] But it was nice to see her because I don't think that anybody really knows exactly what you have to go through except for other people that have played the part, and they know that it's individual for everybody, but it's nice to see somebody and go, "Oh, did this happen to you? Did you ever feel like this?" Everybody's ready to talk, so it's good. [Laughs.]
Question: I know there are a lot of loyal fans. Is there one fan experience that stands out in your mind over the past few months... something at the stage door or a letter you've received?
Gonzalez: … Oh, yes. Oh, my gosh, I've received so many fantastic letters. … At Wicked, we've put together this organization called Bully Bust. It's an organization that stands up to bullying. … And these kids wrote these essays about having been bullied or [having] watched somebody be bullied, and through watching Wicked, they realized that Elphaba's a lot like them — she stood up to people for being different. This one girl wrote to me, and I think that she had cerebral palsy, and she said that she had been bullied, and she realized after seeing Wicked that it's really okay to be different, and that really touched me because, as an artist, you only hope that you can do something that affects people's lives. To hear something like that —I consider her to be a lot braver in a lot of ways — but to feel that connection with a character that I'm playing is quite amazing. [Wicked is partnering with the National School Climate Center (NSCC) and has created bully prevention support materials as part of the NSCC's BullyBust campaign. For more information go to www.schoolclimate.org/bullybust.]
Question: I would think that must be really gratifying.
Gonzalez: For people to open their hearts like that, to tell you, "This happened to me," it's really incredible.
photo by Joan Marcus
Question: Now that you're coming to the end of your run, how are you feeling?
Gonzalez: I'm feeling excited, you know. I'm at the three-week stretch, so I feel like I'm kind of at the end of the marathon. I've gone straight from In the Heights to this, and it's been a good four years of just nonstop every night, and so I'm looking forward to finishing the race and seeing what's next.
Question: Do you have other projects in the works, or are you waiting until you're done with this show?
Gonzalez: Of course, of course. [Laughs.] I'm an actor! Yeah, I'm doing some voiceovers, I'm working on a concert, I'm writing some stuff for an album.
Question: Tell me about the album and the concert.
Gonzalez: The concert is something I've actually been working on for a while. It's kind of, in a way, autobiographical. I'm looking forward to finishing that and then putting it up. I haven't had a lot of time. I've been pretty busy, so now I'm ready to sit down and do that. And the album is just going to come from that. I'll be putting that together, too.
Question: I know you've done some TV and film work.
Gonzalez: Yeah, I finished a movie that … had a screening this past year, this movie called "After," with Pablo Schreiber and Diane Neal and Kathleen Quinlan and John Doman. And then I did this other film called "Man on a Ledge," and that was with William Sadler and Sam Worthington from "Avatar." That was really fantastic.
Question: How does the acting process compare for you, doing it for the camera versus in front of an audience?
Gonzalez: Well, I think it's pretty much the same in the fact that you want to bring an honesty to whatever you're doing, but for the camera it's a lot more simple, whereas for the stage, you have to bring that honesty, but you have to make sure that the people in the third balcony can see that. So it's just a broader lens [laughs], so to speak, and I love the film work because it's a lot more intimate. I don't know, I like doing both just so I can stretch my muscle as an actor, but I'd like to do a lot more film and TV.
Question: What advice do you have for the next Elphaba?
Gonzalez: Oh, gosh. I would say to go in with an open heart, and just have fun and go along for the ride. … I have that advice for everything... When I left for New York, my mom gave me this book and in it, it had this quote that said, "Traveler, there is no trail. You blaze the trail as you go." And, I think that that's true for anything.
[Mandy Gonzalez is currently starring in Wicked at the Gershwin Theatre through Jan. 30; she will be succeeded by Teal Wicks. For more information visit wickedthemusical.com. ]
DIVA TIDBITS
Tony Award winner Donna McKechnie, who recently performed My Musical Comedy Life at several venues in Australia and at the Laurie Beechman Theater in Manhattan, will bring that acclaimed solo show to The PlayGround Theatre in Miami Shores Feb. 12 at 8 PM and Feb. 13 at 2 PM and 7:30 PM. The performances will feature direction by Richard Jay-Alexander with musical direction by Eugene Gwozdz. Director-producer Jay-Alexander will join McKechnie in offering intimate master classes and workshops to a limited number of local actors and performing arts students. Jay-Alexander will conduct two workshops Feb. 19 (10 AM-1 PM for ages 7-13; 2 PM-5 AM for ages 14-17) for children and teenagers considering careers in theatre. There is a $30 fee for all workshop participants. McKechnie's master class will be held on The PlayGround Theatre stage on Feb. 7, 4 PM-7 PM (participants must be 15+). The fee for the master class is $35. Space will be extremely limited; some scholarships will be available.
Tony Award winner Betty Buckley is offering a Song Interpretation Workshop in Fort Worth, TX, throughout January and February. The class participants are working toward a benefit concert that will be held in late March. In her classes, press notes state, Buckley "shares her expertise for telling stories in song and guides her students through a methodology that facilitates audience connection through songs and monologues." For further details, dates and to arrange an interview, prospective participants should contact m@marjoriehayes.com. For more information go to www.bettybuckley.com.
Happy diva-watching! E-mail questions or comments to agans@playbill.com.
Tickets and information available at The PlayGround Theatre box office, (305) 751-9550, www.theplaygroundtheatre.com or www.ticketmaster.com.
View highlights from Wicked on Broadway: