JENNIFER DAMIANO
Much has happened since I interviewed actress Jennifer Damiano, who plays Mary Jane in the new musical Spider-Man Turn Off the Dark, earlier this month. During the interim, the Julie Taymor-directed production has postponed its opening until Feb. 7, 2011, actor Christopher Tierney was severely injured performing a stunt in the musical at the Foxwoods Theatre, and Natalie Mendoza, who played the principal role of Arachne, has departed the cast. Damiano, who earned a Tony nomination for her work in the Pulitzer Prize-winning Next to Normal, however, continues on as the love interest for Peter Parker, who is played by Broadway newcomer Reeve Carney. In the interview that follows, the gifted singing actress speaks about her newest part as well as her previous Broadway role.
Question: When and how did you get involved with Spider-Man?
Jennifer Damiano: Four weeks before we started rehearsal in the middle of August is when I found out I got the job, and then four weeks before that is when I first auditioned for it. So it's the longest audition process I've been a part of.
Question: What was the audition process like?
Damiano: Well, there were four auditions. Julie [Taymor] was at my first one. That [audition] was at Telsey [Casting]. They were all at Telsey. And then at my second one, there [were] more people. At my third one, there [were] a little more people! And then, at the fourth one, Bono and Edge finally came, which was really exciting.
Question: Do you remember your reaction when you found out that you had gotten the role?
Damiano: Well, I had dangerously convinced myself beforehand that there was no other choice but to get it. So I'm really glad that I did, because if I didn't, I probably would have been really sad because I got way invested in it [laughs] and was really excited. And, you know, I love Next to Normal so much. I still think about it every day, but I just wanted to say some new words, and even though I miss those words like you wouldn't even believe and those people and that whole experience, I needed to move on and grow up a little, and I was just so, so, so, sooo excited just to work on something new, let alone the biggest, baddest musical there ever was. [Laughs.]
photo by John Hogg
Question: Tell me about the rehearsal process and what it's like working with Julie Taymor.
Damiano: Well, the rehearsal process — not gonna lie — has been the hardest I've ever been through. I think everyone [in the cast] can say that. I mean, you know, we've been teching — I don't even know — we started teching a million years ago. But it's actually been really exciting in that Julie's got a really cool [way of working that's] just as exciting as it is stressful, which is kind of my way of doing things, and hers, as I've learned, because everything is still up for discussion because she's very unpredictable. She can get a new thought in her head every single day, which is funny, because the show's finally opening, and she says, which I believe, that she could just keep going on and on and on and on. So it's good that we finally have a set date that we must open at because I feel like we all love this piece so much that we could just keep going and going and going and going. But she's incredible. I'm so blessed to have met her and be working with her. She's amazing. Question: Were you a fan of either the comic books or films? What was your background with Spider-Man, or is it all new to you?
Damiano: It's not all crazy-new to me. I didn't know much about the comic books at all. I knew they existed. I knew Mary Jane had red hair. [Laughs.] But I saw the movies at some point in my life, and then, it just so happened that when I was auditioning, for some reason, somebody decided to put the movies on TV all the time. I don't know who that was, but they knew what was happening in my life because every time they were on, I was just like, "Oh, why not?" and I just watched them all. So I've seen them. The first one was my favorite. And I don't know, I tried to stray from doing too much research at the beginning because I didn't just want it to be a jumble of a bunch of other people's versions of this girl on paper or on film.
Question: How would you describe Mary Jane, or how does this version of her differ from the others?
Damiano: Well, I had to put her through me first because I had to make myself believe that I could be her, and I had to make these audiences believe that I could be her, too, so in doing so, she became a little… Well, she [has] a pretty big arc, so she might be a little edgier here. In the movies she's very sweet; in the comic books she's very sexy, and here, she's just sort of a pretty real, normal, contemporary girl, because I do find myself to be a pretty normal teenager in that teenagers these days, they kind of communicate a little more sarcastically and they just have this different sort of humor that didn't really exist when the comic books were written and when the movies were made, so it's just a completely different version. But then again, she grows so much throughout the whole thing that she does become a few different versions of herself. But I think that it's such a spectacle onstage, all I can really do is just be as real as possible, because Mary Jane might be one of the only characters that you can really, really — besides Peter [Parker] — relate to as a human being.
Question: Are you involved in any of the flying sequences or the stunt sequences?
Damiano: I do a little hanging every now and then, which is really fun. I get to do a little flight with Spidey, which is really fun, and that's about it. I mean, thank God, because I don't think I have the physical stamina that some of these guys do to go anywhere near [the stunts they can do]. These people are trained, and they are incredible at what they do. I have no idea how they do what they do, and it's not my part of the gig, so I just let them fly around me. They're incredible … so thank God I'm only just hanging because I don't think anyone would want to see a stunt performed as poorly as I would probably perform it. [Laughs.]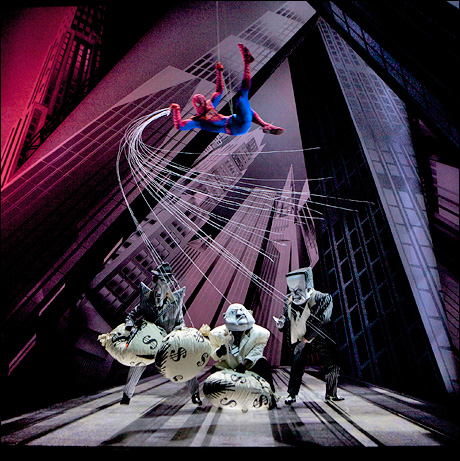 photo by Jacob Cohl
photo by Joseph Marzullo/WENN
Question: Tell me about working with Reeve Carney.
Damiano: He's great. You know, what's cool is that someone was like, "Oh, the rock star that doesn't really do [theatre] has the part," but he's actually perfect for it, and neither of us have trained, so we've got a cool, organic chemistry onstage that I think people appreciate, and I think it's necessary for M.J. and Peter, and it's really fun. It's really natural, and he rocks it out and, I think, surprises people who come in with a cynical attitude about him not being a veteran of the theatre or the film world or something. [Laughs.]
Question: Do you have a favorite moment in the show for Mary Jane?
Damiano: Most of the favorite moments in all the shows I'm involved in don't involve me. That's just how it's been — I don't know why. Maybe it's because I've always wanted to [play] boy parts, because they're so much more fun, [or] maybe just because they sing lower and it doesn't hurt your voice as much. I think my favorite moment is certainly getting to fly with Spider-Man. Yeah, because I just come out and they all cheer, and I've never experienced anything like that before. It's really incredible — I mean, they get so excited, and the fact that I'm now an experienced aerialist and can put this on my resume excites me. [Laughs.] Let people know that I'm now qualified for any sorts of hanging in harnesses that anyone does, ever, in the world.
Question: There's been a lot in the papers and media about the preview period. What's it been like for you and for the actors?
Damiano: Oh, gosh! You know, really, the metaphor that I relate it to is when you have a huge crush on someone and you don't want to, so all you do is say all these bad things about them all day just to convince yourself that you don't like them, but it doesn't work because at the end of the day you're still obsessed with them. I do think everyone's just obsessed with the whole idea of how much money it is and who's involved, blah blah blah, and if you're going to come in with a cynical attitude about it already and expect you're going to be disappointed, only because you've signed up to see part of the process as opposed to the finished product. And Julie's always said she hopes audiences can enjoy the making of theatre just as much as the product of it. I hate to use that word again, but I think that when I start thinking of the money and of everyone's obsession with it and expectation to see where it's all gone, then I just mess myself up, so I just come here and do my part of the gig. And the creative team's really cool in that they let us all say what we want to say and speak as much as we want to speak and have our own ideas, so it does feel like a collaborative effort, but at the same time, I have faith in this piece and I trust everyone to. Everybody knows what it is and what it can be, and we're attempting things that have never been attempted before on stage, and that in itself is applauded, which is a great feeling, that no matter what, we're making history, and I think it's a beautiful show.
photo by Joan Marcus
Question: What's happening now? Are changes still being made?
Damiano: Oh, baby, you don't even know! Oh, my gosh, changes galore. But it's so fun because everyone on the creative team is so smart, and all the people that work on the show are so smart, that there's so much to say and so much to do with this story. Because part of the message we're trying to send is just how timeless it actually is and how it applies to everyone in the world in most circumstances. So I think every single night, something's been different so far, and there's big hunks of difference that we're really hard-core teching throughout the day, and I can't wait until those really get implemented [into performances] because they'll probably change things for people. But, you know, it's part of the process. Next to Normal, we got to do Off-Broadway, we got to go to D.C., and finally, it was okay. But here, we're just doing the fast-forward version of that in New York, because we couldn't renovate five other theatres [out of town] before we got here. And people sign up to see that. Whether or not they pretend that they hate it or love it, I'm still a really lucky girl. [Laughs.]
Question: You mentioned Next to Normal a couple of times. Do you keep in touch with the cast members from that?
Damiano: Yes, sir. We're all in love, and I can't even talk about them without crying! I miss them so much, and Meghann [Fahy], who took over for me, is my best friend, and I'm so happy that she's doing the role right now. I know that she's going to get more work even though the show's closing. They all are, and I really love Emma Hunton, who's playing Natalie on the tour, too. I feel really good about what still remains of the show because it's hard for me to let go of it. I think about it all the time because it was just what it was, and every single day, I'm reminded here, doing a bigger show, that it's not always going to be that small, intimate … thing that you have with a smaller cast, a smaller show, where it's just really about the words you're saying. This is the polar opposite. It's been hard, but it's been the coolest challenge I could have asked for.
photo by Joan Marcus
Question: I know there's been talk lately of a Next to Normal movie. What are your thoughts about a screen version? How do you think it would work?
Damiano: My thoughts on it are, I would be obsessed with it. It would be so incredible, and I hope I'm not old and wrinkly by the time it's happening. [Laughs.]
Question: Back to Spider-Man, what would you say has been the most exciting aspect of this whole adventure?
Damiano: I can't really say specifically what it is. There's been moments in rehearsal when [we've] all [been] sitting in the house, during tech, watching the Spider-Men flying around the theatre, where we all just couldn't really believe it. It's one of the most beautiful things I've ever seen. I mean, I haven't seen a show with flying before. I know that there are shows out there with flying, but just to see this American hero fly around, and to have him even save me. I must say, though, I think so far, the most exciting thing has been the audience's reaction. Even though there's been such bad press, the support of the audiences during our holds and stuff has been tremendous, except that one lady who just really, really wanted attention. And, also, the reactions to a lot of the flying sequences are huge and tremendous, and just how many people are in the house is made very apparent, and that is a lot more people than were in the Booth Theatre [for Next to Normal] every night. And that was a different special relationship the audience and the people onstage had, but this is – we sort of bring them in and we don't really give them a second to even know what's going on, which is why they have to keep coming back!
Question: Are changes being made to the book or the score?
Damiano: Not so much [the] score, but definitely some book stuff. I think we're just trying to tell our story as best we can, and you learn a lot from different audiences and what they leave understanding and not understanding. And there's a few other technical things we're working on towards the end, and everybody's on the same page. I mean, we all have our own best interests in mind, but at the end of the day, we're all so clearly one unit in just trying to do with this piece what we know it can do. And, it's a lot of work – none of us have seen the sun in way too long – but it's gonna be worth it. The greater the risk, the greater the reward.
[Tickets for Spider-Man are priced $67.50-$135 for weekday performances and $67.50-$140 for weekend performances. Visit SpiderManOnBroadway.]
Well, that's all for now. Happy diva-watching! E-mail questions or comments to agans@playbill.com.
Jennifer Damiano and Patrick Page and talk about their roles in Spider-Man Turn Off the Dark: