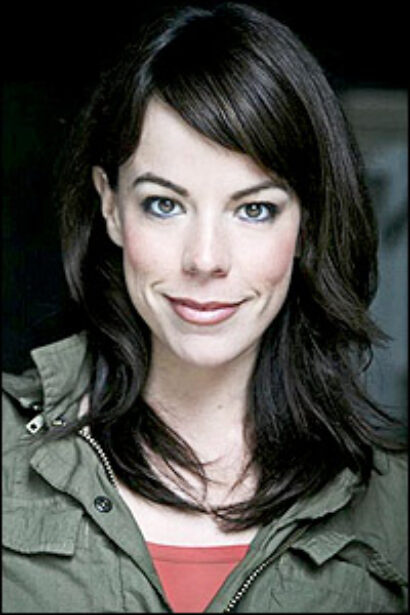 LESLIE KRITZER
Everything's coming up roses for the gifted singing actress Leslie Kritzer, who will be featured in Lincoln Center's acclaimed American Songbook series Feb. 3 in the Allen Room of Jazz at Lincoln Center. The Drama Desk and Outer Critics Circle Award nominee will offer Hello, Gorgeous! Leslie Kritzer Sings Jule Styne, which will give the talented artist the chance to belt out songs by the late, great Styne, composer of Gypsy, Funny Girl and other iconic shows.
Kritzer, who was most recently on Broadway in Roundabout Theatre Company's Sondheim on Sondheim revue, said she was thrilled to see her Tony-winning co-star, Barbara Cook, feted at the recent Kennedy Center Honors. "I was so happy and proud of her, and I called her at home," Kritzer told me earlier this week. "She's still on cloud nine from the whole experience. I was like, 'Oh my God! You're right there with Meryl [Streep],' and she's like, 'I know!'... She loved the film [tribute], too. She's been through hell and back. She said it really showed she wasn't your typical ingénue and she had gone through a lot, and they showed that and how she prevailed."
Kritzer, whose Broadway resume also boasts Hairspray, Legally Blonde and A Catered Affair, says working with the original Music Man star was "awesome. She's so funny and open and a team player. She was just amazing to be around and to learn from and to watch every night....She was very open about the down times [in her life]. It's a really good lesson because when you think Barbara Cook, you think every second must have been amazing, and it wasn't. She's gone through her really dark periods. It was amazing for her to share things like that with me. I really appreciated that ...She's definitely a tough broad and really funny. I just admire her, and it was just an honor to work with her and be able to call her and say, 'Congratulations!'"



photo by Joan Marcus
Although Kritzer wasn't on Broadway this past season, the comedic actress has been busy appearing in numerous regional productions, including the Arena Stage world premiere of Marcus Gardley's
every tongue confess
opposite Tony winner Phylicia Rashad; the "comic tragedy" musical
The Memory Show
, which received its world premiere at the Barrington Stage Company; and director John Rando's well-reviewed
Guys and Dolls
, also at the Barrington. About this recent spate of work, Kritzer says, "Well, working with Phylicia Rashad and doing a play with her was incredible. It was an amazing experience, and working with Kenny Leon was wonderful. But, I think, for me,
Guys and Dolls
was probably my favorite — not just because it's a musical — but I love working with John Rando.... He is one of my favorite directors ever. We always do things together that are fun and take a different spin on things, and our cast — Matt Risch and Morgan James and Michael Thomas Holmes and the entire company — we created such a great show and with no expectations. That was the best part. There were no expectations. We were doing a show up at Barrington Stage, and we didn't know that Terry Teachout was going to write that incredible review in the Wall Street Journal… And, we do it because we love it and we love working together, and I'm not saying that every time it works out that way, but when it does work out that way, where every day is a pleasure and you love working on a show and you love the people you work with, sometimes you get that amazing cherry on the top, which is amazing reviews and a great time. And, Frank Loesser—how can you go wrong?... It was an amazing experience, and honestly just what I needed that summer. It was great playing a blonde. I love playing blondes."



photo by Matthew Murphy
And, now, Kritzer is turning her attention from Frank Loesser to Jule Styne for her upcoming American Songbook solo debut. Her musical director is Vadim Feichtner
(Spelling Bee, Elegies
), who, it should be noted, recently became her fiance. "We did it all backwards, but it was perfect for us," Kritzer says with a laugh. "We got a house and we bought a car, so we did that first, and then got engaged, and now we're going to probably get married in a year-and-a-half because we did the big things first!"
"We've known each other about 10 years," Kritzer continues, "but we've only been together three." Feichtner and Kritzer actually met while doing a presentation at NYU, and later collaborated on an album called "I Sing." More recently, they partnered on Beautiful Disaster, a solo show written by Kritzer and Randy Blair (Fat Camp, Perez Hilton Saves the Universe, Spidermusical) that was seen at Joe's Pub, the home of Kritzer's award-winning hit, Leslie Kritzer Is Patti LuPone at Les Mouches. And, now, the duo are at work on Kritzer's evening of Styne tunes. "Working together this closely is really cool," Kritzer says, "[although] it's not easy in the sense that we both have different personalities, and he's definitely more calm than me. I get more flustered and frustrated, but that's why we're really good for each other because we balance each other out. And, he's really amazing and a great arranger and he's just very supportive, and we're a team, so it's really special."



photo by Kevin Sprague
Her Styne concert, which is sold out, also promises to be special. "I'll be doing some stuff from
Gypsy
and
Funny Girl
, obviously, you can't leave those out," Kritzer says, "[and] a bunch of other music that [might not be as familiar]. I knew about
Fade Out – Fade In
and
Subways Are for Sleeping
, and I'm doing some stuff from that. There's a ton of films that he did — so many songs from films — some that people know, some that people don't. He also wrote for Frank Sinatra for years, so I'm [also] doing...some novelty songs. He had quite a career that spanned a long time. I'm touching upon a bunch of different things, not just the ones that people know. And, we're still finalizing the song list.... We're weeding through our favorites—probably 50-plus songs that I have to whittle down to maybe 16-18, tops, which is really hard." She says one of her new favorites is a little-known song entitled "Winter Was Warm."
Kritzer, who scored a personal success with the 2001 Paper Mill Playhouse production of Funny Girl and was among the top choices for the now-canceled Broadway revival of that musical, said she probably will not discuss her experiences with that show in her upcoming concert. "I think I'm just going to let the music speak for itself," she laughs. "At least the Funny Girl stuff, you know? I did the show 10 years ago, and I think the music says it all. It's obvious that I love the music, so I've chosen the songs that I love from it, and I put it all in there. It really does speak for itself."



photo by Joan Marcus
When asked her reaction upon learning that the Broadway revival of
Funny Girl
had been scuttled, Kritzer says with refreshing candidness, "It's too bad because it's one of those shows that I hope gets to see the light of day, but it has to be done the right way — it just does — and it has to be done with the right people. And, that's all that I really have to say about it. Of course, I was disappointed that I wasn't in it, but if you're going to produce a show like that... it has to be with the right people. I think that it kind of became obvious that it wasn't being done with the right people.... I know a lot of women — not just myself — were up for this part. Some incredible women that I respect and admire very much, and it's just too bad that the right elements weren't put together for a show like that, which is one of the most incredible shows ever written by Jule Styne."
Kritzer further explains, "So many women were up for this part that were real musical theatre pros, so it's not about me as much as it's about we have so much talent and nine times out of ten, it's not about talent. It's a shame because we spend our whole lives to play roles like that. The Stephanie J. Blocks and the Shoshana Beans and the Nicole Parkers ... Look, we're all working all the time — knock on wood. ...The audiences, they really do respect talent, and I hope that people keep that in mind in the future when casting shows and putting together teams.... Take that new girl [Jessie Mueller] in the Harry Connick [revival of On a Clear Day]. I loved her! Loved her! And, she's out of nowhere. I really loved her, and I was like, 'How great is this that I can go see a show and see someone I've never heard of and she's amazing!'"
And, would Kritzer still be interested in performing her Fanny Brice for Broadway audiences should a revival make its way to New York? "Oh, sure. Absolutely," she laughs. "Oh, yeah. I'm doing the concert, also, so I can sing some of this music because it isn't heard very often. I don't have a 20-piece orchestra or something like that, but again, it's because I really love the music. I love the show. I mean, ego aside, I love his music and I really just want to sing his music. The best part is, throughout this whole thing, I discovered so much music that I never knew about, and it made me fall in love with his stuff even more.
Funny Girl
is wonderful and great. If I ever had a chance to do it again, it would be wonderful, but there's a lot more. There's a lot more of his stuff. Honestly, yes, I'd do it again, but I'd rather do
Fade Out – Fade In
or
Subways Are for Sleeping
. Honestly, some of the stuff he wrote for Carol Burnett, I mean, it's incredible, so it's kind of opened my eyes to other shows that I'd really like to do."
Following her concert, Kritzer says she will head to Los Angeles for pilot season. "I'm unfortunately leaving my poor fiancé in the cold Jersey winter, but I'm really excited… I spent some time out there and I'm going to go there again, and then come back and see what happens." But, for now, she says, "I have the luxury of being able to focus on this concert without having eight million things to do, so it's been really nice to be able to just create this and spend time doing research and reading. I'm constantly in touch with the Styne estate, and they've been amazing — Margaret Styne and Joseph Weiss, who runs the Styne estate. They've just been a wealth of information for me. It's just been such a learning experience, so I've been really grateful to have the time to be able to do it....I'm just focusing on the concert for now and enjoying being engaged and living in the suburbs, to be honest with you. It's one of the few times that I'm really just enjoying life—just life," she adds with a laugh. "I'm heading to L.A. for a couple of months, but other than that, I'm really concentrating on the show and trying to make it great, and, hopefully, we can do it again after this...I'm just excited to be able to bring the music that I love that was written for some incredible women and men to a night like this and be able to do it in this kind of setting. It's kind of better than doing it in any Broadway show because I get to play a million parts."
For more information visit www.AmericanSongbook.org. Well, that's all for now. Happy diva-watching! E-mail questions or comments to agans@playbill.com.