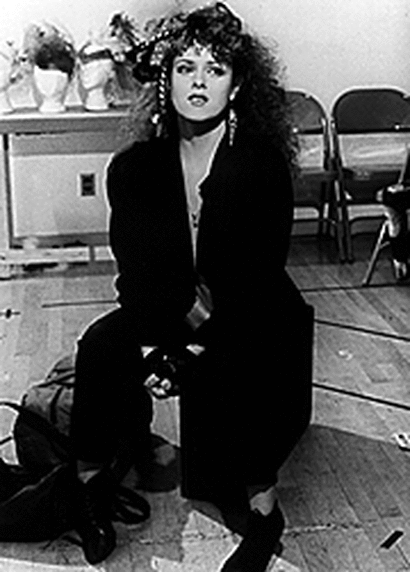 July 11, 1996
NEW YORK -- Hello diva lovers! Just a few tidbits as we go into the weekend.
BERNADETTE PETERS
Two weeks ago, Bernadette Peters was involved in a workshop of a new Kander and Ebb musical, The Skin of Our Teeth. James Naughton also took part in this reading, based on the Thornton Wilder novel. At this time, there is no word whether the show is going forward or not.
However, the big news of the week is Bernadette's long-awaited album will finally be released! The album, titled "I'll Be Your Baby Tonight," is due in record stores Aug. 20. Bernadette's first non-show album in more than a decade features songs that range from the pop/rock world to theatre songs, by composers Lyle Lovett, Billy Joel, Stephen Sondheim and many others.
About the recording, Bernadette explains, "Over the years I had been asked to do concept albums, but I didn't want to fit into other people's ideas about me. This album represents who I am and what I like to sing." The album, which has been recorded over the past two years, contains a wide variety of styles and composers. As for the title of the recording, Bernadette says, "After I finished choosing all the songs, I realized they each dealt with yearning, wanting or passion. 'I'll Be Your Baby Tonight' seemed to cover it all."
Here is a rundown of the songs that will appear on the album:
"I Feel Like I'm Not Out of Bed Yet" (Leonard Bernstein, Betty Comden, Adolph Green)
"I Make Him Feel Good" (Lyle Lovett)
"Running on Faith" (Jerry Williams)
No One Is Alone" (Stephen Sondheim)
"What's the Use of Wondr'in'" (Richard Rodgers and Oscar Hammerstein II)
"Cupid" (Sam Cooke)
"I'll Be Your Baby Tonight" (Bob Dylan)
"Blackbird" (John Lennon and Paul McCartney)
"Hills of Shiloh/Faithless Love" (Shel Silverstein & Jim Freidman)
"Woman Be Wise" (Sippie Wallace)
"He's Got a Way" (Billy Joel)
"Some Other Time" (Leonard Bernstein, Betty Comden & Adolph Green)
BETTY BUCKLEY
The New York Times ads for Sunset Boulevard have started the countdown to Betty B's last performance as Norma D. It should be a memorable evening of theatre Aug. 24. If you haven't yet caught Buckley's remarkable performance, your time is running out!
BB will also be a guest on "The Rosie O'Donnell Show" on Friday, July 19. "The Rosie" show airs at 10 a.m. on ABC.
PATTI LuPONE
Word of mouth is great on Patti's performance as Maria Callas in Terrence McNally's Master Class. For a glimpse of one of our favorite diva's performance in the role, watch the "Today Show" Monday, July 15, on NBC. LuPone taped an interview on Wednesday for the show, and clips of LuPone as Callas will also be shown.
DIVA OF THE WEEK
Karen Murphy
Bistro Award-winning singer/actress Karen Murphy can currently be seen Monday evenings in July at "Don't Tell Mama" on West 46th Street. Murphy, who was last seen Off-Broadway during the brief run of Zombie Prom, has titled her latest cabaret act, "Torch Goddess: Music To Light Candles By."
The act, which recaptures the era when torch songs topped the Hit Parade, is "for anyone who ever fell (or dreams of falling) in love." Murphy will offer fresh arrangements of such timeless classics as "Stranger in Paradise," "Occasional Man," "Thank a Lot, But No Thanks," and "Steam Heat."
I will be catching her show on July 15 at 6 PM. Remaining shows include July 22 and 29 at 8 PM. For more information and/or reservations, call Don't Tell Mama at 212-757-0788 after 4 PM.

That's all for now. Happy diva-watching!