*
"Where do you go when your parents are bullying you? Then what do you do?"
Those were the questions Ivy Vale and Rick Reil, parents of a 14-year-old daughter — and co-creators of Out of My Comfort Zone, a new rock musical bowing June 19 at the American Theatre of Actors — asked themselves.
Vale was so taken aback by the news of teens taking their lives that she took things into her own hands to raise awareness.
"I'd wanted to do something on bullying for a while," she said. "It was just weighing on my mind, and part of that was because of the increased amount of stories in the news about kids committing suicide from being bullied — being driven to that. Every time we turned around, you were hearing about another adolescent either killing themselves or just being bullied to such an extreme. And you feel really helpless when you hear that. We have a now 14-year-old daughter, and adolescence in general, I felt very connected to… In some ways, I feel like I never entirely left. So that was really the impetus for doing this." After seeing her daughter perform in countless musicals — classics, such as Bye Bye Birdie and The Wizard of Oz — she thought it time to make a change. She wanted to put forth a musical that the students could relate to on all levels, set during a time when children felt isolated and alone.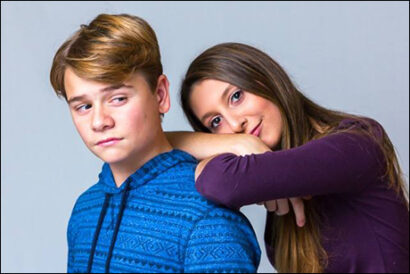 "These kids were starting to really want to do something more — that they can connect to [and] that related to their worlds — and when I looked around, what I found was pretty much 13 the Musical, which they did. And, at that point, I was really thinking, 'This is crazy. There just needs to be more for this age group that is rooted in reality and fun.' There's a lot to be done with this, so it started out as a project having to do with bullying in some way, and then it widened to being about bullying because of being gay and coming out in middle school and what that's like…"
Out of My Comfort Zone, which runs Off Off-Broadway through June 28, features a cast of 22 ranging from ages 12-16. (In its first incarnation earlier this year, its cast was even younger, ranging from 12-14.) Although working with such a large group of middle schoolers can be challenging, the students are ready to work as showtime nears.
"One of the things we did was sit down as a group and talk about their own experiences and have people share if they were bullied — what it was like, talk about that a little bit. Did they know someone who was gay? Were they gay? What was it like for them?" Vale explained. "So we sat down one day, and it was almost like a group therapy session because as soon as one person opened up, it started a chain reaction. One kid after another slowly started to talk about either their own bullying experience or something they had seen or been around and talking about being gay — what that's like in the 21st century for a kid this age. And, it was enlightening. Not only had some of the kids talked about being bullied, but some of them actually talked about being the bully and what that was like and why they did it and what they learned from it.
"I think it was particularly a bonding day for everybody. There were some tears. It was really kind of intense, but the best thing about it that I realized is that the tides are definitely turning. I'm talking from the perspective of kids growing up in NYC because we obviously have a long way to go, but for a lot of these kids, being gay is not a big deal, and they're starting to come into a time where there's a lot more acceptance than when we were growing up, and they just approach it differently. It just doesn't mean what it meant even 20 or 30 years ago. It's normal. They're growing up with kids who have gay parents, with gay relatives, with friends who are gay or they're finding out they're gay. There's a lot more acceptance and tolerance, so that's a really happy thing."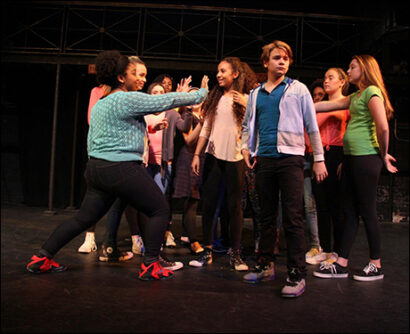 Vale wrote the book, lyrics and music and is co-director alongside Mimi Stuart (a co-producer with Jason Grant Shela). Reil wrote music.
Reil added, "You can find many pieces on Google or video pieces, where there are young people who are struggling with their sexuality and learning about it, which is a hard enough experience as it is. On top of that they have their parents — in certain parts of the country, maybe the South — where they're completely being harassed for it or not accepted by their own parents, and it's just heartbreaking and outrageous."
Vale said that, in today's society, we think bullying is seen mainly at schools, "But, what happens when you're bullied at home and your own family doesn't support you?" Out of My Comfort Zone focuses on Josh, a well-rounded teenager who happens to be gay. Vale and Reil said that in creating him, they made sure he was "just like everyone else." Vale said, "Nothing about him says, stereotypically, 'gay' in any way. And, that was important because we didn't want to just come out and say, 'Here's somebody who is flamboyant.' We really want to go against the stereotype and show that it has nothing to do with what you are on the outside, who you are, what you look like, how you act — this is just something from inside — and really, we're all kind of alike."
As the cast and creative team prepare to open this week in New York City, Out of My Comfort Zone prepares to bow in other areas of New York. The musical will hit French Woods Festival of the Performing Arts in the western Catskills of New York State this August.
"Somebody said, 'It's like the new Rent,' which I loved," Vale added. "We had a lot of kids expressing sadness that it was over... so it's a joy to be able to do this again. A lot of people don't get that opportunity, so they're excited. We're excited! We feel like we're really all in this together!"
(Playbill.com features manager Michael Gioia's work appears in the news, feature and video sections of Playbill.com as well as in the pages of Playbill magazine. Follow him on Twitter at @PlaybillMichael.)