* At the end of every Broadway season, there are inevitably a number of musicals that have met their ends — either untimely or, well, otherwise. Some, thanks either to poor critical reaction or a failure to latch onto the cultural zeitgeist of the time, are likely never to return or may only rarely resurface. A smaller number of special shows, though, capture the imaginations of enough theatregoers and tastemakers before their brief runs are through to eke their way into the canon of great musicals.
Even the greatest Broadway players — including Stephen Sondheim, Hal Prince, and Kander and Ebb — hit commercial stumbling blocks along the way, their forgotten gems reexamined only after the original runs are over and done with. Most of the time these shows, thanks to challenging subject matter — harrowing real-life court trials, insane asylums, conjoined twins or transvestitism — caught on to only a limited segment of the theatregoing audience. But that doesn't mean these shows represent any less of an artistic accomplishment when compared with their more commercially successful counterparts. In fact, many have inspired successful revivals, concerts (some of them televised) and even a film, just going to show that while Broadway may be the pinnacle theatre folk aspire to that doesn't mean a musical's brief Broadway run has to be the end of a musical's life.
Click through for my pick of ten shows — mostly in alphabetical order — that were gone from Broadway all too soon, returning to glory only years later. In order to be eligible, the show had to run 150 or fewer total performances. There are many cult-favorite musicals, but I've chosen ones that have experienced noticeable resurgence over the years — especially in recent ones.
Anyone Can Whistle (1964)
(12 previews, 9 performances – 21 total)
Stephen Sondheim chose this oddball absurdist musical as his follow-up project after the success of A Funny Thing Happened on the Way to the Forum, with Gypsy and West Side Story collaborator Arthur Laurents tackling the book. Set in a fictional American town on the brink of bankruptcy and featuring a phony miracle scheme as its central conceit, Anyone Can Whistle (originally titled Side Show — like another pick on this list) remains one of the most challenging, off-the-wall Sondheim musicals. Audiences may have been unprepared for the show's audience-engaging subject matter (an insane asylum and its inmates feature prominently), and the show closed after just nine regular performances. As Sondheim's musicals became increasingly popular, reexaminations of his early rarities led to a resurgence of interest in the show. Songs like "Everybody Says Don't" and "There Won't Be Trumpets" (cut from the original production), have entered the repertoire of a number of Broadway performers, and the show has been performed (mainly in concert) over the years, most notably in a 1995 concert starring Madeline Kahn and Bernadette Peters, and a 2010 production at New York City Center Encores! with Donna Murphy, Sutton Foster and Raul Esparza. The latter production proved to be one of the top-selling Encores! events of all time.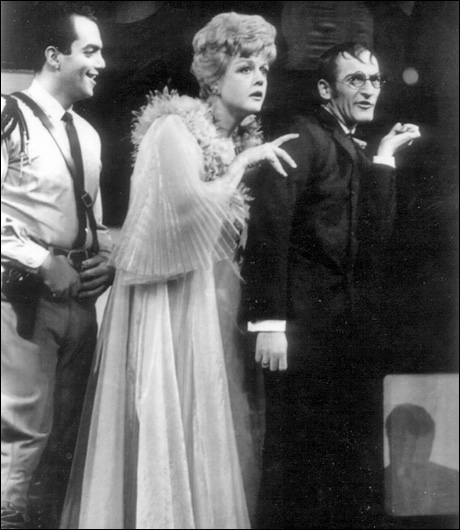 photo by Friedman-Abeles
Candide (1956)
(73 performances)
Playwright Lillian Hellman originally conceived her theatrical update of Voltaire's comic novel "Candide" as a play with music until Leonard Bernstein, who'd been brought on to contribute music, convinced her to write a comic operetta. They enlisted the help of a coterie of lyricists (including Dorothy Parker) to make the piece sing. Candide's original 1956 production was a flop, running a mere 73 performances. The show has only experienced success through its numerous revivals. Producer Hal Prince revived interest in the show in the 1970s, enlisting Hugh Wheeler to revamp the book. (Lillian Hellman refused to allow her contributions to be part of Prince's revival.) Prince's productions ran on Broadway in 1974 and 1997 and at New York City Opera in 1982. The show was further revised by John Caird in 1999 for a production at London's National Theatre. A concert version at the New York Philharmonic in 2004 was recorded for PBS broadcast and DVD release and featured Kristin Chenoweth and Patti LuPone in leading roles. Several songs have become concert staples, including "Glitter and Be Gay," which Chenoweth has performed frequently in recent years.
Photo by Peter Cunningham
Carrie (1988)
(16 previews, 5 performances – 21 total)
Lambasted as an unintentionally campy exercise in excess in its original Broadway production, the musical version of Stephen King's "Carrie," about a telekinetic high schooler, seemed destined never to see the light of day again. With a score by Michael Gore and Dean Pitchford (who wrote the hit song "Fame") and book by Lawrence D. Cohen, the musical version, unlike the novel or the 1976 film version starring Sissy Spacek, took on epic Greek proportions, utilizing a massive chorus (sometimes in toga costumes) and a temple-like set. Aside from bootleg audio and video recordings of the show, no official record of the show existed for more than two decades until a revised version was produced Off-Broadway by MCC Theater at the Lucille Lortel Theatre in 2012. Though critics were still somewhat split on the authors' revisions, a recording was made by Ghostlight Records (preserving the deliriously wonderful song "And Eve Was Weak"). The updated version was also acquired for licensing by R&H Theatricals and has been produced in San Francisco and in Seattle (with Tony-winner Alice Ripley starring as Margaret). An L.A. production is slated for La Mirada Theatre next year.
Chess (1988)
(17 previews, 68 performances – 85 total)
The stage musical Chess, written by lyricist Tim Rice and former ABBA collaborators Benny Andersson and Björn Ulvaeus, came to Broadway in 1988 on the heels of a hit concept album and a run of nearly three years in London's West End. The show, which features a fairly loose plot, uses a chess match between American and Russian opponents to illuminate themes of the Cold War. The London production, which featured almost no spoken dialogue, had been directed by Trevor Nunn, who felt the show needed reworking before its Broadway premiere. Nunn brought playwright Richard Nelson on board to turn the show into a traditional book musical. The retooled Broadway version, which starred Judy Kuhn and late David Carroll, closed after a mere 68 regular performances, but the show has lived on mainly through a 2008 concert at London's Royal Albert Hall starring Idina Menzel, Adam Pascal and Josh Groban, which was shown on PBS and released on CD and DVD in 2009.
Merrily We Roll Along (1981)
(52 previews, 16 performances – 68 total)
Based (somewhat loosely) on George S. Kaufman and Moss Hart's 1934 play of the same name, 1981's Merrily We Roll Along marked the last of an astounding collaborative run between Stephen Sondheim and Hal Prince that spanned from Company (1970) through to Sweeney Todd (1979) before stalling with this time-twisting musical. Retaining the original play's plot structure — which moves backwards in time, following a trio of disillusioned friends from ruin through to optimistic youth — the show was met with puzzled responses during previews. Teenagers were cast and asked to portray characters up through their forties — a choice that has mainly been dropped in subsequent productions. The emotionally searing show (which features a killer score, including "Old Friends," "Like It Was," and "Our Time") has been revised and revived many times over the years, most recently in 2012 at London's Menier Chocolate Factory in an acclaimed production directed by Maria Friedman that was broadcast to cinemas worldwide last year.
Photo by Joan Marcus
Parade (1998)
(39 previews, 85 performances – 124 total)
Composer Jason Robert Brown was approached by producer Hal Prince to write Parade after Stephen Sondheim had declined. Brown and book writer Alfred Uhry (Driving Miss Daisy) took an epic approach to challenging material (the trial of factory manager Leo Frank, who was accused of raping and murdering an employee), crafting a sweeping, regionally-inflected score and politically-inflected book that audiences likely found too dark for an evening's entertainment. Whether because of ticket sales or producer Livent Entertainment's impending bankruptcy at the time, the show closed after only 85 regular performances but has come to be revered by theatre aficionados. Having been revived at London's Donmar Warehouse in 2007 and at L.A.'s Mark Taper Forum in 2009 with TV and theatre star T.R. Knight as Leo Frank, a concert production of the show is set to be performed Feb. 16, 2015 by Manhattan Concert Productions at Avery Fisher Hall with a chorus of over 200 alongside the New York City Chamber Orchestra.
The Rocky Horror Show (1975) (4 previews, 45 performances – 49 total)
Writer-actor Richard O'Brien conceived of The Rocky Horror Show to keep him busy during a period when little work was coming his way. O'Brien gave his love of sci-fi and B-movies a transvestite twist; the show is about a couple who stumble upon a mad scientist's fabulously gender-bent castle on the eve of his latest unveiling. With successful runs in London's West End and L.A. already under its belt, the cult musical made its way to Broadway in 1975. Two of its original stars, Tim Curry (who played "sweet transvestite" Frank N. Furter) and singer Meat Loaf, would go on to star in the movie version, retitled "The Rocky Horror Picture Show," which opened just months after the Broadway production closed. The show — and the movie, for that matter — opened to little box-office fanfare and puzzled reactions from critics and would take years to gain a cult following (now fans do the "Time Warp" over and over again at midnight movie screenings around the country). A revival played the Circle in the Square Theatre from 2000 to 2002 and for a time featured a rotating roster of guest stars, including Jerry Springer, Sally Jesse Raphael, Penn and Teller and Gilbert Gottfried.
Photo by Paul Kolnik
The Scottsboro Boys (2010)
(29 previews, 49 performances – 78 total)
One of John Kander and Fred Ebb's final collaborations together before Ebb's death in 2004, The Scottsboro Boys represents a bold and critically well-received historical turn for the songwriting team behind Chicago and Cabaret. Based on the Scottsboro Boys trial of the 1930s, the show uses the theatrical concept of minstrels as a means of commenting on its source material. Conceived in 2002 by Kander and Ebb alongside book writer David Thompson and director Susan Stroman, the musical was completed in 2008 prior to a 2010 Off-Broadway production at the Vineyard Theatre that transferred to Broadway later that year. Despite favorable reviews and bold direction and choreography from Stroman, audiences failed to catch onto the show's dark themes (the piece featured a musical number centered on an electric chair), and the show closed after less than two months of regular performances in December 2010. The Young Vic in London remounted the show with Stroman again at the helm earlier this year; that production is slated to move to the Garrick Theatre in London's West End this October with several original Broadway cast members.
Side Show (1997)
(31 previews, 91 performances – 122 total)
Based on the story of conjoined twins and 1930s performers Daisy and Violet Hilton, Side Show features music by Henry Krieger (Dreamgirls) and a book by playwright Bill Russell. Starring Alice Ripley and Emily Skinner, the original Broadway production was nominated for four Tony Awards — including a co-nomination for Ripley and Skinner, marking the first time two actresses were ever nominated together. Perhaps because of its freak show subject matter, the show closed after only 91 regular performances but has gained cult status over the years thanks to its original cast recording and several regional productions. A revised version, in a production helmed by director Bill Condon ("Dreamgirls") and starring Erin Davie and Emily Padgett as the Hilton twins, has been gestating over the past year — beginning at La Jolla Playhouse in California in late 2013 and continuing at the Kennedy Center in Washington, D.C. this summer. The Kennedy Center production will begin performances on Broadway Oct. 28 prior to an official opening Nov. 17.
Photo by Joan Marcus
The Bridges Of Madison County
(37 previews, 100 performances – 137 total)
Admittedly it's too soon to know if Jason Robert Brown and Marsha Norman's musical version of Robert James Waller's novel "The Bridges of Madison County" will endure as part of the American musical theatre canon, but one can only assume so, thanks to a lush, romantic, highly accomplished score by Brown that has been preserved on an original cast recording by Ghostlight Records. Despite the cache of its recognizable title (Waller's book was also made into a movie with Clint Eastwood and Meryl Streep in 1995), the show, which focuses on a traveling National Geographic photographer who falls for a married Iowa housewife, closed on Broadway after 100 regular performances. Critics were enthusiastic about the show's score and lead performers (Kelli O'Hara and Steven Pasquale), but the production — which elevated its pop-novel source material nearer to the level of high art — was unable to gain enough momentum to keep running. The show's Broadway producers announced a national tour beginning in Fall 2015; I predict a bright future for the show, even beyond its national tour.