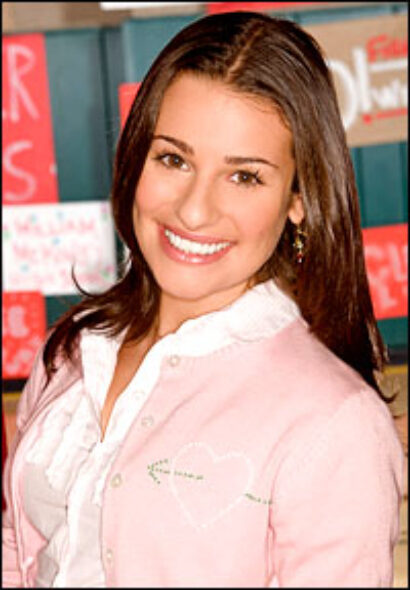 The show from Ryan Murphy, creator of "Nip/Tuck," gets a choice spot after the May 19 finale episode of the highly-rated "Americal Idol." The series will begin its regular 13-episode run in the fall.
"'Glee' works on so many levels that we want to utilize 'American Idol' to jump-start positive buzz, which will spread over the summer and into the show's launch in the fall," Kevin Reilly, president, entertainment, Fox Broadcasting Company, previously said.
"An ambitious and unique show such as 'Glee' deserves an ambitious and unique kickoff," stated Fox chairman Peter Liguori. "We also wanted to take advantage of the huge 'American Idol' promotional platform to launch the marketing campaign in May."
Chenoweth, Garber and Monk are all Tony Award winners; The Light in the Piazza's Morrison was Tony-nominated. He also starred in South Pacific and Hairspray. Michele, who plays a high school student in the series, starred as Wendla in Spring Awakening on Broadway.
Entertainment Weekly reported that Chenoweth, Garber and Monk will have recurring roles on the new series; Garber and Monk will play Morrison's parents.
photo by FOX-TV
According to FOX notes, "'Glee' is an uplifting series with biting humor that features a soundtrack of hit music from past to present. The show follows an optimistic high school teacher, Will Schuester (Matthew Morrison), as he tries to refuel his own passion while reinventing the high school's glee club and challenging a group of outcasts to realize their star potential. It's not an easy task when the pitch-imperfect club includes Mercedes (Amber Riley), a forceful diva-in-training; Arty (Kevin McHale), a geeky guitarist; Kurt (Chris Colfer), a dramatic soprano; Tina (Jenna Ushkowitz), a punk rocker; and self-proclaimed 'star' Rachel (Lea Michele), a perfectionist firecracker.
"McKinley's cruel high school caste system prevents the glee club from flourishing, so Will recruits Finn (Cory Monteith), the quarterback with movie star looks, to join the group even though he wants to protect his reputation with his holier-than-thou girlfriend, Quinn (Dianna Agron), and his arrogant teammate, Puck (Mark Salling). With harsh criticism from everyone, including Will's tough-as-nails wife Terri (Jessalyn Gilsig) and McKinley's egotistical cheerleading coach Sue Sylvester (Jane Lynch), he is determined to prove them all wrong and lead the glee club to the greatest competition of them all: Nationals."
As previously announced, Tony Award winner John Lloyd Young (Jersey Boys) will also make a guest appearance on the new series.
Glee will feature a soundtrack of hit songs from past and present. It's produced by Ryan Murphy Television in association with 20th Century Fox Television.
Ryan Murphy, Brad Falchuk and Ian Brennan are co-creators of the series. Murphy, Falchuk and Dante Di Loreto serve as executive producers, while Ian Brennan and John Kousakis serve as co-executive producers. Murphy directed the pilot.