When Kyle Hamilton first took up skateboarding, he thought he was pursuing a path away from his initial theatre dreams—not a way back to them.
"I had studied acting at the American Musical and Dramatic Academy in L.A. after high school," Hamilton explains. But in 2012, when he moved to New York intending to focus on acting, "I realized that I wanted to take a break from it all and focus on my one true love, which was skateboarding."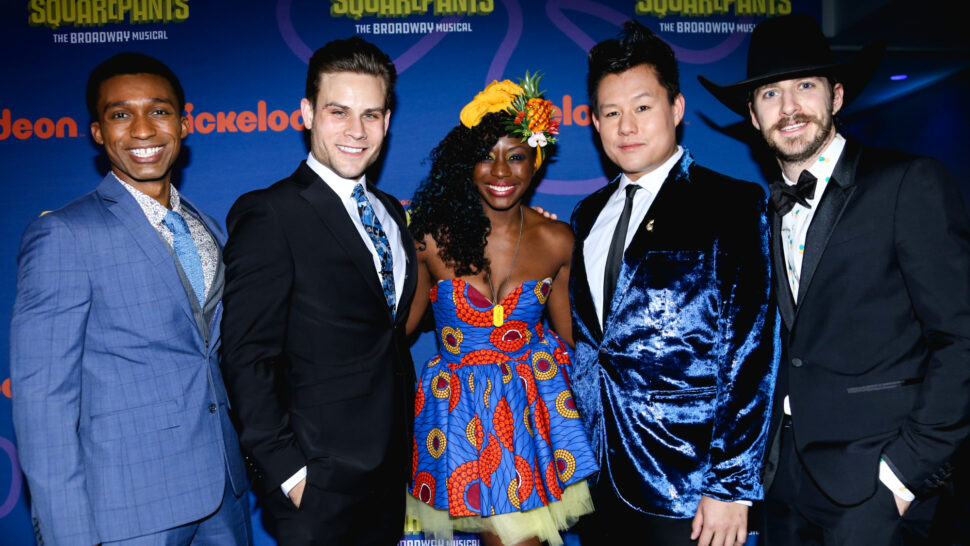 Hamilton had been skating since he was about five years old as a hobby, ultimately becoming the manager of a New York skateboard shop, rode for them and went out on tour to compete (X-games style).
But in 2016, now Tony-nominated director Tina Landau and the team behind SpongeBob SquarePants: The Musical reached out to Sure Skateboards looking for a skateboard coach prior to their Chicago out-of-town tryout.
"It was [about] getting down the basics and the fundamentals [of skateboarding] that allow them to move swiftly and efficiently onstage and to make it look authentic," explains Hamilton of his task as part of the production team. "If I'm a skateboarder out there and I'm sitting in the audience and guys are skateboarding, I can read the body language. It's just like when dancers are onstage."
Hamilton's greatest task was working with the actors who play the heartthrob band the Electric Skates, who sing the Aerosmith-penned rocker "Bikini Bottom Boogie" in Act 2. In that number, we see Hamilton's skills at work with freestyle tricks like Walk the Dog (see the video above) and more. The skateboard pro took inspiration from 1980s boarders who specialized in flat-ground tricks—which look like a combination of gymnastics on skateboards more than crazy flips on ramps or rails.
The skateboarding in the show was a success and as SpongeBob wrapped in Chicago—and Landau's birthday approached—Hamilton decided to make her a birthday video featuring him skating and doing tricks in front of SpongeBob advertising all over the Windy City.
"When I gave that to Tina she was like, 'Why didn't you audition for this?'" Hamilton recalls. Landau told Hamilton that if they transferred to Broadway, she expected him to be at auditions—prepared.
"It wasn't a guarantee of anything," says Hamilton. He threw himself back into acting, singing, and dance classes. Now, Hamilton stars as one of the Electric Skates on Broadway and thanks to his training and athleticism he's set to Bikini Bottom Boogie all night.
Ruthie Fierberg is the Senior Features Editor of Playbill covering all things theatre and co-hosting the Opening Night Red Carpet livestreams on Playbill's Facebook. Follow her on Twitter @RuthiesATrain, on Instagram @ruthiefierceberg, or via her website.