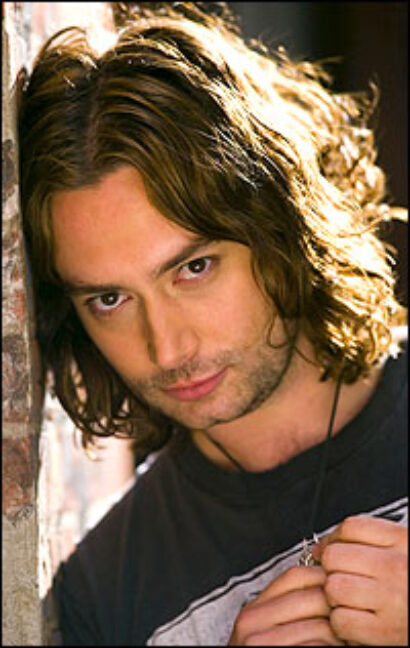 Maroulis, who began performances earlier in the week, portrays Sammy, the dimwitted friend of Stephen Lynch's Robbie Hart. He succeeds Matthew Saldivar, who created the role.
The new musical at the Al Hirschfeld Theatre also features Richard Blake, Kevin Cahoon, Felicia Finley, Rita Gardner and Amy Spanger. Tina Maddigan is currently playing the role of waitress Julia Sullivan while Laura Benanti is on medical leave.
A Brooklyn native, Constantine Maroulis is a graduate of both the Boston Conservatory and the Berklee College of Music. He trained as an apprentice at the Williamstown Theatre Festival and appeared as Roger in a tour of Rent. In addition to his performances on "American Idol," he has also been seen on "Law & Order: SVU" and in several independent films. Maroulis also played a recent engagement at the Public Theater's Joe's Pub.
The Wedding Singer score was composed by Matthew Sklar (music) and Chad Beguelin (lyrics). Beguelin and Tim Herlihy wrote the book for the musical. The show's original cast recording hit stores June 6 on the Masterworks Broadway label.
In The Wedding Singer "it's 1985 and rock-star wannabe Robbie Hart is New Jersey's favorite wedding singer," according to the producers. "He's the life of the party-until his own fiancée leaves him at the altar. Shot through the heart, Robbie makes every wedding he plays as disastrous as his own. Enter Julia, a winsome waitress who wins his affection. Only trouble is Julia is about to be married to a Wall Street shark, and unless Robbie can pull off the performance of the decade, the girl of his dreams will be gone forever. With a brand new score that pays loving homage to the pop songs of the 1980s, The Wedding Singer takes us back to a time when hair was big, greed was good, collars were up, and a wedding singer just might be the coolest guy in the room." For information about The Wedding Singer, visit www.theweddingsingerthemusical.com.