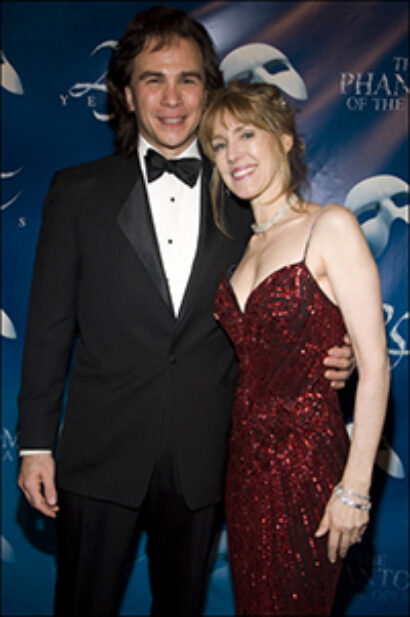 Much of Mr. Gray's career was spent playing leads in the large-scale musicals that thrived in the 1980s and '90s. Following a stint playing Raoul, he stepped into the title role in Broadway's The Phantom of the Opera in 1990. He later played the Phantom on tour, winning Florida's Carbonell Award for his performance.
A notice on the The Phantom of the Opera Facebook page reads, "We are truly saddened and shocked to have to report the passing of former Phantom star Kevin Gray. A former Raoul and Phantom, he was a beloved member of the Phantom family and the Broadway community. He suffered a sudden heart attack at only 55. All of our hearts, prayers and thoughts go out to his beautiful wife Dodie Pettit an original Broadway cast Ballerina. They had just celebrated with us at the 25th Anniversary. He was a true talent, teacher and gentleman who will be sorely missed by all who knew him."
Mr. Gray again sang the music of Andrew Lloyd Webber when he starred in a tour of the revue Music of the Night, and played Pontius Pilate in a 2000 Broadway revival of Jesus Christ Superstar. He appeared as The Engineer in the Los Angeles and Toronto stagings of Miss Saigon.
Other Broadway roles included a turn as the King of Siam in the 1996 revival of The King and I, and the short-lived Chu Chem in 1989. Off-Broadway, he appeared in a 1984 revival of Sondheim's Pacific Overtures; the 1987 David Hare-penned musical The Knife starring Mandy Patinkin; and a staging of The Death of Garcia Lorca, all at the Public Theater.
Regionally, he acted with The Portland Stage Company, Boston Shakespeare Company, Stonington Shakespeare Company and The Mount Gretna Playhouse. Recently, he played Scar in a national tour of The Lion King, and in 2011 took on the position of associate professor of theatre at The Hartt School at the University of Hartford.
Mr. Gray is survived by his wife, Dodie Pettit.