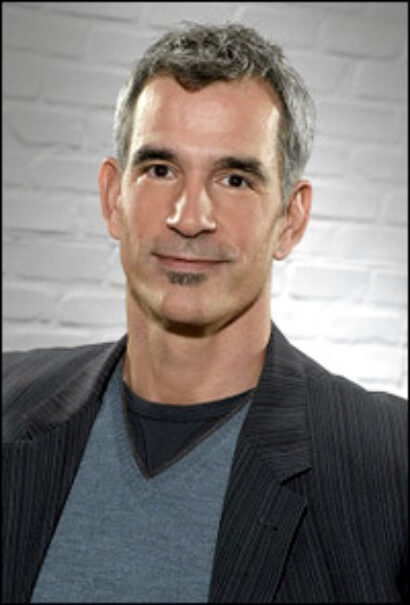 "Step It Up & Dance" brings together dancers from around the country, challenging them to master dance styles from ballet and ballroom, to Broadway and burlesque. Press notes state, "Whether it's a music video one week or a Vegas spectacular the next, Bravo's new dance series will feature challenges in which the dancers audition for a range of parts, designed to showcase their versatility and moves. As the competition gets fierce and contestants are eliminated, only one person will get the final 'call back' and the chance to perform, with the ultimate dancer winning a cash prize."
When Mitchell was approached by the producers of "Step It Up & Dance," his first response, he recently told Playbill.com, was, "I'd be happy to be involved, but I won't be a judge." The six-time Tony-nominated choreographer and 2005 winner for La Cage, says, "I don't believe in judging. These are young dancers who have a dream to be a professional dancer."
Mitchell, who began his Broadway dance career in the 1980 revival of Brigadoon, is no stranger to living one's dream. Within a decade of his Broadway debut, Mitchell was assisting theatre legends Jerome Robbins and Peter Gennaro on Jerome Robbins' Broadway. However, it would be Mitchell's drive and determination that would lead him from a scantily-clad featured dancer in The Will Rogers Follies to becoming one of Broadway's most sought-after choreographers, with over 11 musicals featuring his work.
"What [the dancers] don't come in with, not all of them, is the knowledge of what it takes to become a professional dancer – the dedication, the drive, the discipline, the desire – all of those things that I like to call the 'four D's,'" Mitchell says. "And reality television, in general, can give a false impression to a lot of people — that you can become a star overnight. Sing a song, and you'll be a star. That may very well happen, but then comes the work process, and your responsibility as an artist [is] to actually get up every day and take class, or do barre, or practice your voice or acting.
"Great performers, whether it be an actor, a dancer or a singer," he continues, "didn't get there without doing a lot of really hard work, which was why I wanted to get involved. That was what was exciting about this show [for me]. I think this show is going to help people realize it's a career, and if you want the career in this business, you have to work for it." Mitchell's role in "Step It Up & Dance" is akin to the role of former Parsons School of Fashion chair Tim Gunn, who mentors designers on Bravo's wildly popular reality series "Project Runway." "That was the sort of thing they had in mind," Mitchell explains. "As a professional director and choreographer whose career is built on dance, I can tell you when you're doing it and you're not doing it. My catch phrase with my dancers on Broadway is 'Full out people!' You can't expect a director or choreographer who's sitting to watch you to be able to respond to your performance unless you're giving it 110 percent. My job is to ask them, 'Is that really the best you can do?'
"I've been a big fan of 'Project Runway.' I think everybody has because it does take you behind the scenes, and it shows you [the work]. [The contestants are] put to the test — they really have to come up with the goods in an amount of time, and they do get judged on it. But that's critical judgment, which is always good, especially when it's coming from professionals in the career who can help you shape your next decision and move you forward."
"Step It Up & Dance" held nationwide auditions in such cities as Chicago, Los Angeles, Atlanta and New York City. Mitchell was involved once producers had whittled potential cast members down to a group of 50. "It was really a wide range. You had really incredibly trained dancers and you had dancers who had been dancing in their living rooms, but they had a desire to become a professional dancer," Mitchell says.
Twelve dancers were ultimately selected. Two from the Broadway community — Cody Green (Movin' Out, Grease, Mamma Mia!) and Michelle Aguilar Camaya (The Lion King, Swing! "Enchanted") — are among those competing.
When asked if he was looking for contestants to represent the Broadway community, Mitchell responds, "I didn't specifically reach out to any dancers to ask them to audition. But you know, anytime you have an audition and you get a group of [people] in a room that are all competing in the same category, the cream will always rise to the top. It was clear in the auditions, who were the better of the dancers that showed up, for one reason or another."
Eight episodes of "Step It Up & Dance" have been taped so far. Bravo is holding off on its finale to ensure an element of surprise for television audiences. Mitchell believes that should "Step It Up & Dance" find similar success, "there's going to be a lot more people showing up, especially with Broadway credits and real dancing chops. I think that when anything like this stars out, the first audition process, people say, 'Oh it's a reality show. What is it going to prove? How is it going to be good for me?'"
"One of the things that this show has that I'm extremely proud about," Mitchell adds, "is that it exposes these kids, and anybody who watches it, to some of the different types of dance that are out there in the professional dance world where these kids could actually make a living."
The premiere episode of "Step It Up & Dance" features Mitchell, Berkley and judges Vincent Paterson, who has choreographed Broadway's Kiss of the Spider Woman, Madonna's "Blond Ambition" tour and Michael Jackson's "Bad" tour; and Nancy O'Meara, currently enjoying success with 'tween sensations "Hannah Montana" and the High School Musical tours.
"Step It Up & Dance" premieres April 3 at 11 PM ET/PT on Bravo TV. Additional episodes in the series will air at 10 PM each Wednesday.
*
Jerry Mitchell made his Broadway directorial debut in 2007 with the musical Legally Blonde, which he also choreographed. Mitchell is a 2005 Tony Award winner for Best Choreography for La Cage aux Folles. That same year the prolific choreographer was nominated for Best Choreography for his work on Dirty Rotten Scoundrels. He has received Tony and Drama Desk nominations for choreographing Dirty Rotten Scoundrels, Hairspray, The Full Monty and Never Gonna Dance. His film work includes "In & Out," "Camp," "Drop Dead Gorgeous" and "Scent of a Woman." For Broadway Cares/Equity Fights AIDS, Mitchell conceived and often directs and choreographs the annual "Broadway Bares" fundraiser. This year Mitchell earned Olivier Award nominations for the London production of Hairspray and is currently at work on the upcoming musical Catch Me If You Can, as well as a stage adaptation of the film "Mad Hot Ballroom."