*
Tony and Emmy Award winner Kristin Chenoweth commands a Broadway stage like few performers in history and, among those of her own generation, is peerless as a star of musical comedy. Since her Broadway debut in 1997's Steel Pier, Kristin has demonstrated time and again what a singular asset she is to the musical theatre — a pretty clown with an operatic voice — and audiences have responded ecstatically. Indeed, she is so funny and versatile that her career has often taken her away from Broadway, including a great deal of work on television and film, where her distinguished appearances are similarly impactful.
As valuable as Kristin is as an actress, though, her full force is best put to use in musicals, where those skills are combined with her multi-octave golden soprano voice. This was amply demonstrated in her recent "Live from Lincoln Center" concert, "The Dames of Broadway... All of 'Em!!!" directed by Richard Jay-Alexander, where she took on songs from the great leading lady roles in musicals. Of course, having starred in such shows as Wicked and the revival of Promises, Promises, Kristin herself is one of the great leading ladies in Broadway musicals! I know I am waiting with baited breath for her performance as Lily Garland in the upcoming revival of Cy Coleman, Betty Comden and Adolph Green's masterful Broadway operetta, On The Twentieth Century. I don't want to jinx her, but this could be Broadway history about to be made. In the meantime, we can tide ourselves over with Kristin's extensive discography encompassing four handsomely produced solo albums and a half-dozen or so cast albums of her stage triumphs.
Click through to read my selections for the Essential Kristin Chenoweth on Disc.
Wicked
There's no getting around Broadway's mega-hit of an era, Wicked. Many actresses have taken on the role of Glinda all over the world, but the gold standard was unquestionably and indelibly set by Kristin Chenoweth in her 2003 performance. All Kristin's tracks on the cast album are worth playing and replaying for decades to come, but the one that really earned her Broadway legend status is her deliciously funny and zany, transcendent rendition of Stephen Schwartz's tuneful, comic character gem, "Popular." Just try to listen and not fall in love.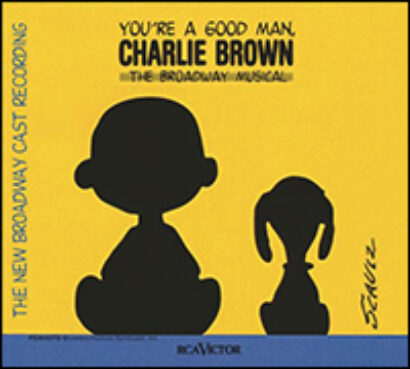 You're A Good Man, Charlie Brown
Another musical comedy homerun for Kristin Chenoweth was her Tony-winning turn in the 1999 revival of You're A Good Man, Charlie Brown. She memorably stopped the show cold with her hilarious performance of "My New Philosophy," written especially for this new production by Andrew Lippa. This production, unfortunately, failed to find an audience, which makes it all the more impressive that Kristin walked away with the trophy.
Promises, Promises
Kristin is a different type than the belters who played the role of Fran Kubelik in the original production of Promises, Promises on Broadway and in London (Jill O'Hara and Betty Buckley, respectively), but she made the role absolutely her own. In fact, another Burt Bacharach and Hal David hit, "A House Is Not A Home," was interpolated into the score, giving Kristin even more of a chance to sparkle. She even performed the song on TV's "Glee" in a rare instance of a concurrently running Broadway show essentially receiving product placement on a narrative series. Kristin's stellar delivery clearly warranted it.
A New Brain
William Finn's underrated 1997 Lincoln Center musical, which won the Outer Critics Circle Award for "Outstanding Off-Broadway Musical," A New Brain, deserves to be seen again, particularly for its compelling songs. When the show is eventually revived, though, it's unlikely anyone will equal Kristin Chenoweth in the role of "Nancy D., the waitress." From her first min-solo in the tapestry-like score, singing the specials of the day, Kristin is a sheer delight, trilling and belting and oozing charm.
"Let Yourself Go"
Kristin Chenoweth's 2001 solo debut album, "Let Yourself Go," is a joyous affair, replete with showtunes and standards from several eras. She covers a lot of ground from Vincent Youmans to Irving Berlin to Kurt Weill to Jeanine Tesori. I'm particularly grateful she included Rodgers and Hart's rarely-sung "I'll Tell The Man In The Street."
"As I Am"
005's "As I Am," the second solo album from Kristin Chenoweth, takes her into more adult contemporary, even Contemporary Christian territory. She brings the same focus and clarity to this more spiritual material as she does to her theatre work, and the results are more than satisfying, especially Trisha Yearwood's 1993 hit, "The Song Remembers When," and the lone musical theatre track, Marcy Heisler and Zina Goldrich's popular "Taylor, The Latte Boy," which Kristin, of course, kills.
"A Lovely Way To Spend Christmas"
In 2008, Kristin Chenoweth released a Christmas album, "A Lovely Way To Spend Christmas," which — perhaps unsurprisingly — proved an ideal showcase for her many gifts. This eclectic collection covers a lot of ground from traditional Christmas tunes to more recent compositions. My one complaint is that she didn't sing "Hard Candy Christmas" from Broadway's The Best Little Whorehouse In Texas. I suppose it would have stuck out on this album. Maybe we can hope for a sequel?
"Some Lessons Learned"
Kristin Chenoweth's most recent solo recording, 2011's "Some Lessons Learned," may be her most accomplished in the seamless transition she makes to country-pop. She movingly references her lifelong adulation of Dolly Parton in a cover of Dolly's "Change" and in an original song written by Kristin herself, titled "What Would Dolly Do?" I think, hearing this album, Dolly would be proud.
The Music Man
The 2003 television production of Meredith Wilson's The Music Man, starring Matthew Broderick and Kristin Chenoweth, yielded a soundtrack recording that preserves Kristin's versions of "Goodnight, My Someone," "My White Knight" (omitted from the 1962 film starring Robert Preston and Shirley Jones), "Will I Ever Tell You?" and "Til There Was You." Singing these Broadway classics, Kristin, of course, sparkles.
Steel Pier
Kander and Ebb's short-lived 1997 musical, Steel Pier, did not offer Kristin Chenoweth much solo material to sing in her Broadway debut. She did, however, get to sing the charmingly operatic "Two Little Words," which must have amply demonstrated her formidable gifts to an audience unfamiliar with her at the time.
"Glee, The Music, Volume 1"
Kristin Chenoweth has performed a host of musical numbers in her many apperances on "Glee." The first volume of songs from the show includes Kristin's fun, uncharacteristically belty take on the Heart classic, "Alone" (and her singing a bit of Kander and Ebb's "Maybe This Time" before Lea Michele takes it away).
(Ben Rimalower is the author and original star of the critically acclaimed Patti Issues, currently on a worldwide tour. His new solo play, Bad with Money, performs through Dec. 18 at The Duplex in NYC. Read Playbill's coverage of the show here. Visit him at benrimalower.com and follow @benrimalower on Twitter.)